Fall home shopping season is here, and buyers are hitting the market in full force. Between July and September, Manhattan, Brooklyn, and Queens all saw a record high number of sale contracts signed for the third quarter. This is welcome news for New York City sellers, coming off years of high inventory and falling prices. Overall, homes are selling more than a week faster than they were in 2019 (pre-pandemic), and for closer to their asking prices. Last year, New York City's median sale to list price ratio — how close a seller gets to their original asking price — was 92%. In Q3 2021, it was at 96%. So which areas represent the top markets for home sellers in NYC right now?
Manhattan & Brooklyn Homes Under $1M on StreetEasy Article continues below
Top Markets for NYC Home Sellers
Sellers enjoy a stronger hand in some neighborhoods more than others. StreetEasy's Top Sellers' Markets reveal where home sellers have unusually high negotiating power. That means more power than is held by buyers in those areas, and also by sellers across the city. Here are the top 10 neighborhoods where sellers hold the upper hand: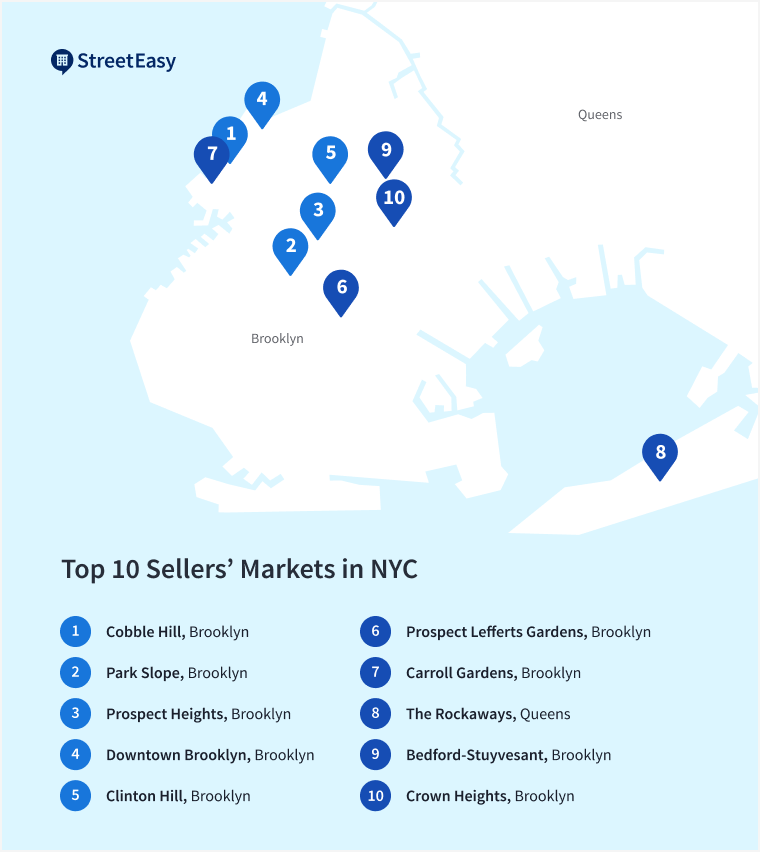 Our index uses four factors to find these neighborhoods:
Median days on market
Share of price cuts in the neighborhood
Median sale to list price ratio
Annual change in the number of inquiries from home shoppers on StreetEasy listings
A market favoring sellers will have relatively few days on market, few price cuts, final sale prices closer to or at initial asking prices, and buyers showing lots of interest on StreetEasy.
Want To Sell Your Home Now?
And here's a pro tip for those looking to sell their NYC homes. StreetEasy can match you with a verified Expert real estate agent to help with your home journey. In our humble opinion, there is no better way to find the best person to work with based on our goals. Wondering how much your home is worth? See your free StreetEasy Valuation.
Nine of the Top 10 Sellers' Neighborhoods Are in Brooklyn
There's no doubt about it — Brooklyn is hot right now. It has become the default borough for many home shoppers during the pandemic, a StreetEasy housing prediction trend that started last fall and continued into this year. Many of the Brooklyn neighborhoods on our list have easy access to public transit, lots of green space, and plenty of local amenities. Buyers are definitely taking notice.
Cobble Hill tops our list of neighborhoods where sellers have the edge. The number of messages sent to agents on for-sale listings there nearly quadrupled between 2019 and 2021. Cobble Hill homes are also tied with Downtown Brooklyn in spending the shortest amount of time on the market in the entire city at only 35 days. In Brooklyn overall, homes spent a median of 61 days on the market during Q3 2021.
Cobble Hill & Clinton Hill Homes Under $1M on StreetEasy Article continues below
Clinton Hill, number 5 on our list, is the most affordable Brooklyn neighborhood in our top 10. Inquiries sent from interested buyers for listings in Clinton Hill have doubled between 2019 and 2021, and homes are coming off the market in a median of 44 days.
Which One Isn't?
The only one of our Top Sellers' Markets not in Brooklyn is the Rockaways. The pandemic may be a major factor in the rise of this Queens region. As working from home became more common, commute times became less of a factor for some New Yorkers. And this area, while a long subway or ferry ride to Midtown, is right on the beach. Along with a 149% increase in messages between 2019 and 2021, the Rockaways also only saw 2.3% of homes receive a price cut in the past six months. The lack of price cuts is an indicator that sellers are pricing correctly, and buyers are willing to pay the asking price (or close to it).
Rockaways Homes Under $1M on StreetEasy Article continues below
Sellers in These Markets Can Stay Firm on Price
In all but one of our Top Sellers' Markets, the median home closed at 99% or 100% of the sellers' first asking price. That compares to 96% for the median home in New York City overall.
Park Slope, Prospect Heights, Clinton Hill, and the Rockaways all had a median sale to list ratio of 100% in the past six months. Given that this was the median, it's likely that many buyers are experiencing bidding wars in these areas. For sellers, this means a better chance of finding a buyer willing to pay close to, or even above, the initial asking price, with little room to negotiate between listing and closing. It also means less time on the market overall. In fact, the median number of days on market is below 60 in all 10 Top Seller's Markets, compared to 72 days citywide.
Park Slope & Prospect Heights Homes Under $1M on StreetEasy Article continues below
Working with an experienced agent can ensure that sellers get the best price for their home. Using StreetEasy, homeowners can easily get matched with a real estate agent through our Expert Match program. As with StreetEasy's other seller tools, including the Owner Dashboard and StreetEasy Valuation, Expert Match aims to empower home sellers and minimize the time, stress, and uncertainty that can come with finding a buyer for your NYC home.
Buyers Should Prepare for Competition
Buyers looking to purchase in a Top Sellers' Market should be prepared for heightened competition from other shoppers. They may have to move fast for a home they love. Our definitive series for first time home buyers may help.
For-sale inventory is coming down from the highs seen during the pandemic. And while the number of homes on the market in Manhattan is still relatively elevated for this time of year (in Q3 2021, there were 6% more for-sale homes than in Q3 2019), Brooklyn and Queens inventory was right on par for what is typically seen during the third quarter.
Queens Homes Under $1M on StreetEasy Article continues below
StreetEasy economist Nancy Wu doesn't expect this to change anytime soon. "After a years-long slowdown, it's the first time we've been able to declare New York City a sellers' market for quite some time," Wu said. "As long as sellers continue to price their homes in line with the current market, and mortgage rates remain stable, the swift comeback of buyers won't slow down soon."
So Where Do NYC Home Buyers Have the Upper Hand?
Curious about which areas are more favorable to buyers? We recently dug into the data on where first-time home buyers can find a good deal in NYC right now. We found that there is still a selection of affordable homes on the market — even in Manhattan. So for any sellers that are simultaneously looking to buy in New York City, there are great options for you, too.
How We Dug Into the Housing Data
We used sales listings data from StreetEasy and public sale records from the New York City Department of Finance for listings and transactions between January 1, 2021, and September 30, 2021. Neighborhoods with fewer than 100 listings in 2021 were not considered in the analysis.
To determine NYC neighborhoods where either home buyers or sellers have more negotiating power, StreetEasy created the Buyer/Seller Index. The index combines the following:
Sale to list price ratio
Percent of homes with a price cut
Number of days homes spent on the market on StreetEasy
Annual change in StreetEasy user contacts on listings in each neighborhood
Relative to other neighborhoods in NYC, sellers' markets are those with a lower index value, where homes are less likely to see a price cut, sell more quickly, have sale to list price ratios closer to 100%, and have a higher annual increase in user contacts on StreetEasy. Data comes from 2021 data on StreetEasy sales. The neighborhoods on the list have a minimum of 100 sales in 2021.