Not every apartment complex gets to see its name up in lights. But this famous New York City landmark, topped with a 30 x 50-foot illuminated "Tudor City" sign, is worthy of the razzle-dazzle. It's a cinematic jewel in New York City's skyline, appearing in movies like 'The Godfather Part III, 'Taxi Driver' and 'The Bourne Ultimatum.' No big deal! "The penthouse units are where many iconic shows were shot," says Maggie Wu, a licensed real estate salesperson for Compass who recently listed the penthouse used as 'The Green Goblin's Lair' in the Spiderman series. "They have these 18-foot ceilings with 15-foot glass casement windows, so it is just gorgeous. You can't find it anywhere else."
Not penthouse bound? There are still plentiful perks for you in Tudor City. Here, a few things to know and love about the storied complex.
Midtown East Rentals Under $3000 on StreetEasy Article continues below
Where Is Tudor City?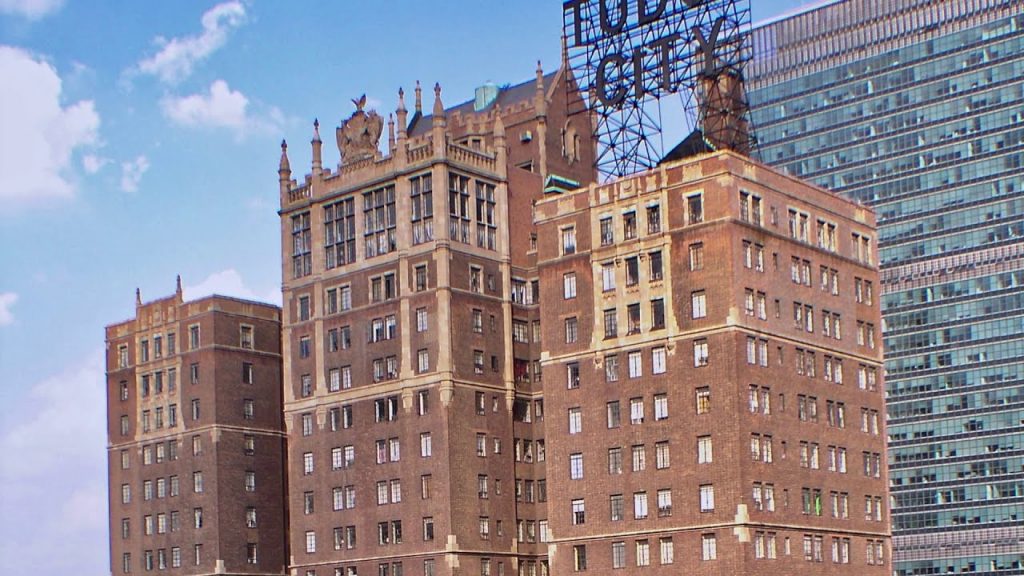 "Tudor City is a very niche kind of neighborhood on its own," Wu says of the four residential towers, among the first skyscraping residences on the planet. The complex includes the 1920s'-era 45 Tudor City Place, 25 Tudor City Place, 5 Tudor City Place, and significantly newer 2 Tudor City Place (built practically yesterday, in 1954). Whichever one you choose, "it's quiet and one of my many historic districts in NYC — a charming neighborhood that everyone who lives there loves," Wu says.
Tucked along with Murray Hill in Midtown East, Tudor City sits a mere block from the United Nations Headquarters. "It's a great location, a few steps from Grand Central Station," says Sargis Mosyan, a licensed real estate salesperson for Core who also has listings in the buildings. While the complex has its own serene parks, it also sits just across the street from the Robert Moses Playground, recently adorned with new, emerald-green turf.
Midtown East Homes Under $450K on StreetEasy Article continues below
Why and When Was Tudor City Built?
Fred F. French, a famous developer, built the complex in 1927. "The goal was to build affordable apartments for the residents of New York City," says Mosyan. According to a 1988 Tudor City Historic District Designation Report filed by then-mayor Edward T. Koch, the complex was an urban renewal project. It wasn't long before fame came knocking: actor Charlton Heston and supermodel Twiggy were former tenants.
Let's Talk About the Stunning Architecture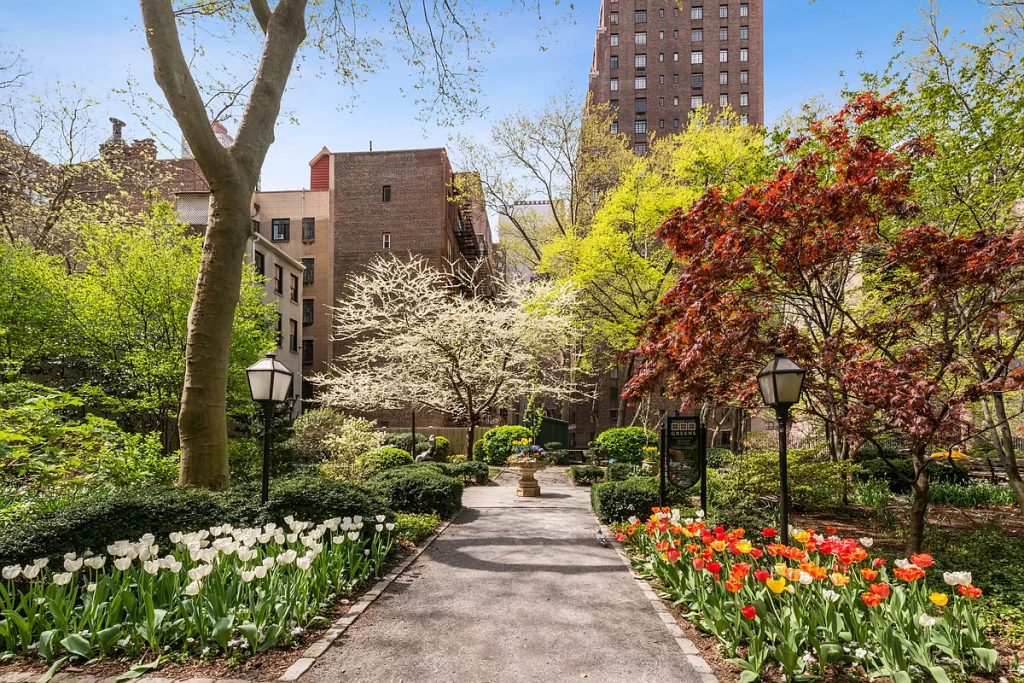 The Tudor City 'look'? Pure fairytale. It is considered a splendid example of Tudor Revival architecture. The hallmarks of this style include steep rooflines, leaded glass windows, and ornate brickwork that takes its cues from the British Medieval period in which it was born.
Midtown Rentals Under $3000 on StreetEasy Article continues below
Tudor City's Amenities & Green Spaces
Two private parks, a tulip garden, and a small golf course lured prospective Tudor City residents when it first opened. There are still plenty of benefits to living in Tudor City these days, including leafy al fresco parks that feel like they belong to you alone. "The maintenance is reasonably low, and you get all these amenities," says Mosyan, which may include gym access, a bike room, and a full-time doorman." All are just a few of the top amenities New Yorkers want. The rooftop deck is very charming, with beautiful views." Wu adores the gym: "Very few prewar buildings have well maintained, above-ground level gyms. They even have a little boxing room!"
How Much Does It Cost to Live in Tudor City?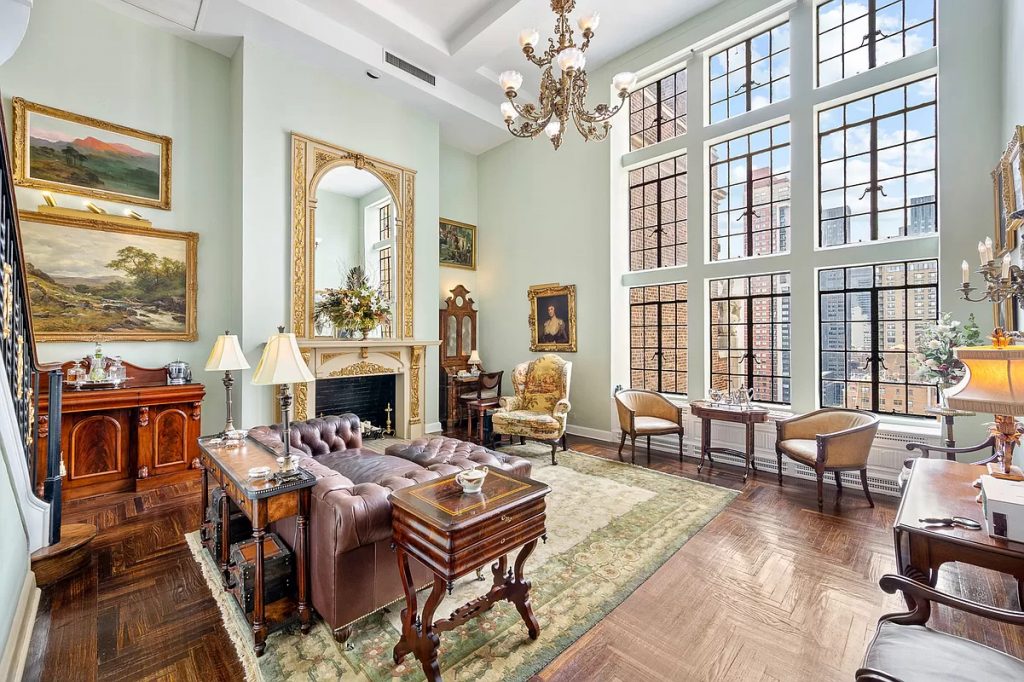 When it first opened, rent in Tudor City was as low as $500— per year. And even now, "Tudor City is very affordable — you will find studios selling for $260,000 to $350,000, depending on the level of the floor and style of renovation," says Mosyan. One reason: many of them feature diminutive (but efficient!) Pullman kitchens.
Compared to Midtown East's median sales price of $895,000 and median rent price of $3,495, both as of August 2021, Tudor City is a major steal. Current listings include a studio rental with bountiful closet space for $1,700 (electric included!) and a studio co-op with a custom Murphy bed and gleaming hardwood floors for $335,000. Or you can consider treating yourself to a triplex Penthouse that acted as Green Goblin's Lair in Spiderman — with its own private roof terrace overlooking the Chrysler Building for just $1,850,000. Honestly? You're worth it.