In a jam-packed, vertical city where every square inch of living space counts, apartments with outdoor space can a be a total bonus, especially a terrace. Just the word "terrace" evokes images of drinks and merriment with friends, or a place to read a book or relax outdoors, making them a prized, added dimension.
Different from a garden apartment, which contains a patio on the ground floor, and unlike a balcony, which is a small overhang barely big enough to test the weather, a terrace is the promise of being different from the bulk of New Yorkers who have to live in high-rise boxes hermetically sealed against the elements.
Generally, a terrace is an open, outdoor space off your apartment that sits on a building's setback, therefore not extending over the facade of the building. That's unlike a balcony, which is smaller and overhangs the building's exterior wall. It's different from a loggia, which is covered outdoor space. A deck, meanwhile, tends to be an elevated surface built to extend out over the building's main frame or foundation.
Here is a floor plan for a cute condop for sale on the UWS, which boasts a private 23-foot x 6.7-foot terrace: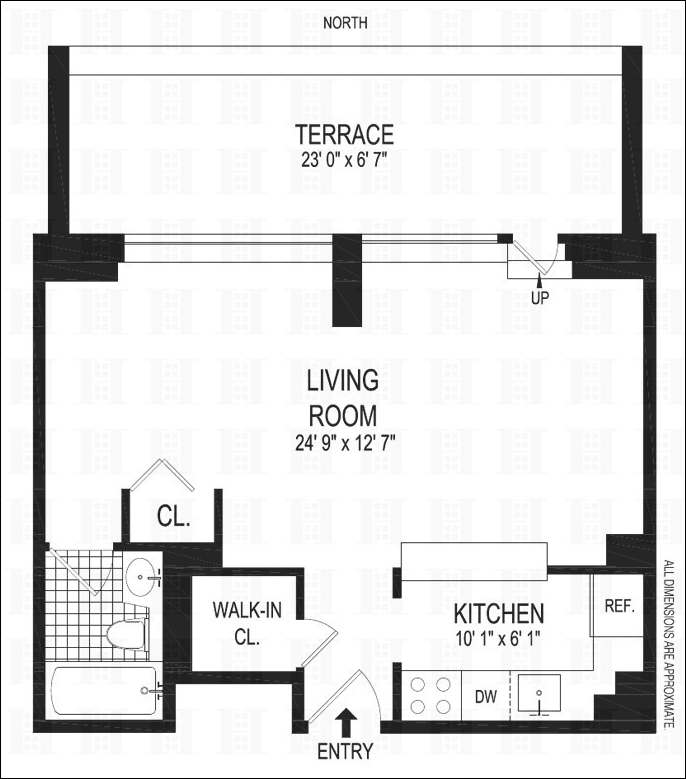 Many buildings will tout their rooftop terraces as part of common space and what it might seem like a selling point, the real questions you should ask yourself are:
How often would I leave my apartment to access a building terrace?
How much would I relish sharing this terrace with other people?
Of course, some rooftop terraces are private, like this gorgeous wraparound terrace in a spacious Flatiron condo (below):
Costs and Conditional Usage
In the case of wanting a private terrace, you get what you pay for and terraces are not free. Some real estate experts have suggested that terrace space can be valued up to half the square foot price as indoor space — sometimes more, depending on the property. Likewise, if a similar unit without a terrace brings your purchase (or rental) price down, it's important to assess whether you will, indeed, make use of the terrace.
While many NYC residents with a terrace extoll the virtues of this kind of space to be used for gardening, relaxing, dining, letting the kids run around, some came to discover that weather, noise or privacy issues limited or deterred use of a terrace.
Additionally, make sure you understand the co-op or condo rules about terraces or any outdoor space. There can be rules about safety fencing, planters or other items. New York City also regulates outdoor grilling. You can't use propane, and gas grills must be hooked up by licensed contractors. Charcoal can be permitted on a terrace if there's more than 10-feet clearance between the grill and building.
In other words: Terraces can be a fabulous bonus for NYC residents if all the conditions and the premium cost of an apartment with a terrace work in your favor.
Related: