Williamsburg has exploded in popularity among New York newcomers and young professionals in the last two decades, and now regularly has average prices far beyond those of greater Brooklyn. But deals can still come up in the area, and it's worth noting when they do. Our Deal of the Week, 31 Conselyea St. #PHR, is a 2-bedroom penthouse with a 500-square-foot private rooftop terrace! You certainly don't see this every day, especially for under $1 million.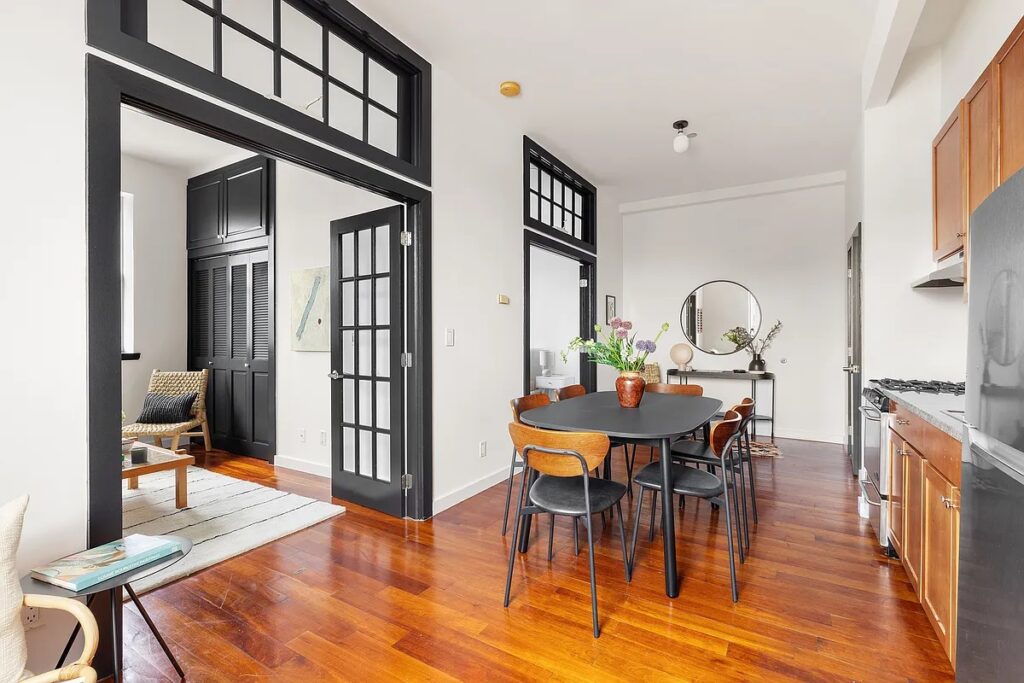 The Price: $845,000
The median asking price for a home in Williamsburg was $1.5 million this June, according to the StreetEasy Data Dashboard. That means our Deal of the Week is priced more than $650K under the median asking price for the neighborhood!
Buyers who put down the 20% minimum down payment of $169,000 can expect to see monthly payments of $5,460. This includes a mortgage payment of $4,593, common charges of $385, and monthly taxes of $662.
Why You'll Love It…
The biggest draw for this apartment is definitely its rooftop terrace, which measures in at 500 square feet. That's a huge amount of outdoor space, with so many options for how to use it! You'll have more than enough room for outdoor furniture, a barbecue, a yoga mat…we could go on.
One flight down, the apartment itself has plenty to offer, too. Enter into the open kitchen area, which can also serve as a dining and living room, depending on how you choose to configure the condo. The kitchen has ample cabinet space, plus a stainless steel oven and refrigerator. There's plenty of room for a dining table, but you could also put an island here to expand the available counter space.
Both bedrooms are accessible through French doors. And because both have windows and closets, they're true bedrooms and can accommodate a large number of configurations. Whether you use both as bedrooms, one as a living room, or one as an office, you have a good amount of space and flexibility to do so.
The bathroom, which is located off the main room, is outfitted in black and white tile that goes perfectly with the apartment's black trim and doors. There's also a shower and tub combo, a vanity, and a medicine cabinet.
This 2004-constructed building has laundry in the basement and is only one block away from the Lorimer L and G stop. McCarren Park is also just a few blocks away. Plus, the building is right near several great bars and eateries such as Union Pool, Reunion, and Kellogg's Diner.
…And Why You Might Not
While this unit is technically a 2-bed, it looks like fitting living and dining furniture into the open kitchen area could be tough. The way it's staged in the listing photos, with one of the bedrooms as a living room, would probably be the most comfortable. Plus, the building is a walk-up, and although there are only four floors, this unit is at the top.
However, deals like this are hard to come by in Williamsburg. So if you're looking for a condo in the area, be sure to check this one out!
Check out the listing at 31 Conselyea St. #PHR, listed by Todd Lewin of Compass.
Find more great deals on NYC homes on StreetEasy