How to Throw a Banging Holiday Party... in Your Tiny Apartment
The holiday season is upon us, and you know what that means – it's party time! Just because you live in a tiny apartment doesn't mean you should forfeit the pleasure of hosting your own holiday party. So string up the mistletoe, crank up the carols, and prepare to host your coziest shindig ever.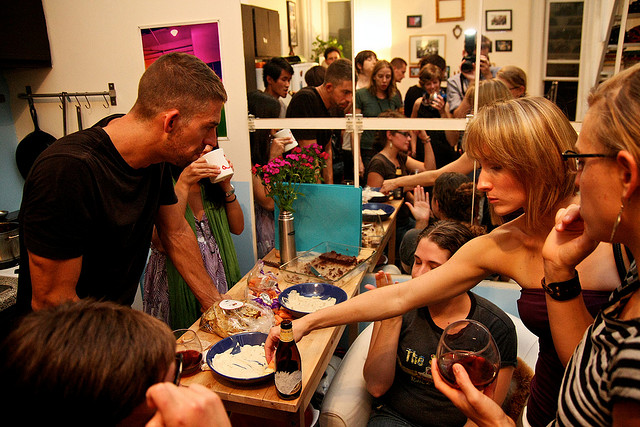 Hosting a Dinner Party in Your Studio? Yes. You Said It.
Let's say you want to host a holiday dinner party but you don't have a dining room table. Channel your inner Moroccan and pepper the living room floor with throw pillows and comfy blankets. The coffee table ends up being the perfect height when you're sitting on the floor! If you do have a kitchen or dining room table but it's not long enough to accommodate all your guests, put a longer piece of plywood over the table and cover the whole thing with a beautiful table cloth. A bench is a great way to fit a lot of friends around the table without taking up a lot of space, and can also easily be stowed away against a wall when you're not entertaining.
Lots of Guests and Not Much Space? Try a Buffet
While dinner parties are wonderful, they are more difficult when you're working with a tiny kitchen and limited space for all your guests. An easier option for parties in tiny apartments is the more casual buffet style dining. Guests can sit where they will, allowing more festive mingling and you don't need to worry about fitting everyone around the same table. Consider making food that you can prepare the night before and reheat right before the party. Paper plates and cups make for much easier cleanup – go for options in festive holiday colors!
When All Else Fails, Go for a Cocktail Party
By far the easiest option in a tiny apartment is the holiday party that's heavy on booze and light on food. A cheese and charcuterie plate is easy to put together and takes up minimal space. Make the bar more compact by only serving wine or champagne, and keep beer in the fridge. Mulled wine is always a festive holiday option, and can be kept warm in a beautiful pot on the stove! Bonus points for space-saving efficiency.
Get Creative With Space
Ah, the old adage of the tiny apartment: always look for creative uses for your space. The bed is a perfect alternative if you don't have a coat closet (and let's be honest, who does?). Move bulky furniture against the wall and roll up the rugs to create the illusion of more space and avoid stains. Good lighting always makes a room look bigger and is more flattering in general – your guests will thank you! Clear surfaces to make room for resting plates and cups: empty a shelf of your bookcase, or cover a side table with a festive throw. Then relax and have fun! It's the most wonderful time of the year.
Related: