Gotham is famed across the globe for its riveting theater, Michelin-starred restaurants and an art scene that rivals anything Emily would find in Paris. But did you know it's also unexpectedly a wildlife capital of the world? Yep. These furry and feathered New Yorkers who've lived here for generations include everything from coyotes to peregrine falcons…and they can often be spotted in our most underrated NYC parks. Of course, there's more to do in these verdant landscapes than ogle flora and fauna. Just in time for spring, we rounded up the nine most surprisingly fabulous NYC parks — and the nearby neighborhoods that have a front-row seat to their beauty. Just remember to BYO picnic, because hanger and day hikes don't mix.
Flushing Meadows-Corona Park, Queens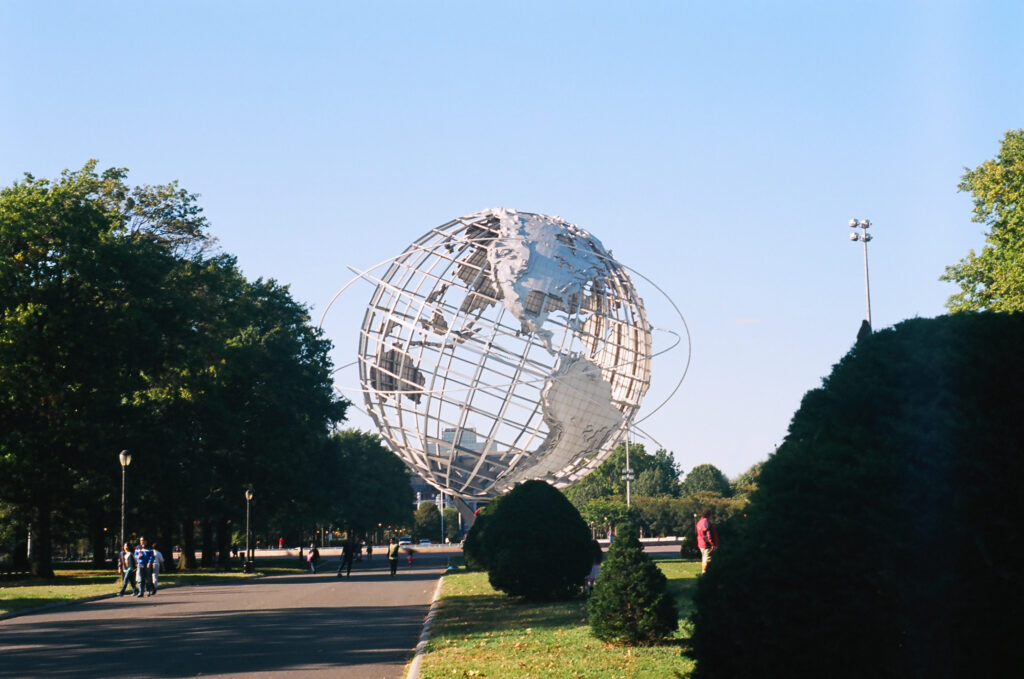 Formerly home to the indigenous Matinecock tribe, this nearly 900-acre NYC park turned heads across the planet for its starring roles in both the 1964 and 1939 World's Fairs.
"It's beautiful and lively, and larger in acreage than Central Park," says Jeremy Wilcox, owner of Custom NYC Tours and a board member of the Guides Association of NYC. "If you're a history fan, you'll of course want to explore all the remnants (well beyond just the Unisphere) from not just the 1964 World's Fair, but the 1939 Fair as well. Definitely pop in to the Queens Museum to view the Panorama of the City of New York, a must-see for local or tourist alike."
Wilcox adds that families and culture lovers flock to Flushing Meadows-Corona Park for the Queens Zoo, Hall of Science and Queens Theater, among other things. "And, of course, it's home to the US Open each summer." Arguably the best part: this NYC park is within walking distance of downtown Flushing, a.k.a. some of the best Chinese food in town.
Van Cortlandt Park, The Bronx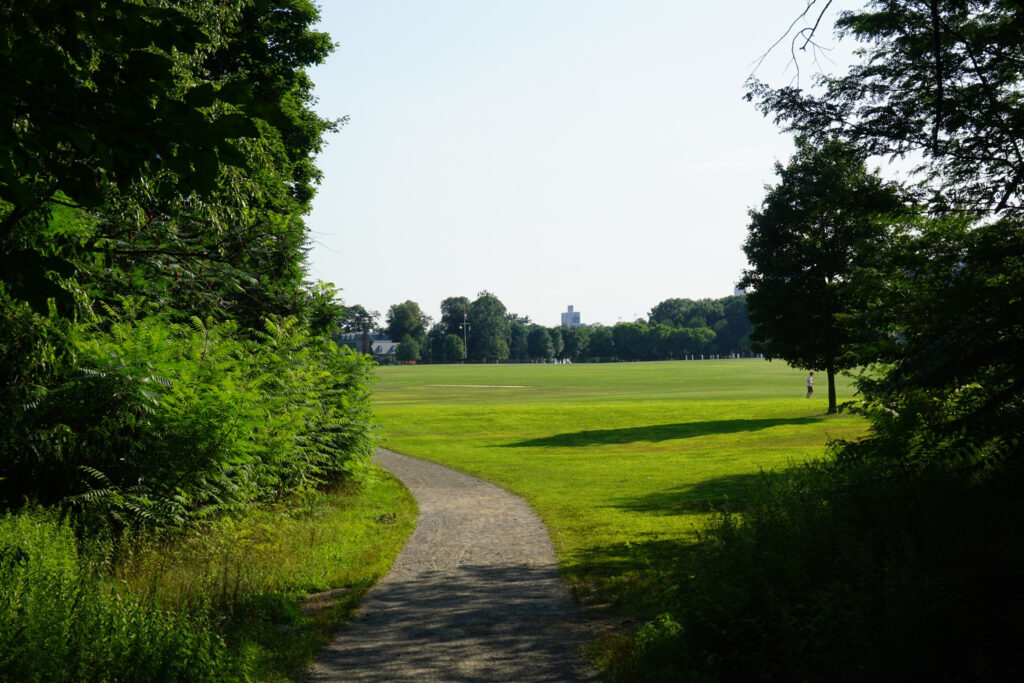 Instead of replaying Hamilton for the 379th time, history obsessives may want to hop a 1 Train to this huge plot—the third largest of all the NYC parks—instead. The 1,146-acre retreat is home to the Van Cortlandt House Museum, a circa 1748 Georgian house where George Washington himself slept not once but twice during the Revolutionary War. (While you're there, look for Tibbetts Brook pond, which was created by a few of the many enslaved people who toiled there between 1698 through 1823).
Golfers love playing "Vanny"—reportedly the oldest public golf course in the nation (born in 1895) and infamous for hosting everyone from Babe Ruth to The Three Stooges. While you're at Van Cortlandt Park, be sure to stop in at the parkside Lloyd's Carrot Cake in the adjacent Fieldston neighborhood; the bakery has been churning out some of the most unforgettable baked goods in the borough for nearly 40 years (the pineapple layer cake is a must).
Inwood Hill Park, Manhattan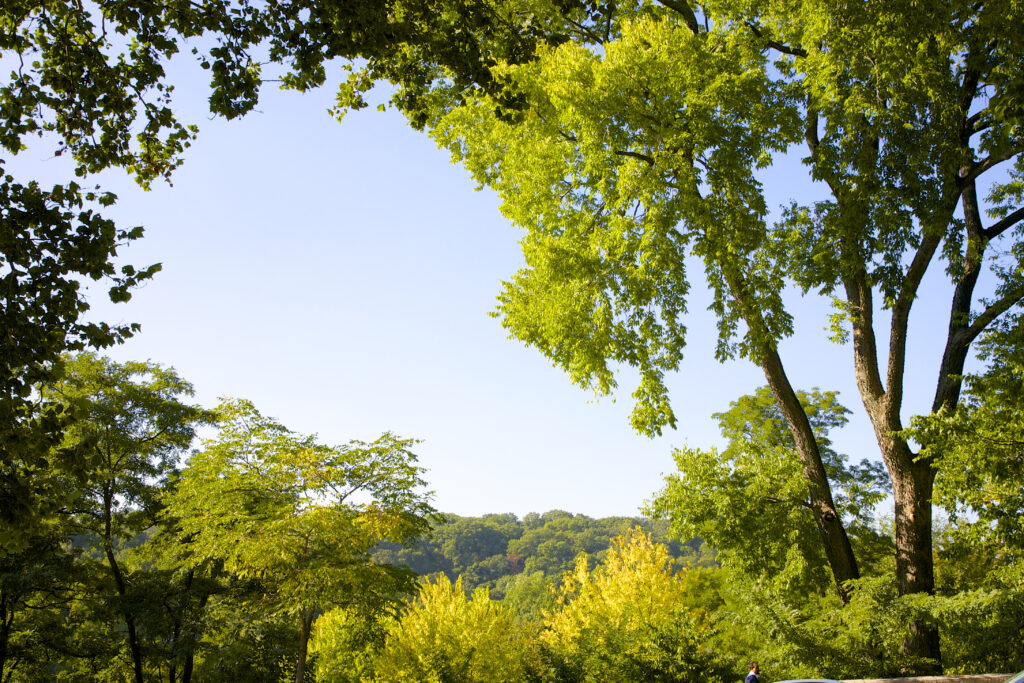 "I don't often get to the very top of Manhattan, but when I do, I always try to make a detour to this park," Wilcox says, citing the numerous gorgeous walking paths to choose from, most of them flanked by ancient tulip, oak and cottonwood trees.
Keep an eye out for Shorakkopoch Rock — where Peter Minuit reportedly "sold" the island of Manhattan for about $24 worth of glass beads and other sundry objects to the indigenous Munsee peoples in 1626. And don't forget to scan the skies; this is one of the best of all the NYC parks for spotting bald eagles, especially in the winter months.
"It's not a particularly huge park, but can be easily combined with its southern neighbor, Fort Tryon Park," Wilcox says. Not a bad idea, thanks to that particular NYC park's most storied amenity: The Met Cloisters, a hilltop medieval art museum tucked within former Benedictine Abbeys hauled here from Europe in the early 1900s, one of the many sparkling gems in the surrounding Inwood neighborhood.
Wolfe's Pond Park, Staten Island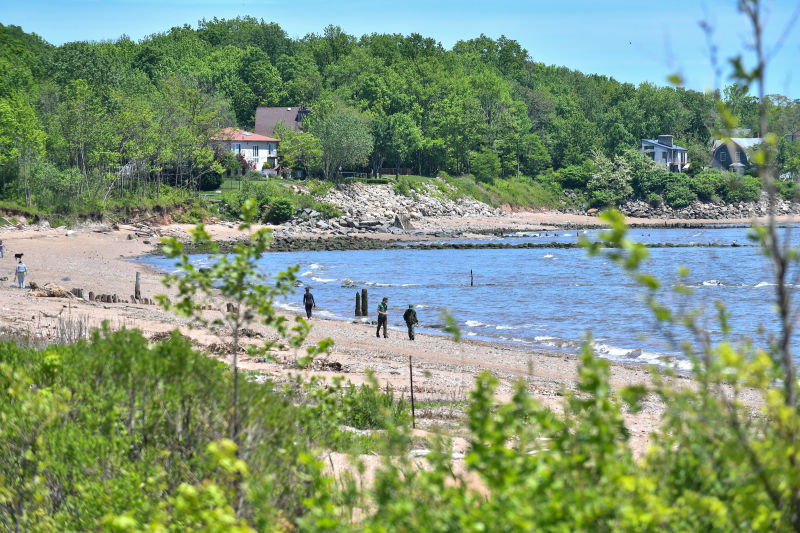 For New Yorkers who want the world—and why shouldn't they?—Wolfe's Pond delivers. This is one of the most amenity-stocked parks in the city, with a long sandy beachfront on the Atlantic Ocean formed during the last Ice Age, hiking and biking trails, two playgrounds, and even a roller hockey rink.
Go May through June to spy horseshoe crabs skittering out of the water at Raritan Bay to lay up to 20,000 eggs in the sand. (Worried about the migrating birds attempting to feast on the scene? Don't: this species has lived on earth since before the dinosaurs—some 1.2 billion years — and is as hardy as it gets. Humanity is a much larger threat).
Walk just a couple blocks west to explore the ornate Seguine Mansion — a Greek Revival manse built in 1837 — keeping an eye out for resident peacocks and purple martins that return to the ye olde Princes Bay neighborhood annually from their winter home in South America.
Prospect Park, Brooklyn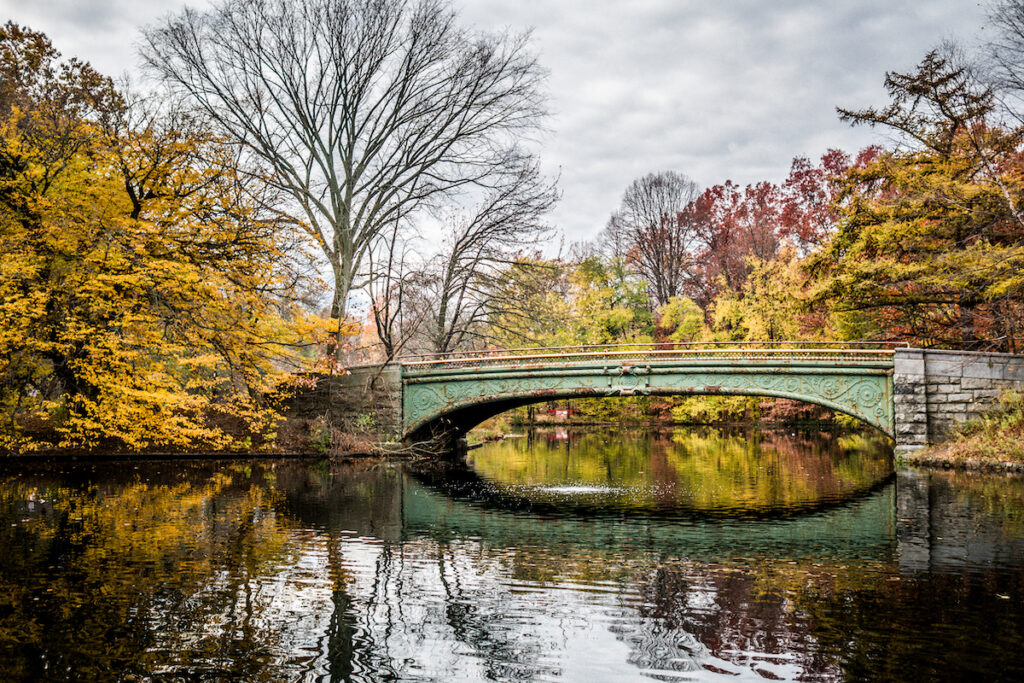 Prospect Park, the 585-acre retreat of rolling grasses, woodlands and unmissable thrills like the Brooklyn Botanic Garden is perhaps not considered under-rated to Brooklynites, Wilcox says. "But this masterpiece of a park by Frederick Law Olmsted and Calvert Vaux is not really known to tourists. It remains one of the borough's great treasures and connects several great neighborhoods [including storied Park Slope, Prospect Heights, Windsor Terrace, and more]."
His favorite section? "The Ravine, Brooklyn's only remaining natural forest. I love to walk down the path from the Long Meadow to the Nethermead past waterfalls, or go bird-watching."
The park's bird life includes more than 250 species, like great blue herons and tufted titmouses, depending on the season; you can pick up a list of recently observed species here and try to see how many you can check off.
"If visiting between April and October, come on a Sunday to hit up Smorgasburg [at Breeze Hill]," Wilcox says.
Forest Park, Queens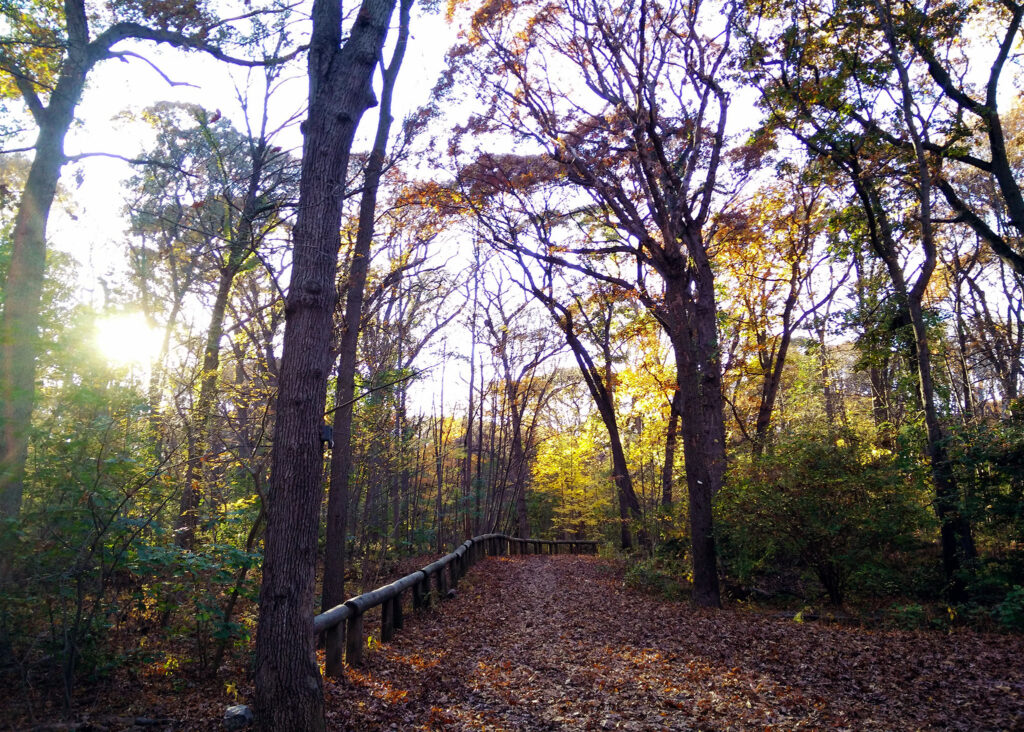 You don't have to schlep upstate to feel like you're upstate. In Forest Park, you'll be able to hike or even ride horses from a private stable through a leafy oak-hickory forest; hit the links at the Forest Park Golf Course (designed by Stephen Kay in 1995); play bocce ball at the first-come, first serve courts; and even hop on a carousel painstakingly built circa 1903 by master carver Daniel Carl Muller.
Fun fact: this 538-acre expanse was actually part of Brooklyn when it was founded in 1895! To have frequent easy access to this star in the NYC parks constellation, consider living in charm-stocked neighborhoods like Tudor-style Forest Hills or Kew Gardens, which was inspired by England's fairytale botanic gardens of the same name.
Pelham Bay Park, The Bronx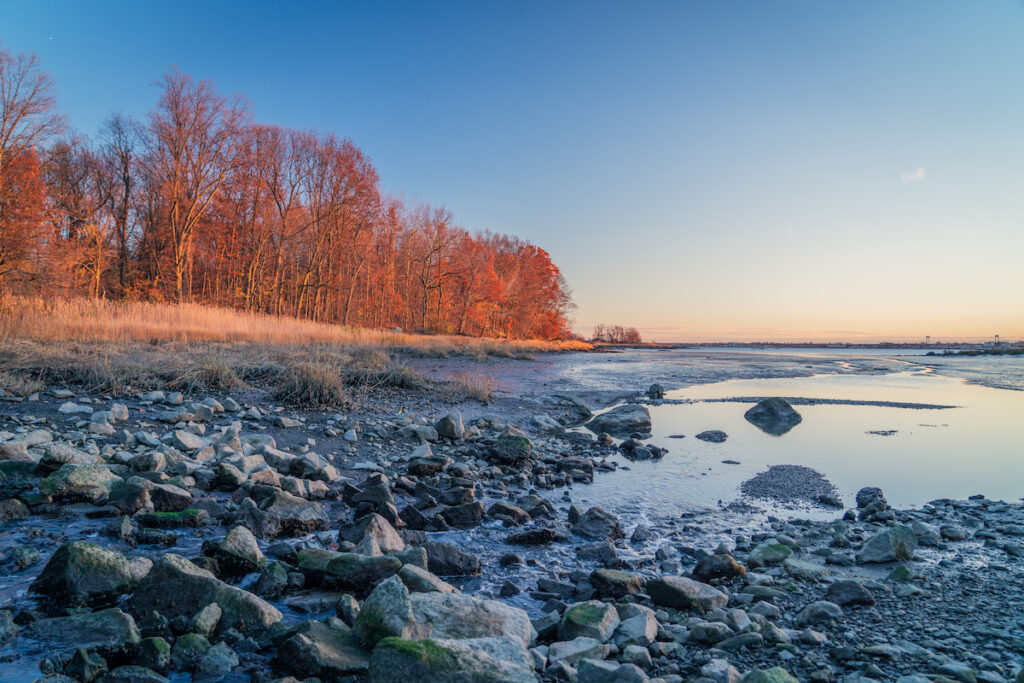 Once occupied by the Lenape, the largest of the NYC parks is nothing less than ginormous at a whopping 2,772 acres — so don't plan on seeing it all in one day. One of the highlights of Pelham Bay Park? The Bartow-Pell Mansion Museum, which looks like something Jane Austen herself would have conjured: a Greek Revival estate built circa 1843 flanked by manicured gardens.
You also won't want to miss the nearby Thomas Pell Wildlife Sanctuary, where Goose Creek marsh and oak-hickory forests contain any number of fauna — including egrets, hawks, glossy ibis birds and even coyotes. Locals also swear by 1.1-mile-long Orchard Beach — nicknamed "The Riviera of New York" in the 1930s.
Be sure to stop by nearby City Island (famous for its star turn in the 2009 dramedy film by the same name), a fishing village with unbeatable seafood — such as the baked clams at the dockside Sea Shore Restaurant, open since 1923.
Southpoint Park/Franklin D. Roosevelt Four Freedoms State Park, Roosevelt Island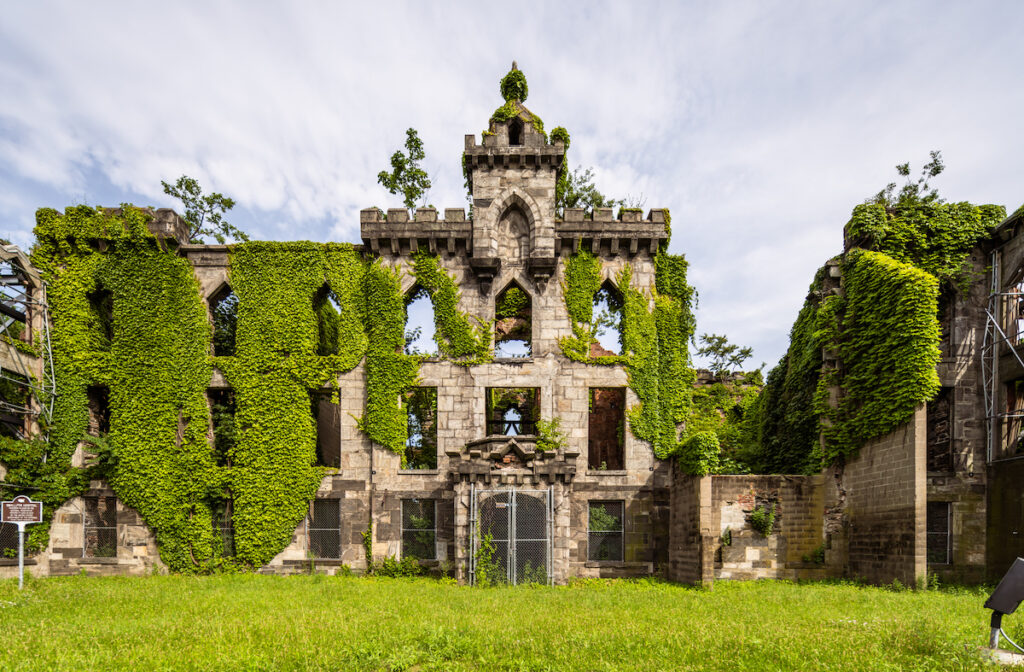 Accessed via the Roosevelt Island Tramway, NYC Ferry Astoria Route, the Q102 bus from Queens, or a dedicated F train stop, "these two connected parks at the southern end of Roosevelt Island are not massive, but they're a peaceful spot… and feature some of my favorite Midtown Manhattan skyline views," Wilcox says of these beloved NYC parks. (Bonus: the FDR park was originally designed by Midcentury starchitect Louis Kahn).
"You also get to peek at the abandoned, landmarked Smallpox Hospital," Wilcox says of the eye-catching 1856 Gothic Revival ruin, which is currently undergoing a stabilization project that will allow it to be open to the public for Instagrammable wandering.
Wilcox's advice for these NYC parks? "Go in April to walk past the cherry blossoms on the way there, and wander through the modern Cornell Tech campus [adjacent to Southpoint Park]." If you fall in love with this megawatt view, join the many New Yorkers who love living on Roosevelt Island, Manhattan's peaceful little sister.
Fort Totten Park, Queens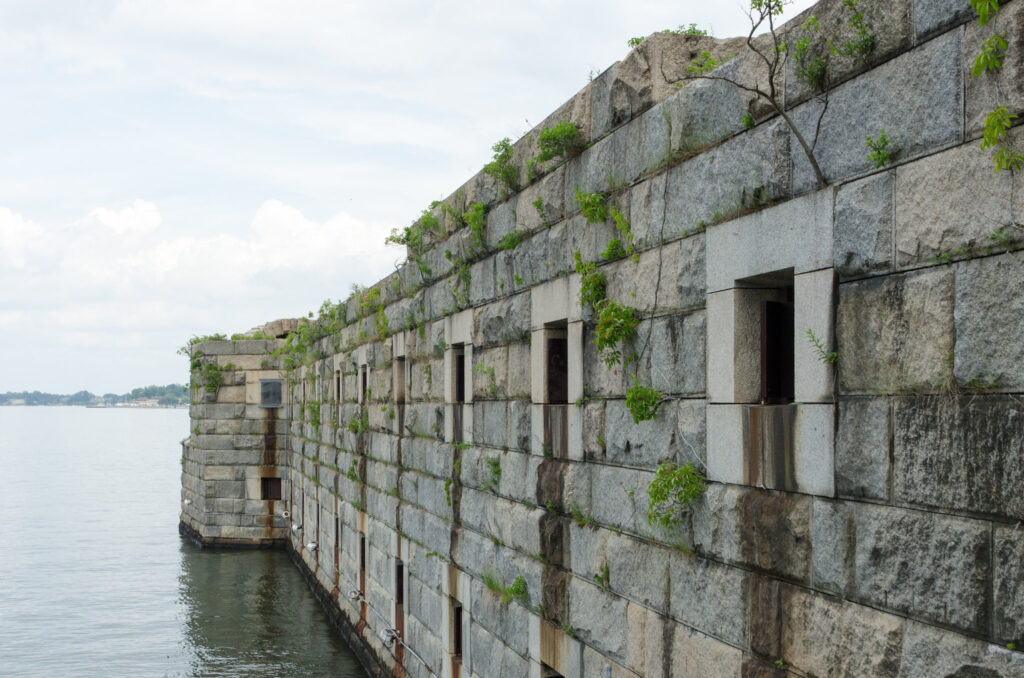 You don't have to head down South to explore Civil War history. Designed to protect New York City's eastern harbor from combat in 1857, the fortress here has since played host to everything from a military hospital to fire department training facility. Don't miss the Neo-Gothic-style Officers' Club, a castle-inspired structure that was reportedly designed by a young Robert E. Lee (yes, that Robert E. Lee) before the war began; it's now home to the Bayside Historical Society, which is showcasing exhibits on its namesake neighborhood and items excavated from archeological digs in Queens.
Rather get outdoors? Fort Totten Park has organized al fresco self-guided fitness walks and even a seasonal outdoor pool. Bliss.