Whether you're a native New Yorker or an out-of-towner, the architecture in this city can be mesmerizing. While it's impossible to recognize every building in NYC, there are some you just have to know, especially the most famous prewar luxury apartment buildings. Here we rank the top apartment buildings in NYC — the 10 grandest classics — according to our own informed but subjective assessment of their style, location, and fame. We'll round up the best newer residential buildings in another post.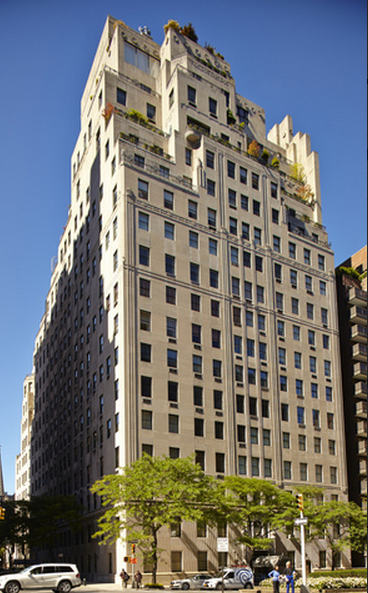 The subdued limestone facade of 740 Park Ave. belies its legendary status in the upper crust of New York City housing stock. Many of the city's most influential power players have made their home in the building's expansive duplexes, triplexes and penthouses.
Architect/style: Rosario Candela and Arthur Loomis Harmon; Art Deco
Year built: 1930
Size: 19 floors, 33 units
Notable residents: Ronald Lauder, Vera Wang, Stephen Schwartzman, David Koch, Ronald Perelman; Jacqueline Onassis (as a child)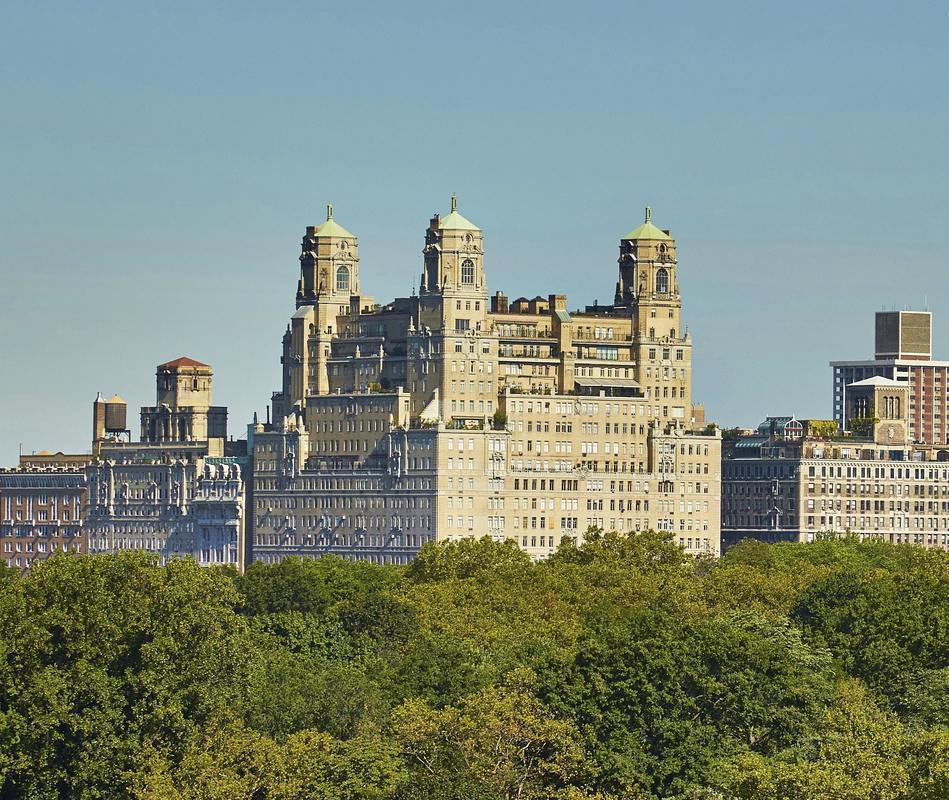 The Beresford sits on one of the Upper West Side's best addresses, right at the corner of Central Park West and 81st Street, directly across from the American Museum of Natural History. As such, the building is a well-known and beloved neighborhood landmark. It features three massive, hexagonal towers topped by copper lanterns.
Architect: Emery Roth
Year built:

1929

Size: 20 floors, 193 units
Notable residents: Jerry Seinfeld, Glenn Close, Diana Ross, John McEnroe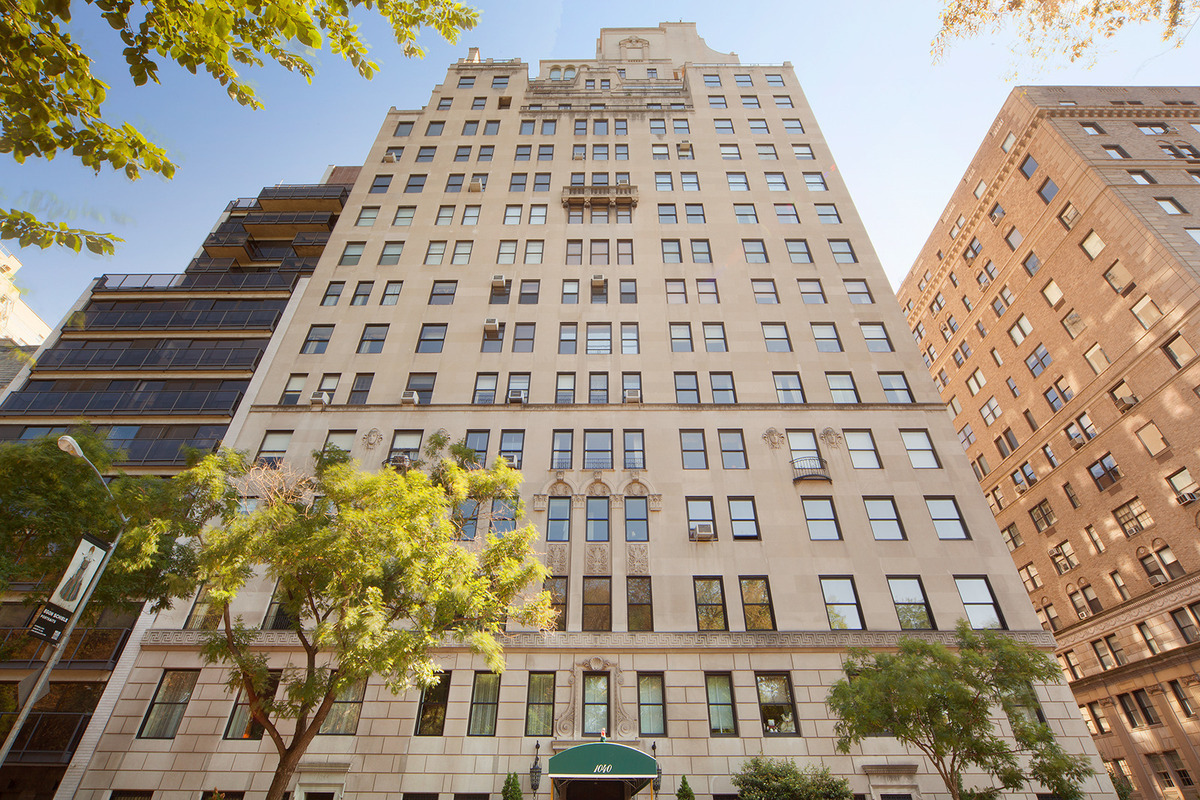 Located on the corner of Fifth Avenue and East 85th Street, 1040 Fifth sits at what might be the city's toniest address. The Art Deco building is directly across from the Metropolitan Museum of Art and adjacent to the prestigious Marymount School. It is said you can see the Met's Temple of Dendur from inside the apartments.
Architect: Rosario Candela
Year built: 1930
Size: 17 floors, 28 units
Notable residents: Jackie Onassis owned a full-floor residence on the 15th floor for nearly 30 years. It was purchased after her death by David Koch.
Part European clock tower, part exotic minaret, and thoroughly old-school New York, the Sherry Netherland is one of the city's most majestic buildings. On either side of the entryway, oversized bronze lanterns hang from the mouths of griffins. Up top, protruding gargoyles line the chimney, completing the building's sense of old-world opulence.
This luxury hotel and co-op has been a fixture in the New York City luxury milieu for as long it's been open to the public. At its opening in 1930, the New Yorker hailed it "millionaires' Elysium."  It was also the site of a $25 million robbery orchestrated by the Lucchese crime family. The top floors of the building are modeled on a chapel at Versailles, which says just about everything you need to know.
Architect/style:  Schultze & Weaver; French Neo-Classical
Year built: 1930
Size: 41 floors, 77 co-ops, 189 hotel residences
Notable residents: Elizabeth Taylor, Yves Saint Laurent, Aristotle Onassis
Originally New York City's largest hotel, the Ansonia sits at the highly visible intersection of Broadway and 72nd Street, right where the avenue curves. With its enormous mansard roof, dramatic turrets and exaggerated ornamentation, the building commands attention. As much as it's a fixture of the Upper West Side, it could easily look at home on a Paris boulevard.
Architect/style: Paul E. Duboy; Beaux-Arts
Year built: 1902
Size: 17 floors, 385 units
Notable residents: Macaulay Culkin, Theodore Dreiser, Angelina Jolie, Natalie Portman, Babe Ruth, Igor Stravinsky
The Apthorp is one of the few buildings in New York City to take up an entire city block, spanning from Broadway to West End Avenue between 78th and 79th streets. In true Italian Renaissance form, the main entrance is lavishly decorated with cast-iron gates, putti and sculpted gazelles.
Architect/style: Clinton & Russell, Italian Renaissance Revival
Year Built: 1908
Size: 12 floors, 154 units
Notable Residents: Nora Ephron, George Balanchine, Al Pacino, Conan O'Brien, Cyndi Lauper
The San Remo was the first apartment building in New York City to feature a twin-towered design. At the 18th floor, the building splits into separate towers that rise another 10 floors each and are capped by twin Corinthian temples. The building's facade is easily recognizable from Central Park and has become an iconic New York City landmark.
Architect: Emery Roth
Year built: 1930
Size: 28 floors, 138 units
Notable residents: Bono, Demi Moore, Bruce Willis, Tiger Woods, Dustin Hoffman, Steve Martin, Stephen Sondheim, Steven Spielberg, Donna Karan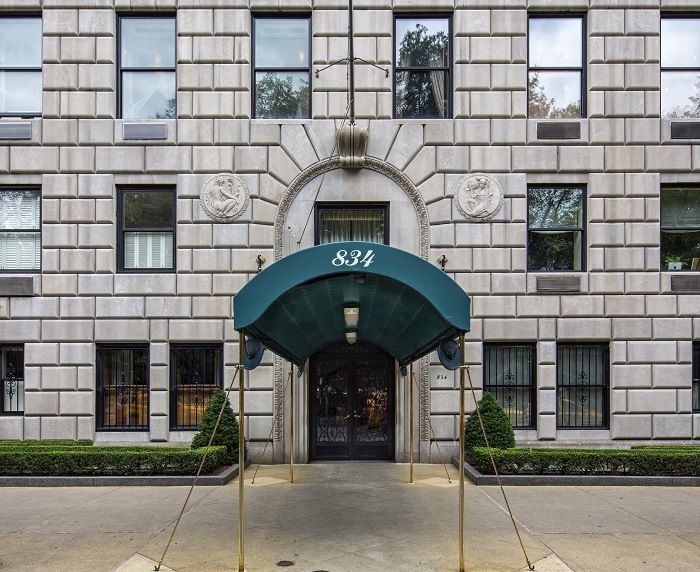 Described by the New York Observer as "The most pedigreed building on the snobbiest street in the country's most real estate-obsessed city," 834 Fifth lives up to reputation, with the average sale hitting $30.5 million. The building requires all cash purchases, too — which means no mortgages here, thank you very much.
Architect/style:  Rosario Candela; Art Deco
Year built: 1930
Size: 16 floors, 24 units
Notable residents: Laurance Rockefeller, Rupert Murdoch, Elizabeth Arden, Charles R. Schwab, Robert Johnson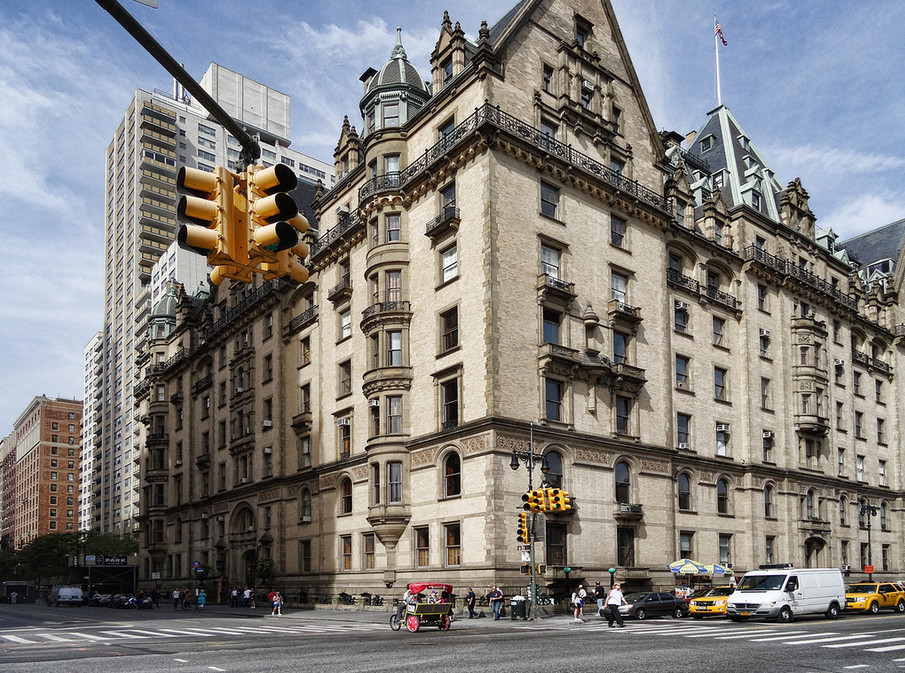 When it comes to old school New York stature, the grandpappy of them all is The Dakota. Part 19th Century French chateau, part Gothic castle, the result is a perfect combination of luxury real estate and NYC history. Replete with dormer windows, arches, balconies, spandrels, gables and gothic ornamentation of all kind, there's nothing subtle about this place. A Native American statuette stands watch over the building's main entryway on 72nd Street, a carriage porch that leads into an enclosed, private courtyard. With many notable residents past and present, the building has loomed large in the city's architectural and cultural life for more than 100 years.
Architect/style: Henry J. Hardenbergh; Victorian neo-gothic
Year built: 1884
Size: 9 floors, 93 units
Notable residents: John Lennon lived here and was shot just outside the building's entrance in 1980. Other residents include Lauren Bacall, Leonard Bernstein, Joe Namath, and Rosie O'Donnell.

—
Hey, why not like StreetEasy on Facebook and follow @streeteasy on Instagram?
Related: