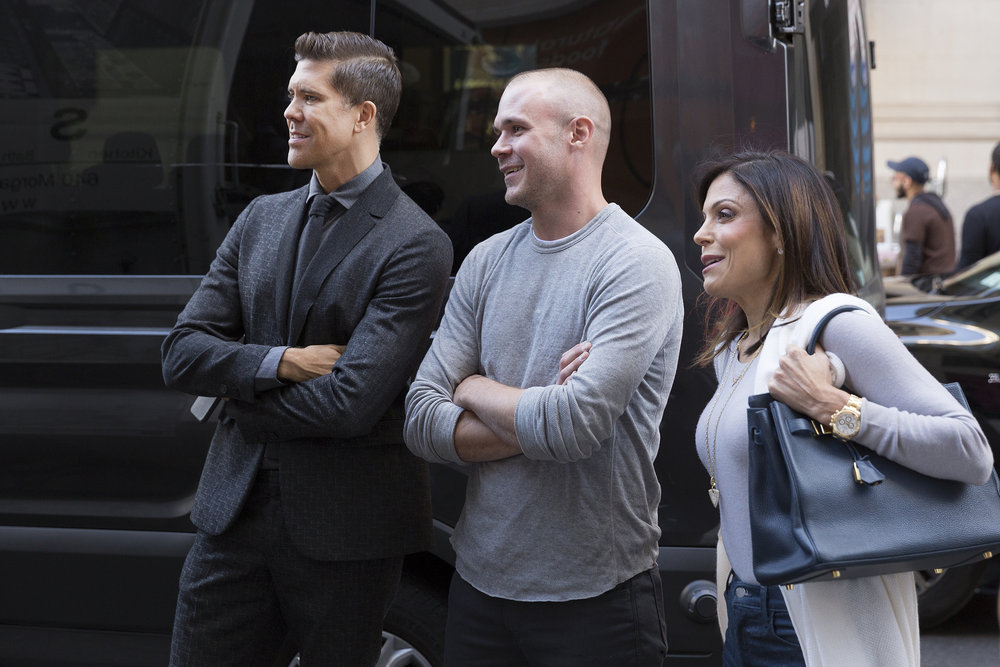 When last we met Bethenny and Fredrik, they were striding to their separate corners after a tiff over each person's responsibilities in their partnership. Now, with Fredrik still away on his safari vacation, Bethenny meets up with Jordan, Fredrik's assistant, to check out a few of the listings she's compiled. At a Tribeca loft down the block from Taylor Swift, the pair check out a 1,700-square-foot 1-bedroom listed at $2.75 million. Bethenny is disturbed by a hidden bed that gives her visions of a coffin ("Tribeca, aka Transylvania," she quips), and is shocked that a place that seems to need so much work has such a high price tag. But Bethenny is on a mission to see as many apartments as possible, and Fredrik's absence is in no way going to slow her down.
After a brief shot of Fredrik admiring zebras and hippos in Zambia, we're back with Bethenny at the Madison Square West site, where she's meeting with her closet designer Andrea Gary. Closets are where to spend to achieve a real wow factor, Bethenny believes. Knowing that they're looking to create the kind of out-of-this-world closet that could sell a place on its own, Andrea promises she can "really pimp it out" with light-up closet rods. "Any woman, Wall Street guy or gay man is going to swoon," Bethenny promises. That kind of closet is a $20,000-30,000 project, against their budgeted $15,000-18,000, but Bethenny's sure Andrea, whom she's worked with in the past, will give her a good deal.
Five days later, Fredrik has returned from his life-changing trip and is indulging his lighting obsession with his designer Karli, surveying the offerings at Circa with 10 Madison's guest bathroom in mind. A brass fixture priced at $700 falls well within their lighting budget. Fredrik knows Bethenny's attitude toward staying on budget, but he's wary of going too cheap on this. "I know what these luxury, high-end, wealthy buyers want. They want something looking very expensive," he says. When an email comes in alerting him to an $8.9 million offer on his duplex listing at Madison Square Park Tower, he immediately calls Jordan to have him prepare a deal sheet, only to learn that Jordan has his hands full assisting Bethenny. Jordan's eager to fan the flames of the Fredrik-Bethenny showdown. "She's blowing up my phone," he tells Fredrik. "Like, it's a lot." Fredrik isn't surprised that Bethenny is "steamrolling" his assistant, but he doesn't like it.
Back at home, Fredrik and his husband Derek Facetime with MJ, the surrogate who is currently six months pregnant with their twins (video below). Both are over the moon to become parents.
That bliss is soon zapped when Fredrik and Jordan meet Bethenny and her Skinnygirl team at a birthday celebration for Bethenny's assistant, Julia. "I thought if we got all the teams together, the more the merrier to celebrate Julia's birthday," she says, forgetting what show she's on. Fredrik might be wearing a good-time moto jacket when he rolls in, but he's definitely not there to play. "How am I in the world going to sit down with Bethenny and have Jordan there without flushing this out?" he asks. Of course! The inevitable tug of war over Jordan ensues, with Fredrik telling Bethenny she overstepped by tasking his assistant. "What was I supposed to do, Fredrik?" Bethenny asks. "Wait to see the pictures of the monkeys you took and you to come back and then for you to ask Jordan to look up listings and then send them to me?" As Bethenny's friend Teri attempts to (somewhat unintelligibly) bolster her argument, Fredrik tells her she's very direct. The seemingly innocuous comment incites wild screaming. "This is what people warned me about her," he tells the camera.
After reaching a seemingly instantaneous and effortless détente, Fredrik sums the situation up as them "learning to communicate." Okay. Post-party brawl, Bethenny decides to clear the air with a lunch of dim sum, a cuisine she finds "fun." As Fredrik gropes Bethenny's chest and she applies lip-gloss to his mouth, we're given the sense that a peace has been reached.
Later, Fredrik's walk with Derek and their two miniature dachshunds is interrupted by a phone call from Bethenny. ("We're sitting here, four wieners on a park bench," he offers, to set the scene for her.) She tells him that Andrea will be able to do the closet of their dreams for only $15,000 and makes the suggestion that they broaden their property search to look at some places in the Hamptons. A weekend trip is planned, but city boy Fredrik is trepidatious. A new challenge awaits!
—
Hey, why not like StreetEasy on Facebook and follow @streeteasy on Instagram?