When Manhattan calls, you have to answer. But the answer can depend on how deep your pockets are. The median asking rent is back up from 2020's deep discounts, rising from $2,995 in August 2020 to $3,100 in August 2021. But housing prices vary wildly on this island, from Billionaire's Row to classic walkups. If money is no object, well then, lucky you! Enjoying city life on a budget is decidedly trickier — but it's certainly not impossible. We're here to help, with seven affordable Manhattan neighborhoods for renters that boast some of the borough's lowest median asking rents. The least expensive area is less than $1,900!
Yorkville Rentals for Under $2,500 on StreetEasy Article continues below
1. Yorkville: An Affordable East Side Enclave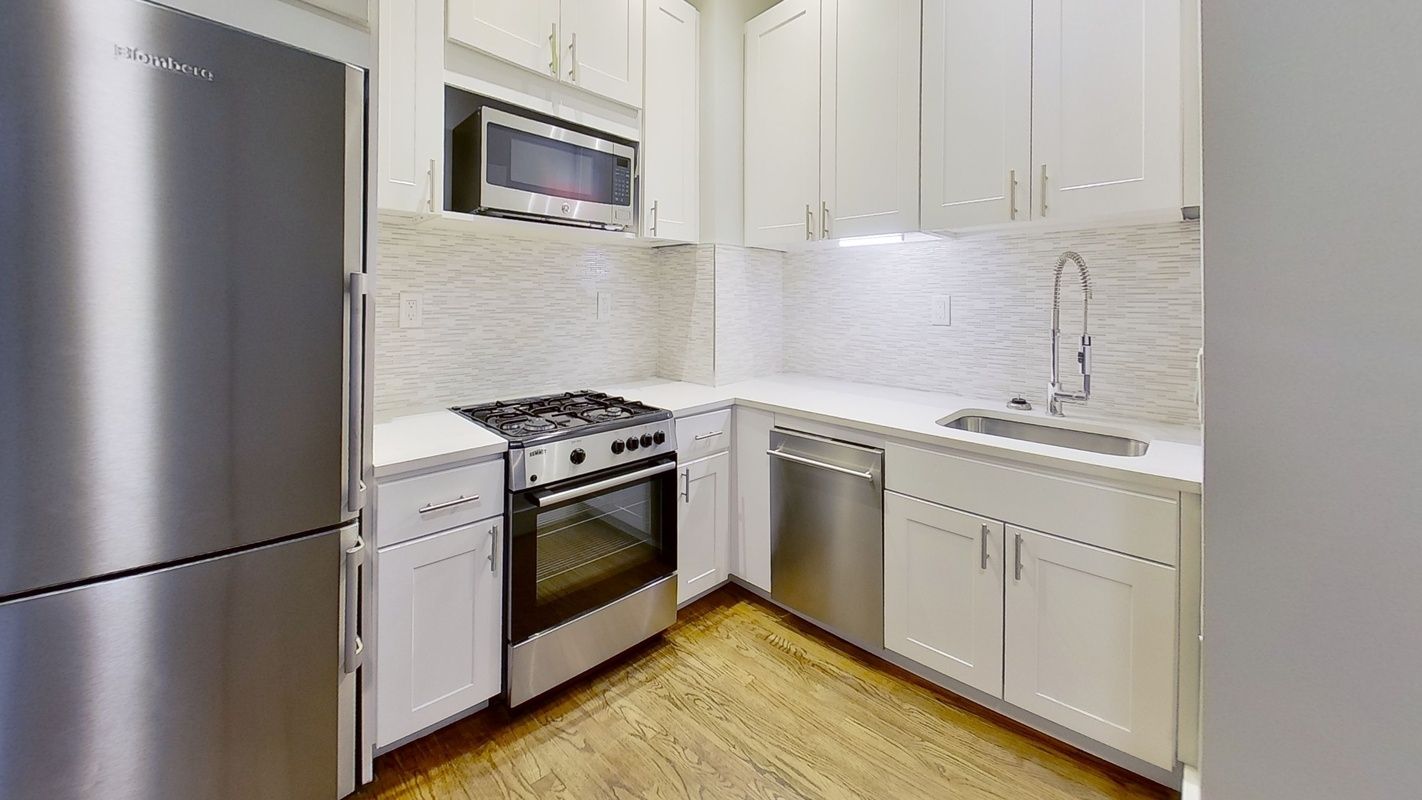 Median Rent: Yorkville is a submarket of the Upper East Side, which has an overall median rent of $2,700 as of August 2021.
Subway Info: This neighborhood was once a veritable subway desert, but the Second Avenue Q line has opened up a whole new transportation world, with stops at 86th and 96th streets. In addition, the 4, 5, & 6 trains can be located minutes away on Park Avenue and the ride to Times Square is only about 15 minutes!
Notable Attractions & Amenities: Carl Schurz Park provides Yorkville residents with plenty of green space, basketball courts, dog runs, and wide-open river views. It's also the home of Gracie Mansion, the official residence of the NYC mayor. There's also Asphalt Green, a massive sports and fitness facility with an aquatics program. It runs from East 90th to East 92nd streets right at the FDR.
This affordable Manhattan neighborhood, which occupies the easternmost part of the Upper East Side, has a residential vibe. You can expect plenty of well-maintained high-rises, condos, and townhouses. The area also boasts several iconic food destinations, too, including the famed German restaurant Heidelberg and H&H Bagels, both on Second Avenue.
Hamilton Heights Rentals Under $2,950 on StreetEasy Article continues below
2. Hamilton Heights: Prewars Galore and a Rich History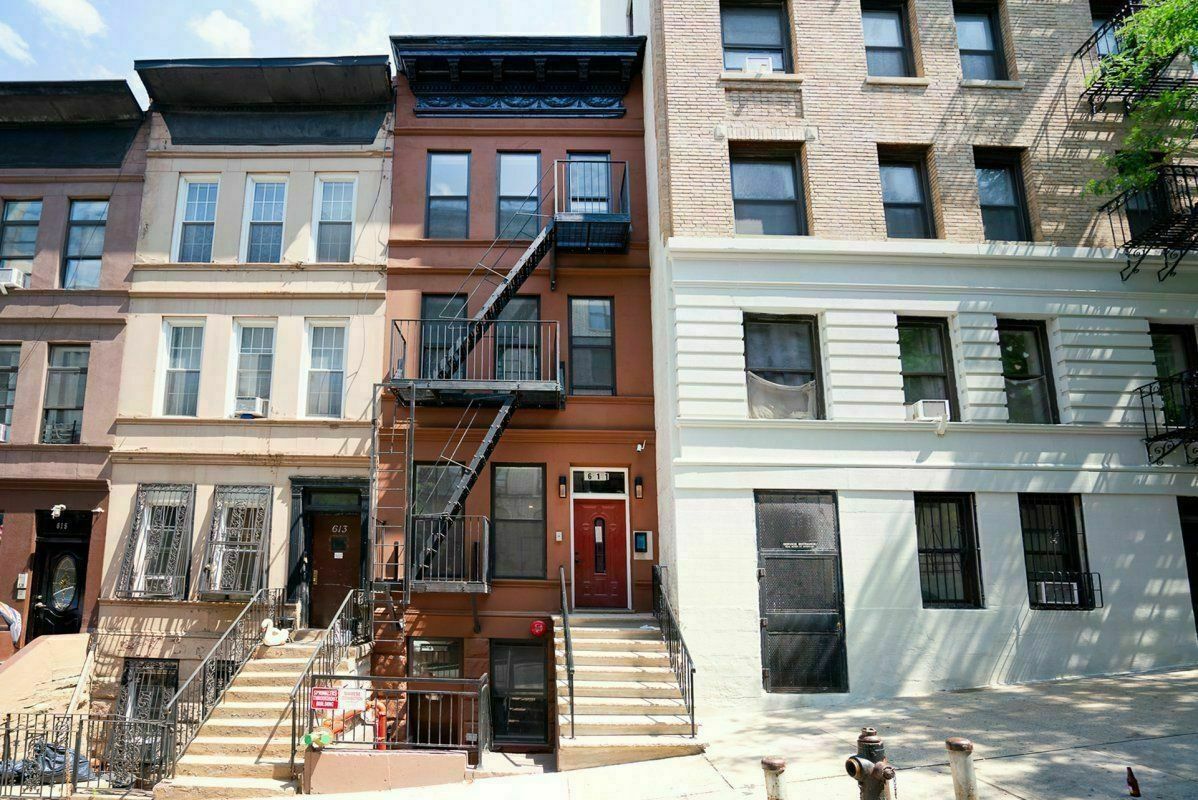 Median Rent: A respectable $2,350 as of August 2021.
Subway Info: There are two express options, the A and D, which will get you to Midtown in 22 minutes. There's also the 1 train running local. You can expect a reasonable 29-minute trip to 42nd Street.
Notable Attractions & Amenities: The area situated in West Harlem above Morningside Heights is named after one of America's Founding Fathers, Alexander Hamilton. Fun fact: He spent the last two years of his life in the neighborhood. His former abode, dubbed The Grange, resides in St. Nicholas Park. Other neighborhood institutions include The Dance Theater of Harlem and The City College of New York. The latter is a must-see for neo-Gothic architecture fans.
One of the crowning jewels in this affordable Manhattan neighborhood is the National Historic District of Sugar Hill. Former residents include Adam Clayton Powell Jr. and Duke Ellington. There you'll find stunning prewar apartments and elegant rowhouses, many with their original architectural details. Delicious dining and takeout options are also plentiful. Local favorites serving up casual fare include Hogshead Tavern (get the pork belly sandwich) and Sugar Hill Café (try the brioche French toast).
East Harlem Rentals Under $2,300 on StreetEasy Article continues below
3. East Harlem: Legendary Eats and Convenient Shopping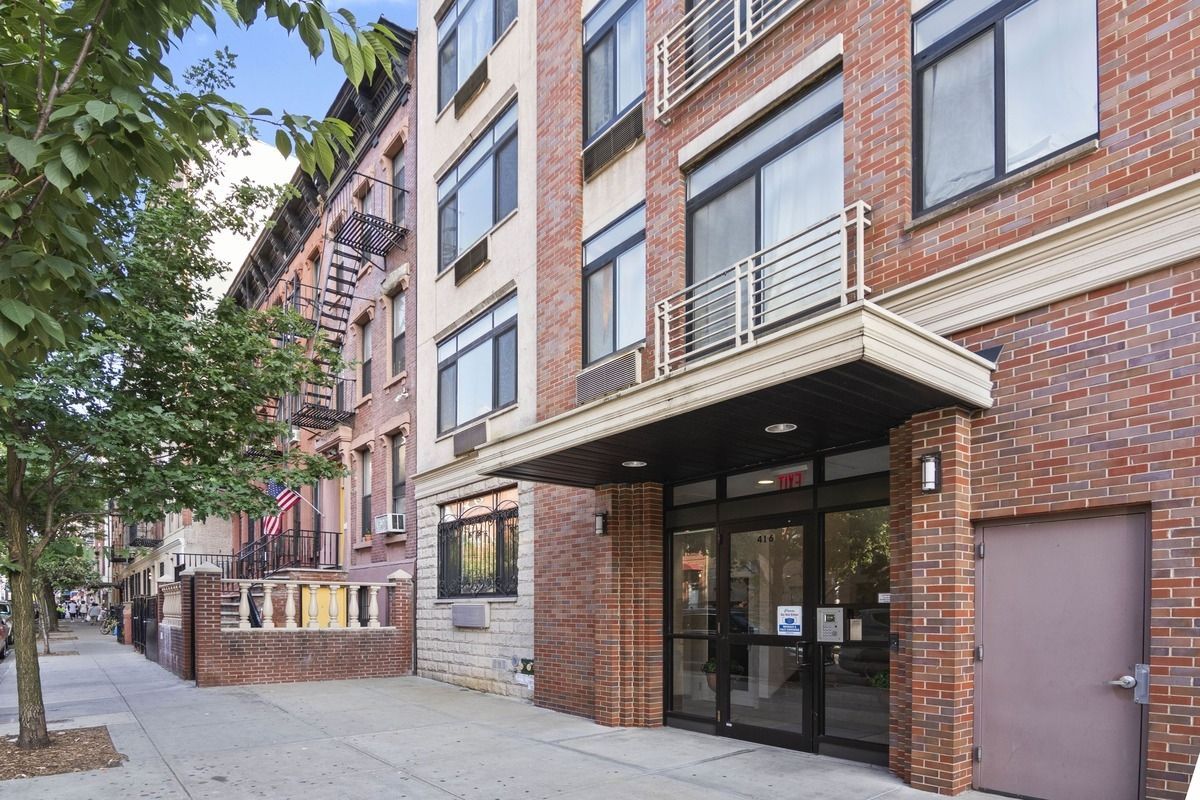 Median Rent: It's $2,295 as of August 2021, and apartment searchers can expect a lot of bang for the buck, from prewars to new construction.
Subway Info: The 4, 5 & 6 trains will get you up and down the East Side lickety-split. The Second Ave Subway's northernmost stop is E. 96th St., but there are plans for expanding north.
Notable Attractions & Amenities: El Museo del Barrio and Museum of the City of New York, across from Central Park on Fifth Avenue between 103rd and 104th streets, appeal to both tourists and locals. Two legendary dining options are also a huge draw: Raos and Patsy's Pizzeria, two of NYC's oldest establishments. A newcomer is becoming just as famous: Harlem Taste, formerly known as Hajji's, is the home of the original chopped cheese.
Renters will appreciate the broad range of housing choices, including affordable walkups, townhouse apartments, and new construction. Unlike the other affordable Manhattan neighborhoods on this list, this one is home to several big-box stores. East River Plaza, one of the city's largest shopping malls, is on East 117th Street. Anchor stores include Target, Costco, and Old Navy. There's also plenty of indoor parking.
Inwood Rentals Under $2,100 on StreetEasy Article continues below
4. Inwood: A Vibrant Enclave at the Top of Manhattan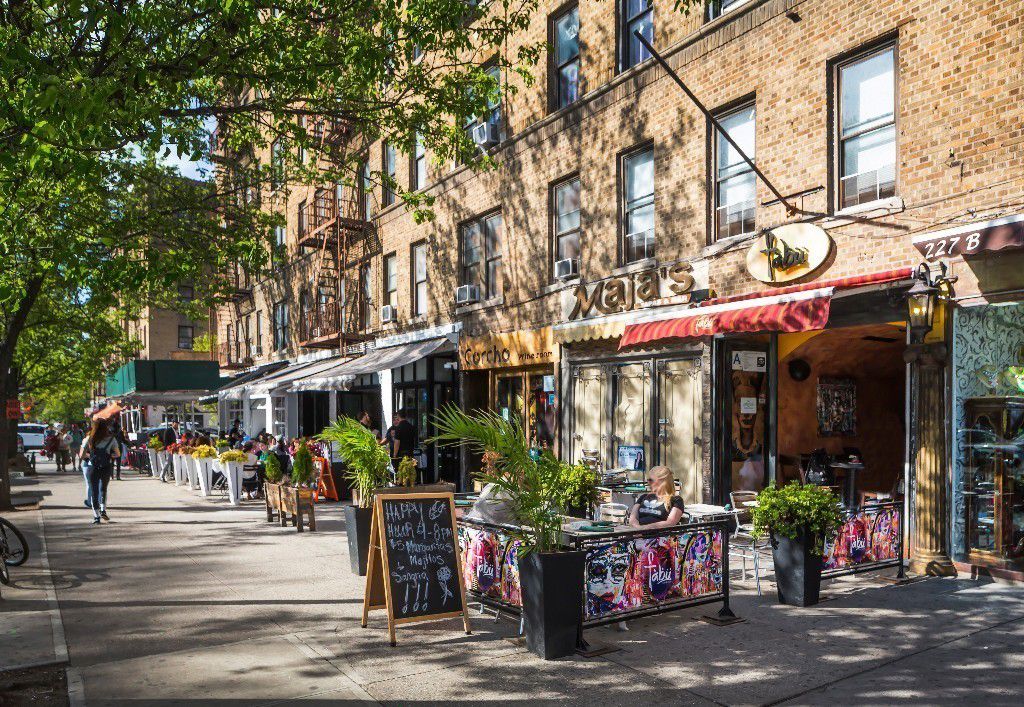 Median Rent: An impressive $1,858 making it the cheapest Manhattan neighborhood on this list!
Subway Info: Inwood is served by the A train, which stops at Dyckman Street and 207th Street, and the 1 train stops at Dyckman Street, 207th Street, and 215th Street — the final northbound stop in Manhattan. The trip to Midtown is roughly 30 to 40 minutes on the A train.
Notable Attractions & Amenities: Residents of the tip-top of Manhattan Island enjoy proximity to Inwood Hill Park, arguably one of the finest parks in the entire city. It features miles of waterfront along the Hudson River and Spuyten Duyvil Creek. At the center of the neighborhood lies the Dyckman Farmhouse, a stately relic of Dutch-era New York. Other remnants of the area's intriguing history include a large marble arch reminiscent of Paris's Arc de Triomphe. This "Inwood arch" once stood over the entrance to the hilltop Seaman-Drake estate.
You can't talk about affordable Manhattan neighborhoods without including Inwood. Up here, streets are lined with a surprising diversity of businesses: some chain stores, countless local shops of all stripes, and restaurants and taverns that give Inwood a nightlife scene all its own. Arguably, the star in the area is The Met Cloisters — an outpost of the Metropolitan Museum of Art dedicated exclusively to works from medieval Europe. You'll find it in the northernmost section of Fort Tryon Park, which extends south into Hudson Heights.
Washington Heights Rentals Under $2,300 on StreetEasy Article continues below
5. Washington Heights: An Affordable Manhattan Neighborhood Brimming With History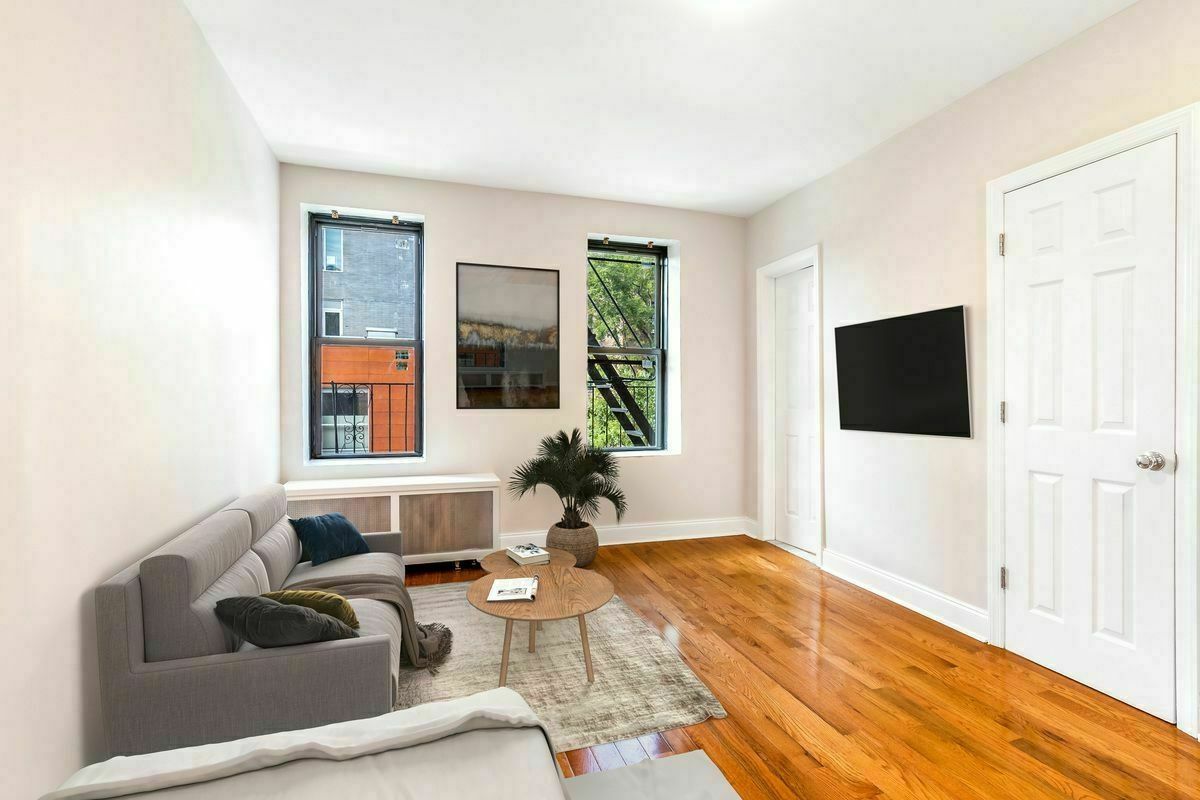 Median rent: A truly affordable $2,195.
Subway info: North of Harlem, the C local train stops at 155th, 163rd, and 168th streets, while the A express stops at 145th, 168th, 181st, and 190th streets. Meanwhile, the 1 train stops at 158th, 168th, 181st, and 191st streets.
Notable attractions & amenities: Fort Washington Park along the Hudson River offers residents plenty of green space, sports fields, and river views. The neighborhood's streets throb with history, from the Morris-Jumel Mansion, the oldest house in Manhattan, to Bennett Park, the highest natural point on the island. It's where George Washington and his troops fired cannons at the British during the Revolutionary War. Plus, there's the Hispanic Society Museum and Library and the American Academy of Arts and Letters' headquarters.
With busy street life and an expanse of mid-rise, prewar apartment buildings — many of them rent-stabilized — Washington Heights is an affordable Manhattan neighborhood that offers a lot to the budget-minded renter. This neighborhood loves to eat, whether it's chopped cheese from the local bodega, the roasted chicken at Malecon, or the pub fare at Le Chéile. Mom and pop businesses thrive here. Notable places include the Columbia Wine Company on Broadway (they deliver!) and the Word Up Community Bookstore on Amsterdam Avenue, which hosts regular events both in-person and virtually.
CHINATOWN RENTALS UNDER $2,500 ON STREETEASY Article continues below
6. Chinatown: An Affordable Enclave in Downtown Manhattan
Median rent: $2,500 this August, much less than its neighbors in Soho, Nolita, and the Lower East Side!
Subway info: Chinatown is geographically small, so there are only a few subway stations to know. The B and D trains stop at Grand Street, while the J and Z trains stop at nearby Bowery. The 6 train stops at Spring Street and Canal Street, which is also serviced by the J, Z, N, Q, W, and R trains.
Notable attractions & amenities: The Deluxe Meat Market on Mott Street is great for both buying meat for cooking or grabbing prepared dishes. The Museum of Chinese in America, has both permanent and rotating exhibitions highlighting both the history and present of Asian Americans.
Chinatown's narrow streets have plenty of hidden landmarks and beauties. You won't find much new construction here, but many of the walkup buildings have been renovated. The neighborhood has easy access to the rest of Manhattan's downtown neighborhoods such as Soho, Tribeca, Nolita, and the Lower East Side, but with significantly lower rents. Plus, you'll be in the heart of a highly culinary neighborhood, with restaurants like Nom Wah Tea Parlor standing the test of time for over 100 years!
CENTRAL HARLEM RENTALS UNDER $2,400 ON STREETEASY Article continues below
7. Central Harlem: Vibrant Neighborhood Above Central Park
Median rent: $2,415 as of August 2021.
Subway info: The 2 and 3 trains will get you there, which both stop at 110th St., 116th St., 125th St., and 135th Street. The B and C trains also run through the neighborhood, with stops at Cathedral Parkway and 110th, 116th, 125th, 135th, and 145th. The A and D trains also stop at 145th.
Notable attractions & amenities: The Apollo Theater on 125th Street has been hosting stars before they were stars for decades, including Ella Fitzgerald and James Brown. Central Harlem also has a buzzing food scene, with Frederick Douglass Boulevard acting as the neighborhood's "restaurant row." At 138th and 139th Streets, Strivers' Row is home to picturesque townhomes in various architectural styles.
Central Harlem, which is as wide as Central Park, runs between East Harlem and West Harlem/Hamilton Heights. The affordable Manhattan neighborhood is home to lots of prewar buildings, which offer classic, old-school apartments, but they might need some TLC. New construction also runs rampant here, with both affordable and luxury housing options available.
No matter where you are in the neighborhood, there's good food to be found. Try Lido for bottomless mimosa brunches, or Harlem Tavern for classic pub food, both on Frederick Douglass Boulevard. Sylvia's has been serving up soul food since 1962, and hosts Gospel brunches on Sundays and live music on Wednesdays. You can also get authentic West African food in Le Petit Senegal, a portion of the neighborhood that runs along 116th Street home to restaurants like Pikine and Le Baobab Gouygui.