New York is full of magic if you know where to look. One of the best parts of living here is that you can be strolling along, listening to a podcast or pondering your next great meal. And then — bam! — you enter a wonderland. Let's call them Secret Streets: those hidden streets in NYC that are just ineffably charming. They're often lined by storybook architecture that stops you, quite literally, in your tracks. Here are a handful of our favorite Secret Streets to know and love. Just remember: Don't tell anybody. Like the hidden lush gardens scattered around town (sshhhhh!), these are our little secrets.
Sylvan Terrace: A Movie Set Sprung to Life
Paging Martin Scorsese! This cobblestoned stretch of wood rowhouses in Washington Heights looks like it came straight out of "Gangs of New York." The 20 perfectly preserved stunners are nothing less than cinematic. That's thanks in part to the eagle eyes of the New York City Landmarks Preservation Commission, which restored the 1882 homes to their ye olde glory.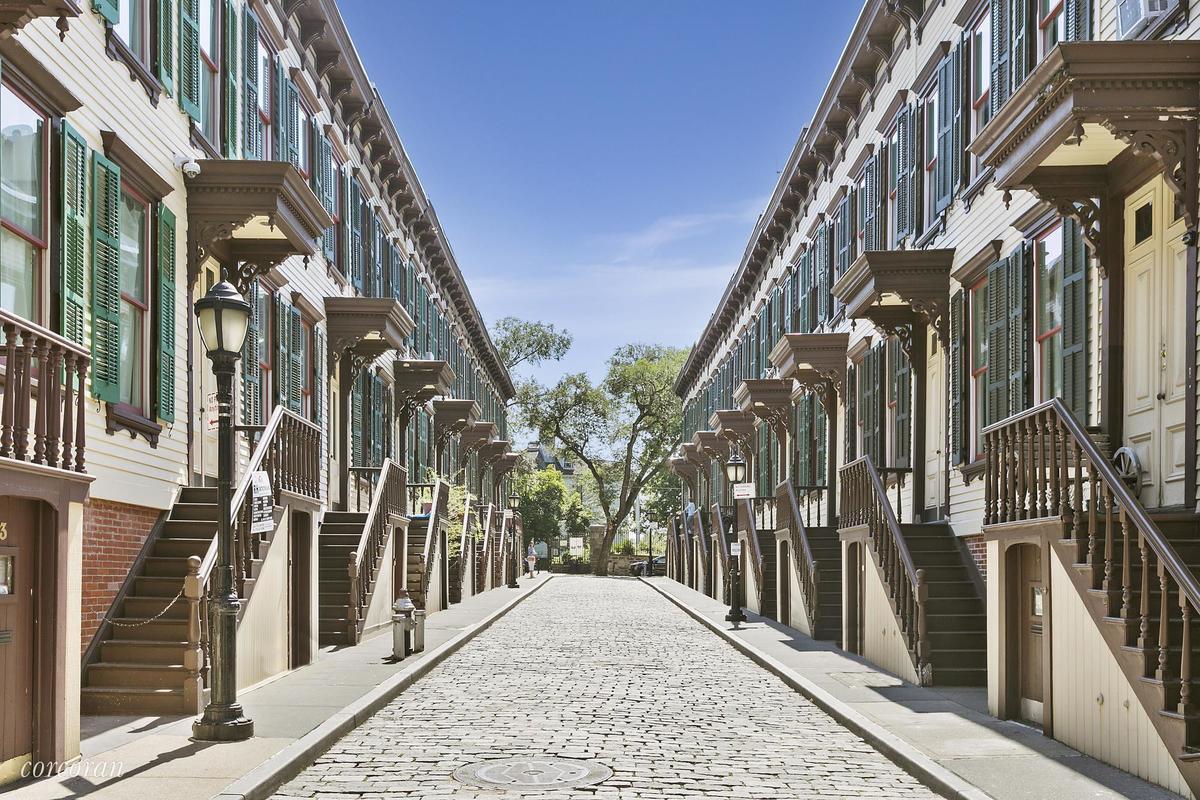 "One of the most memorable aspects of Sylvan Terrace isn't just how perfect and uniform each house is," says Robert Khederian, a broker with Compass. "It's how this 19th-century time capsule is casually wedged between a laundromat and a supermarket." Khederian is also the Instagram-famous man behind @notenoughhangers, an account devoted to 18th-, 19th-, and 20th-century architecture.
"A set of steps with beautifully manicured hedges seems to materialize out of nowhere to lead you into a totally different time and place," he says. "And to add to the movie-set-like quality, the little street ends at the Morris-Jumel mansion, a grand Federal house that looks more like the Hudson Valley than Manhattan." Want to live here? The townhouses on this hidden street in NYC do occasionally come up for sale; one hit the market recently for $1.5 million.
Washington Heights Rentals Under $2,700 on StreetEasy Article continues below
Pomander Walk: Like a British Country Village
If Jane Austen teleported to modern NYC, she'd feel right at home in this gated Upper West Side treasure. Pomander Walk's Tudor facades really bring the charm, including flower-stocked window boxes.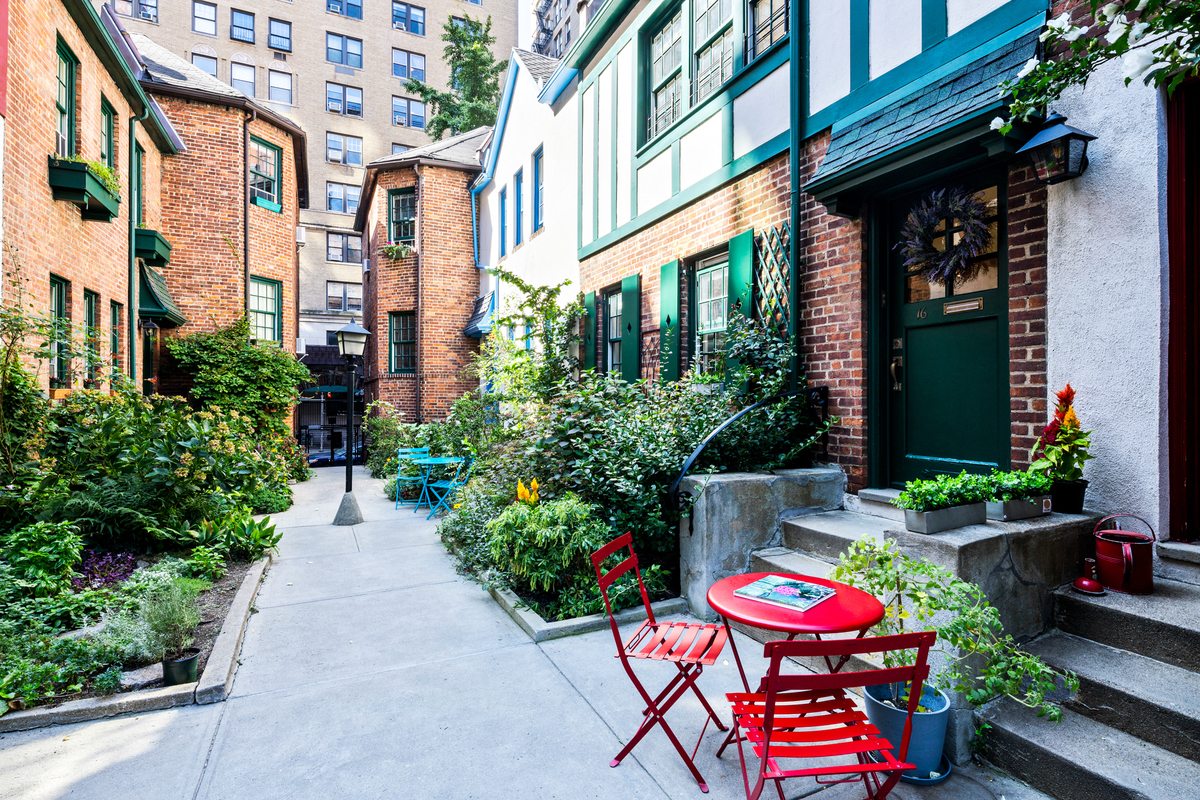 This hidden NYC street is named for a London-set play that opened in New York in 1910. And it is aptly theatrical: Note the steeply pitched roofs, front-facing gables, and half-timbered construction. Did we mention each place is adorned in saturated hues like cobalt, vermillion, and Ivy League green?
A 325-foot studio sold here in 2021 for $407,000, while a 3-bedroom/2.5-bath home recently sold for a whopping $2,499,000. Want to try it on for size with a rental, like Cinderella giving her glass slipper a go? A 500-square-foot 2-bedroom brought in $2,750 a month in 2020.
Upper West Side Rentals Under $2,700 on StreetEasy Article continues below
Washington Mews: A Slice of Greenwich Village History
The upstarts at NYU are always drawn to this Instagrammable carriage-house mecca, which is basically on campus. It's just the type of hidden NYC street one has big-city fever dreams about back home in Oregon or Oklahoma. And if you know your classic literature, you might already be familiar. Washington Mews is directly associated with the grand Greek Revival townhouses of Henry James's novel "Washington Square."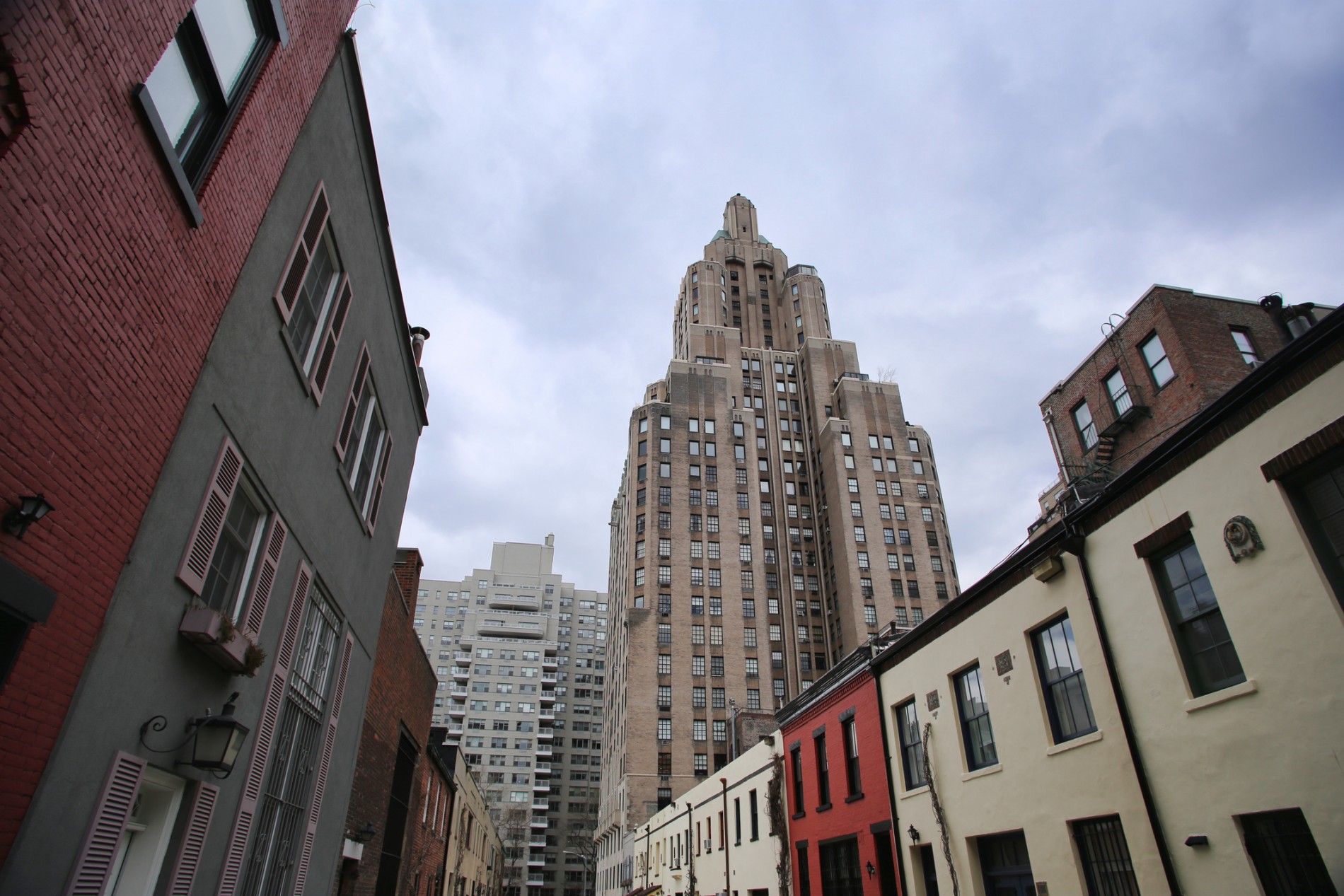 "This street is a reminder of the fact that each impressive townhouse on Washington Square Park once had an equally charming house in back, to park their carriage and horses," Khederian says. But what do New Yorkers prize most of all about this gated community? Knowing that the gate is unlocked during the day — giving them, and their Instagram accounts, a window into pure perfection.
Patchin Place: A Movie Star-Worthy Oasis
Marlon Brando was here. OK, technically he crashed at his sister's place in the Village, but still. The screen legend once lived at Patchin Place, lending his movie-idol looks to the already picturesque scene. Expelled from a Minnesota school at 19, Brando set out for the big city. He later described the experience his autobiography. "As I got out of the cab delivering me from Pennsylvania Station to my sister's apartment in Greenwich Village in the spring of 1943, I was sporting a bright red fedora that I thought was going to knock everyone dead."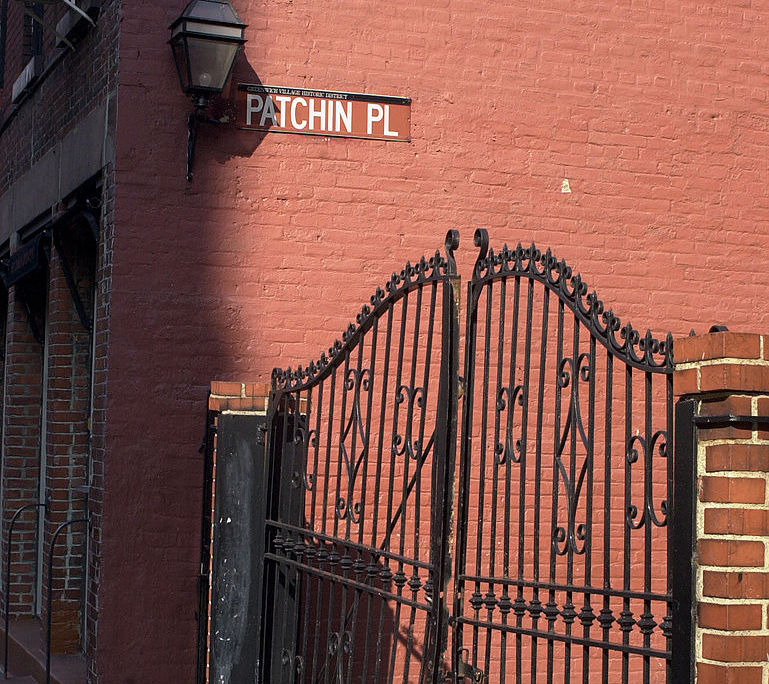 The charm of Patchin Place is a knockout, too. One of the few NYC streets that's a dead-end cul-de-sac, it was built around 1849 near 10th Street and Greenwich Avenue. "You could breeze right by one of the most picturesque alleyways in all of NYC, because it's so hidden in the middle of everything," Khederian says. "What's most special about Patchin Place is that many of the townhouses share a common garden. There residents work, relax, and enjoy an idyllic oasis." Another famous artist who stayed here for a spell? Poet E.E. Cummings, who lived at #4.
Greenwich Village Rentals Under $2,800 on StreetEasy Article continues below
Sniffen Court: "Horsing Around" in Murray Hill
Rare is the celeb that longs to sleep in a stable, but at Sniffen Court, that's exactly the case. Built in the mid-century — that's mid 19th century, before the Civil War — these brick carriage houses later became private homes. (Like this beauty, which sold in 2015 for upwards of $7M.) In a 1966 analysis, the Landmarks Preservation Commission deemed Sniffen Court "one of New York's most enchanting and picturesque areas."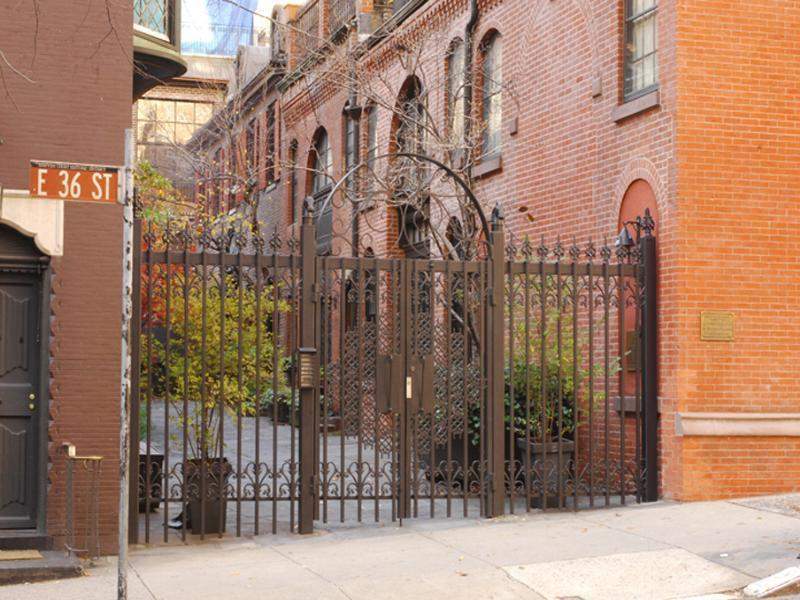 Call it the miracle on 36th Street. "It provides an excellent picture of a small area of New York as it appeared one hundred years ago," the commission wrote. Named after builder John Sniffen, the street is flanked by Romanesque Revival structures with limestone keystone arches and rounded windows. The "intimate group of 10 houses in a narrow, blind alley…is one of the most charming in the city." No surprise, then, that megawatt folks like Cole Porter, Claudia Schiffer, and Lenny Kravitz have called the alley home.
Murray Hill Rentals Under $2,700 on StreetEasy Article continues below
Villa Charlotte Brontë: Storybook Riverfront Views
Amal Clooney and her husband, some guy named George, have good reason to live on Italy's revered Lake Como. But they might enjoy Spuyten Duyvil's stuccoed Villa Charlotte Brontë just as much. (Hey, anything's possible!)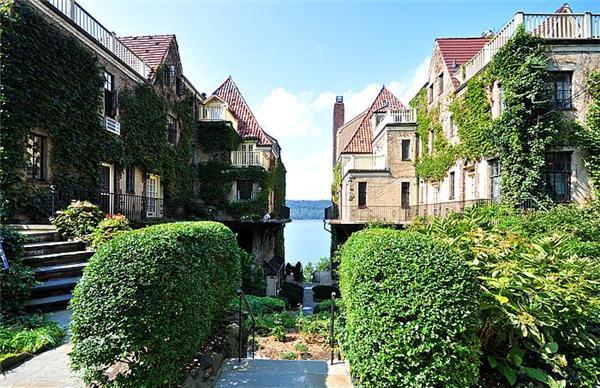 The 17-unit co-op was designed in 1926 to conjure the eye-popping glamour of Italian lakeside villas, complete with lush gardens and red tiled roofs. And it has a prime panorama over the Hudson River and the Palisades. Squint, and you can almost picture yourself flinging open your ivy-clad windows to sing a few lines of La Traviata. But what we adore most of all are the interiors. Each unit has a wood-burning fireplace and private entrance, plus three exposures for ample natural light. Want to make one your own? The last recorded sale in the storied structure went for $1,875,000 in 2019. Amal and George, take note.
Riverdale, Bronx Rentals Under $2,700 on StreetEasy Article continues below
Gay Street: Short and Sweet
NYC streets that occupy a lone block are rare. And this one, tucked between Waverly Place and Christopher Street in the heart of Greenwich Village, is among New York's finest. When the street was widened in 1833, Federal houses on the east side were razed and replaced with Greek Revival grande dames. (The juxtaposition that remains of the two styles has made the area a must-see for architecture students.)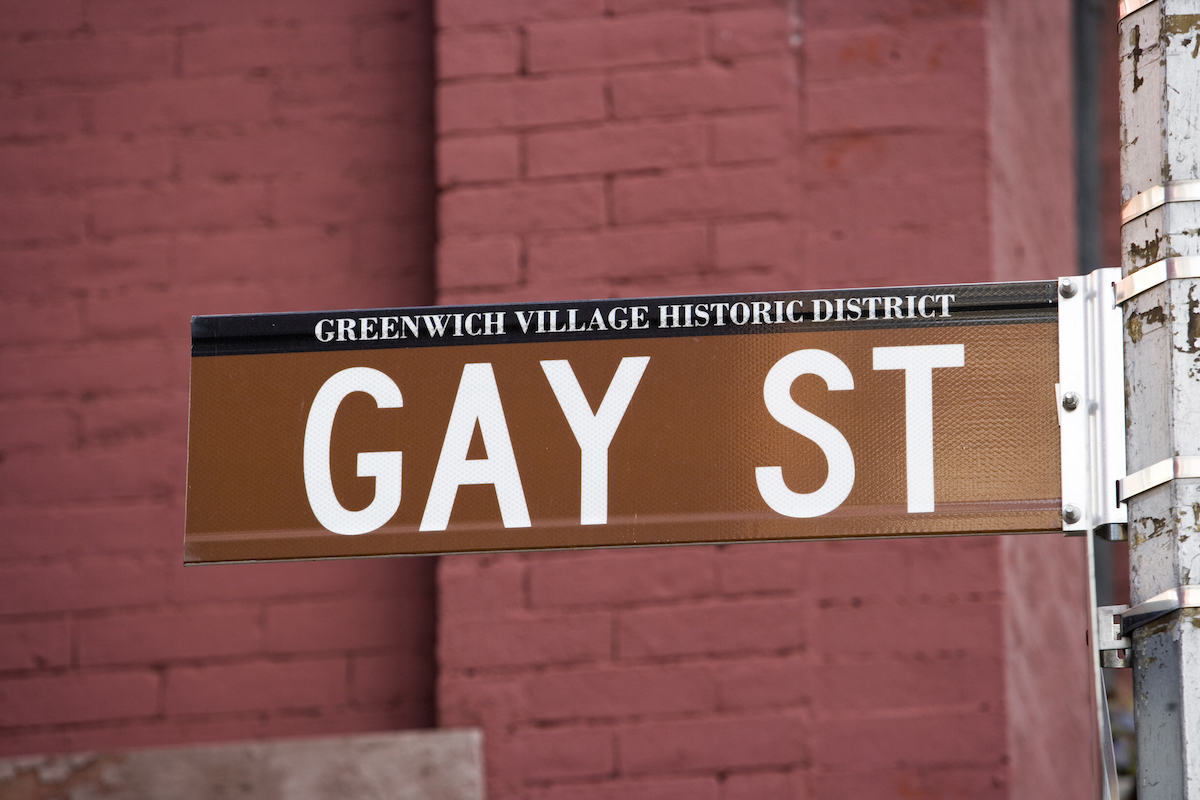 And it's all perfectly stuck in time. As the Greenwich Village Historic District Designation Report said in 1969, "with the fine small houses of artisans and tradesmen in Gay Street….little [has] changed from the days when they were built."
No one is sure what sparked the street's name, first published in 1827. Plenty of folks suspect it's a nod to the anti-slavery Underground Railroad operative Sydney Howard Gay. Or perhaps to the neighboring Stonewall Inn and LGBTQ rights. Or maybe it's something else entirely. Like so many of these hidden streets in NYC, a lot has been lost in the whirling winds of history. You'll have to take a walk and decide for yourself.
—
Whether you're looking to rent or to buy, find your next NYC apartment on StreetEasy.