Renters are looking farther away from Manhattan, even if that means a less convenient commute to middle and lower Manhattan, StreetEasy's latest user search data shows. An increasing number of renters are looking for rentals in Queens and Brooklyn neighborhoods, while several traditionally in-demand neighborhoods in Manhattan saw a yearly decline in searches in July. Among the top 10 neighborhoods with the strongest year-over-year increases in search volume in July, five were in Brooklyn and four were in Queens, but only one neighborhood – East Harlem – was in Manhattan.
This finding is consistent with our previous analysis indicating expiring pandemic-era discounts in Manhattan are pushing renters to other boroughs, with ripple effects on affordability in these boroughs. In Q2, our data suggests nearly 44% of Manhattan inventory was likely made available due to tenants being priced out of their no-longer-discounted apartments.
Upper Manhattan, Central Queens, South & East Brooklyn Saw Strong Growth in StreetEasy Searches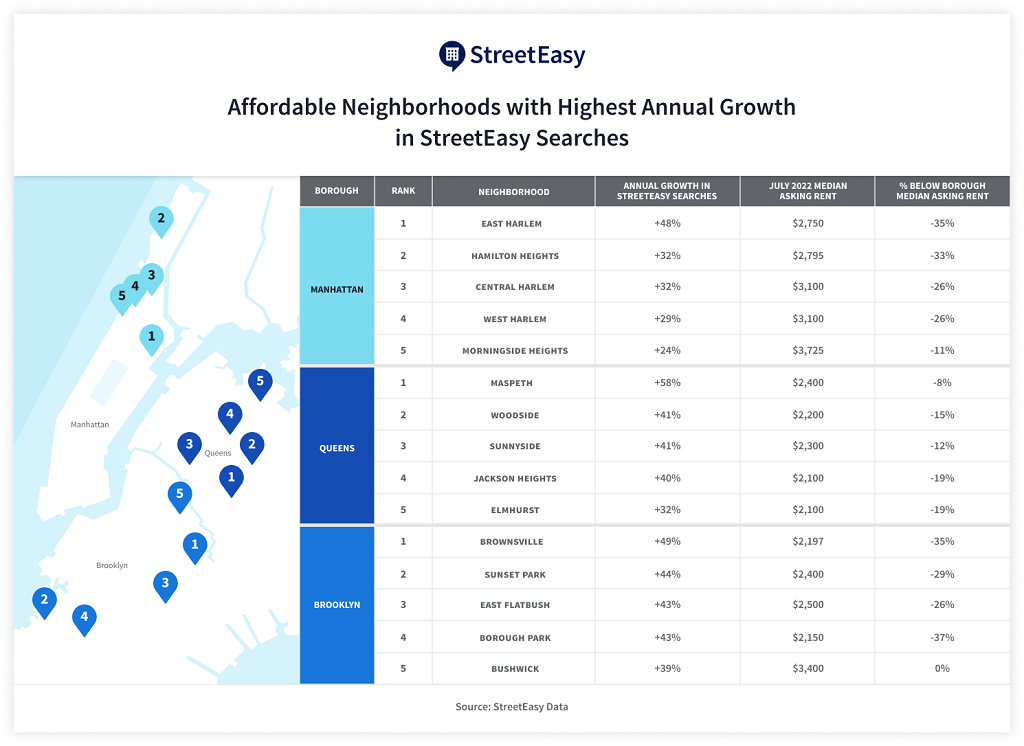 Rental search activity remained strong in NYC this July. Many neighborhoods saw strong year-over-year growth in rental search volume, but interest fell in a few neighborhoods in Manhattan, where the borough's median asking rent jumped by $100 to $4,200 in July – a new record among StreetEasy data.
Chelsea, East Village, Greenwich Village, West Village, Lower East Side, and SoHo saw outright year-over-year drops in search volume. These neighborhoods are popular destinations for shopping, restaurants, and nightlife, but demand much higher rents. The average median asking rent of these six neighborhoods was $4,852 in July, 15.5% above the borough's median asking rent. A tempering of rental search growth in Manhattan suggests hopeful renters are looking elsewhere in search of a more affordable unit.
By contrast, neighborhoods with asking rents below the borough median saw strong increases in search volume, most of which are located in Upper Manhattan, Central Queens, and South and East Brooklyn. These neighborhoods are farther away from business districts in Manhattan, reflecting renters' willingness, or in some cases need, to travel the distance in search of affordability.