"The Dream is Different Here" mirrors the evolution in StreetEasy's business as the brand expands its offerings to include tools for the owning and selling experience in NYC
The American Dream doesn't look the same in New York City. While NYC is known as a city of renters, a third of New Yorkers are homeowners, and even more are aspiring to it – they're just looking more for an in-unit washer and dryer than a white picket fence.
This week StreetEasy launched its latest brand campaign, "The Dream is Different Here," which centers the "New York City dream" and StreetEasy's ability to help make that dream a reality. The new campaign is unlike any prior from StreetEasy – using real photography as opposed to illustration; showcasing the brand's expanded focus on buyers, sellers, and homeownership; and highlighting StreetEasy's relationship to Zillow for the first time. The campaign will run through the year and be visible in various physical locations throughout NYC, as well as digital and social media placements.
Campaign Underscores StreetEasy's Expertise on NYC, Real Estate, and New Yorkers
StreetEasy has long been trusted as an expert on not just New York City real estate, but the city itself and its inhabitants, too. The campaign demonstrates this understanding, and puts it in the context of the current moment in NYC.
With the increased flexibility of hybrid and remote work, many New Yorkers were compelled to take a closer look at their decision to live where they live. Now, New Yorkers are doubling down on living in NYC. This commitment can come in the form of re-signing a rental lease, or looking to put down more permanent roots through buying a home.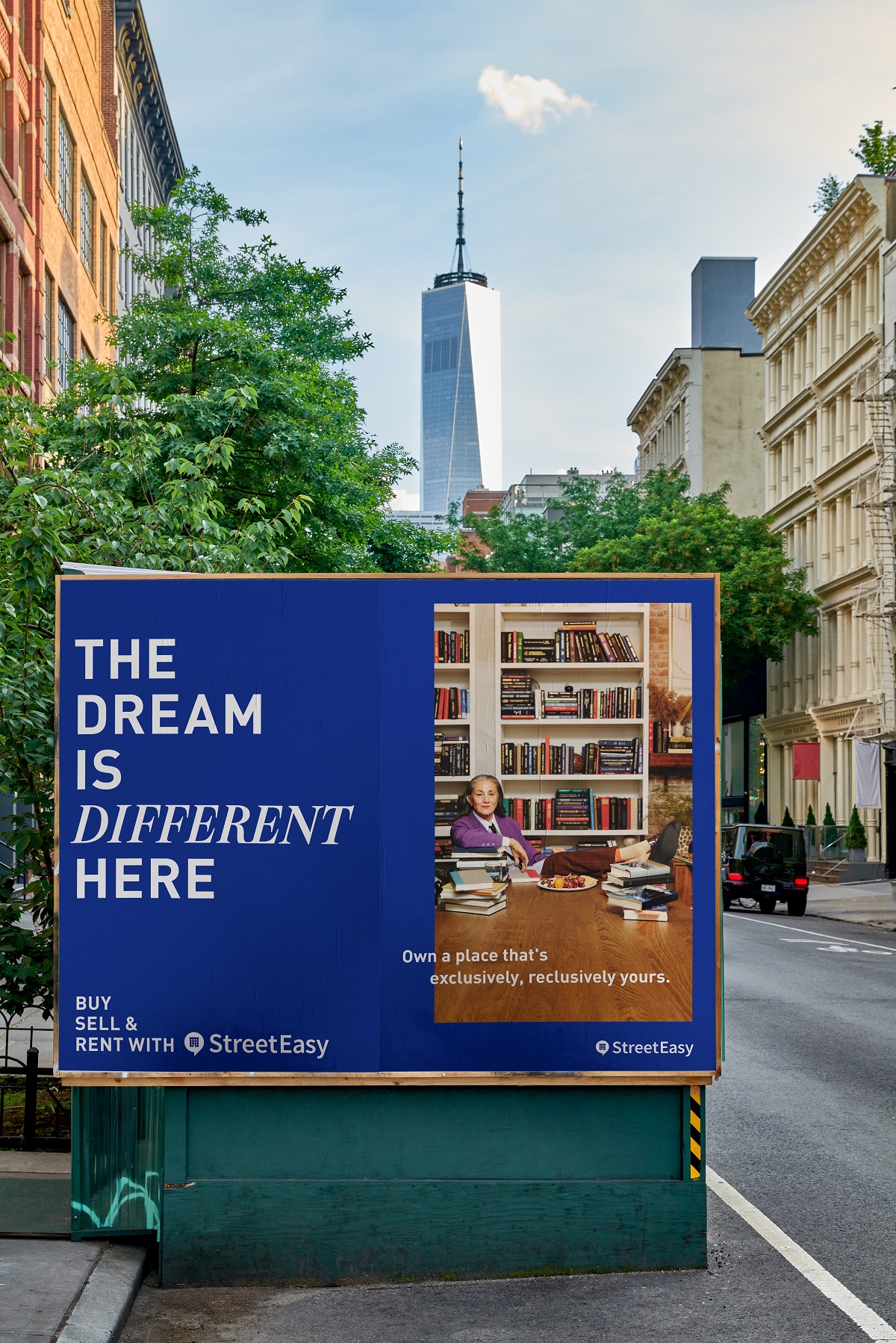 The campaign also comes on the heels of a volatile few years in the real estate market, both nationally and in New York. We're now seeing the NYC market begin to normalize again, with a rebound in buyer demand making January 2023 one of the strongest kick-offs to the spring buying season in at least a decade. "As mortgage rates stabilize this year, the city's housing market will find a new balance, providing much-needed relief to home shoppers after a hyper competitive market last spring," said StreetEasy Economist Kenny Lee.
Much like the StreetEasy brand itself, the campaign is candid, empathetic, and optimistic in its approach to an audience that is truly choosing to live in New York City.
The Dream is Different Here
StreetEasy knows that New York City is a place where your backyard is the neighborhood park, your kitchen extends to your favorite bodega and local bagel shop, and your balcony is also a fire escape.
"The Dream is Different Here" is as much a celebration of New Yorkers as it is of New York, featuring whimsical, bespoke lifestyle photography and video by Peter Yang that captures the NYC dream of homeownership. Together with lines like "Have all five boroughs of backyard" and "A front yard is a state of mind," the campaign also serves as a statement piece, flipping traditional Americana on its head with StreetEasy's playful wit that is decidedly New York.
"We all know how the American Dream of home ownership is typically portrayed: a suburban house, a landscaped front yard, or a big room to entertain guests. But this isn't the dream for most New Yorkers. An NYC buyer might dream of a little plot to garden, an unobstructed view, a large stoop, built-in bookshelves, or a chance to finally hang wallpaper," said StreetEasy Creative Director Jason Ferguson.
In a noted departure from StreetEasy's campaigns of the past, "The Dream is Different Here" focuses on the pride points of living in New York City over the pain points, as more New Yorkers go all in on establishing a permanent home in NYC post-pandemic.
A Trusted Destination for Buyers, Sellers, and Renters
As a Zillow brand built for New York City, StreetEasy is the go-to destination for New Yorkers on their journey to buy, sell, or rent in the city, equipping them with the insights and resources they need for this one-of-a-kind market.
"This campaign underscores an exciting year for StreetEasy as we more deeply expand our offerings to better serve buyers and sellers in the NYC market," said Bridget Sullivan, StreetEasy Head of Integrated Marketing. "StreetEasy is already a highly trusted resource for NYC renters, but we know that for many New Yorkers, home ownership is the ultimate goal. In this next chapter StreetEasy will continue helping New Yorkers unlock their next home, regardless of whether they're buying, selling, or renting."
Homeowners make up approximately one third of the NYC market, but homeownership is a goal for even more: StreetEasy search data shows that 1 in 5 New Yorkers search for homes for sale while also searching for rentals. StreetEasy aims to ensure New Yorkers, who already know and trust the brand for finding their next rental, know that StreetEasy will continue to support them when they're ready to take the next step and plant permanent roots in the city as a homeowner.
Along with providing NYC buyers and sellers with a robust, trusted marketplace of for-sale listings, StreetEasy offers tailor-made tools, data, and expertise to help them successfully transact in today's rapidly changing market. This includes StreetEasy Experts, a network of local real estate agents with verified experience that matches a buyer or seller's specific neighborhood, building, or property type. StreetEasy Concierge, a high-touch service for potential sellers, can help them navigate the market and their selling options. Sellers can also access their StreetEasy Valuation, an estimate of their property's current market value powered by StreetEasy's expansive NYC real estate market data. For experienced sellers, StreetEasy's For Sale By Owner (FSBO) tools enable sellers to create, publish, and manage their own listings on StreetEasy.
The Creative Team Behind "The Dream is Different Here"
The campaign was led by StreetEasy's in-house brand marketing and creative teams, in partnership with creative agency Preacher. "The Dream is Different Here" marks a continuation of StreetEasy's partnership with Preacher, who StreetEasy has been working with since its 2020 ad campaign.
"It was a treat to create this year's campaign with Preacher, to celebrate the uniquely New York dreams of potential homeowners, and to demonstrate how StreetEasy is the Zillow brand built for New Yorkers and what they need to successfully navigate the city's real estate market," added StreetEasy Creative Director Jason Ferguson.
"Being part of StreetEasy's first foray into non-illustration based work was both a little scary and exciting. We wanted to make sure we didn't lose the charm and NYC edge that StreetEasy has become known for. And with a line like 'The Dream Is Different Here,' we were off to a great start," said Preacher Associate Creative Director Mel Lin. "It really opened up a lot of opportunities to explore the various unique personalities of New Yorkers and their take on what homeownership means to them, and bring that to life visually with rich, beautiful photography."
"After years using various different illustration styles to bring out-of-home campaigns to life, it was incredibly exciting to be part of StreetEasy's first foray into photography-based work. The challenge was to keep the same charm and edge that previous campaigns had become known for, while featuring a handful of the kinds of specific people and living situations that can only be found in NYC," said Preacher Associate Creative Director Mel Lin. "Building this newest campaign around the idea of 'The Dream is Different Here' was our way of showing how StreetEasy's New York credentials position the brand to help New Yorkers achieve their unique homeownership aspirations. And using this undeniable line across train takeovers, billboards, and wild postings helps StreetEasy become further interwoven into the city's one-of-a-kind cultural backdrop, which really feels like a win for the brand."
Where to Find the Ads
For this campaign, StreetEasy developed creative that could translate seamlessly across both physical and digital channels. The ads can currently be found on Facebook, Instagram, YouTube, and display ads across a multitude of sites, as well as MTA subway cars and taxi tops. Starting in March, additional ads will roll out on content streaming platforms (via partners such as Vevo, A&E, Comedy Central, and Discovery), LinkNYC kiosks, and large-scale billboards in Williamsburg, Flatiron, and NoHo.
StreetEasy will also run an influencer campaign featuring some of real estate's best known agents on Instagram, as well as trusted influencers in the financial and real estate space. These influencer campaigns will educate New Yorkers on the benefits of working with a buyer's agent, and bring to light the information and experts they can equip themselves with before buying or selling a home.
Disclaimers: StreetEasy is an assumed name of Zillow, Inc. which has a real estate brokerage license in all 50 states and D.C. See real estate licenses. StreetEasy Concierge team members are real estate licensees, however they are not your agents or providing real estate brokerage services on your behalf. StreetEasy does not intend to interfere with any agency agreement you may have with a real estate professional or solicit your business if you are already under contract to purchase or sell property.
For FSBO postings, the StreetEasy Concierge is meant to provide insight to improve your posting performance on StreetEasy and may refer you to a real estate professional based on your specific needs.
StreetEasy Valuation is our estimate for a home's market value and is not an appraisal. Use it as a starting point to determine your home value and monthly rental price.
Agents in our Experts Network have closed deals on homes like yours. We measure their performance to make sure you get top-notch service. StreetEasy earns a referral fee from successful Experts' transactions, at no cost to you.