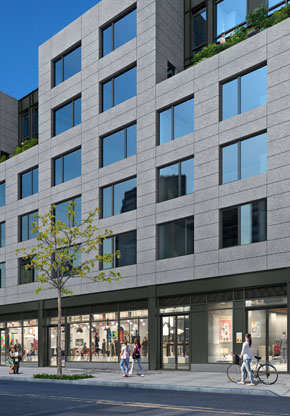 A mixed-use residential development in one of Brooklyn's fastest-appreciating neighborhoods is set to offer 15 apartments via a new affordable housing lottery.
The building is located at 94 N. Third St. in Williamsburg, and is also known as 125 Metropolitan Ave. The new development contains a total of 75 rental units and more than 15,000 square feet of ground-floor retail space. The deadline to apply is Dec. 7, 2017.
Qualified applicants for the affordable units must earn 60 percent of the area median income, which ranges from $31,612 for a single person up to $57,240 for a household of four.

The project developer is Hudson. Other details include:
75-unit, seven-story mixed-use development
Approximately 106,000 gross square feet
15,000 square feet of prime ground-floor retail space
Block and concrete plank construction
Designed by Marvel Architects
Anticipated completion date is winter 2017
The property is located just a few blocks from the waterfront in the middle of the Williamsburg action, close to the L, J, M and Z trains. It features concierge service, a fitness center, tenant lounges, WiFi, garden plots, underground parking, and bike storage. Tenants also have access to landscaped courtyards and roof terraces equipped with gas grills and tables for dining.
To apply online, go to the NYC Housing Connect site. To request an application by mail, send a self-addressed envelope to: IMPACCT BROOKLYN, ATTENTION: 94 North 3rd Street Apartments, 1224 Bedford Ave., Brooklyn, NY 11216. Applications must be postmarked or submitted online no later than Dec. 7, 2017.

—
Hey, why not like StreetEasy on Facebook and follow @streeteasy on Instagram?
Related: