There's no shortage of things to do in New York City during the holidays. In addition to the obvious – the tree at Rockefeller Center, the Radio City Christmas Spectacular, not to mention countless holiday markets and lavish window displays – there are many unique, lesser-known holiday traditions throughout the city. Here's our anti-tourist's guide to celebrating the holidays in NYC off the beaten path.
Jam Out to Unsilent Night in Greenwich Village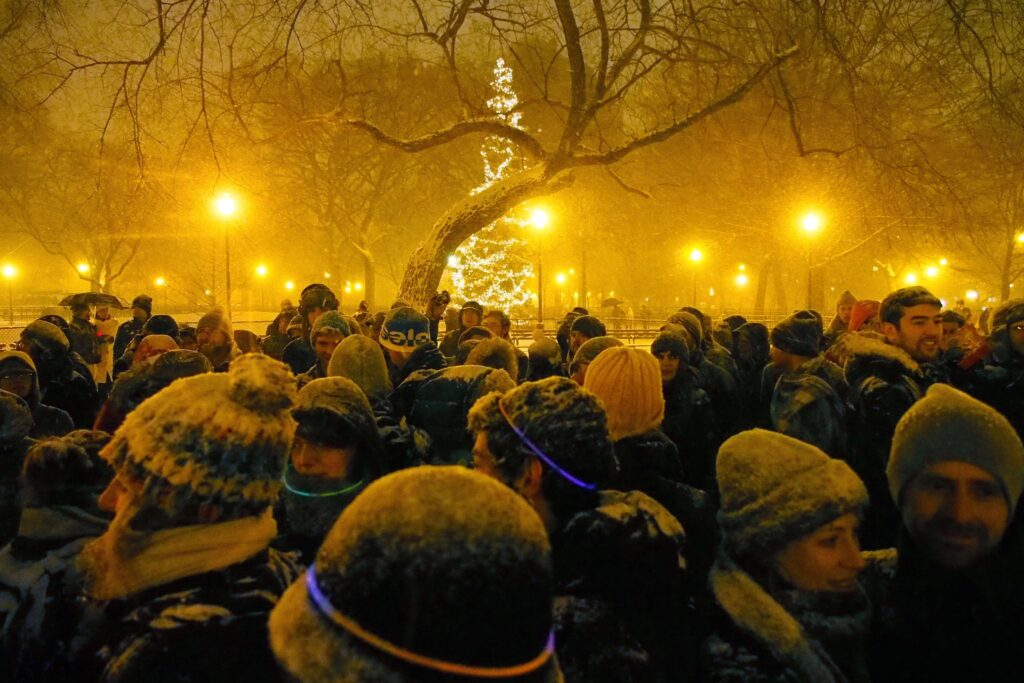 If Christmas caroling is too schmaltzy for you and your crew, consider Greenwich Village's decidedly more artsy take on the holiday tradition: Unsilent Night. Participants are asked to bring a boombox (yes, those old things!) and gather in Washington Square Park on Sunday, Dec. 18 at 6pm. From there, everyone gets a cassette or CD of one of four different atmospheric tracks. If you don't have a boombox, there's an app so that you can play the music from your phone. At the same time, everyone hits play and marches through the streets of the Village creating a 45-minute blend of intersecting music.
Greenwich Village Rentals Under $3,000 on StreetEasy Article continues below
See the Dyker Heights Christmas Lights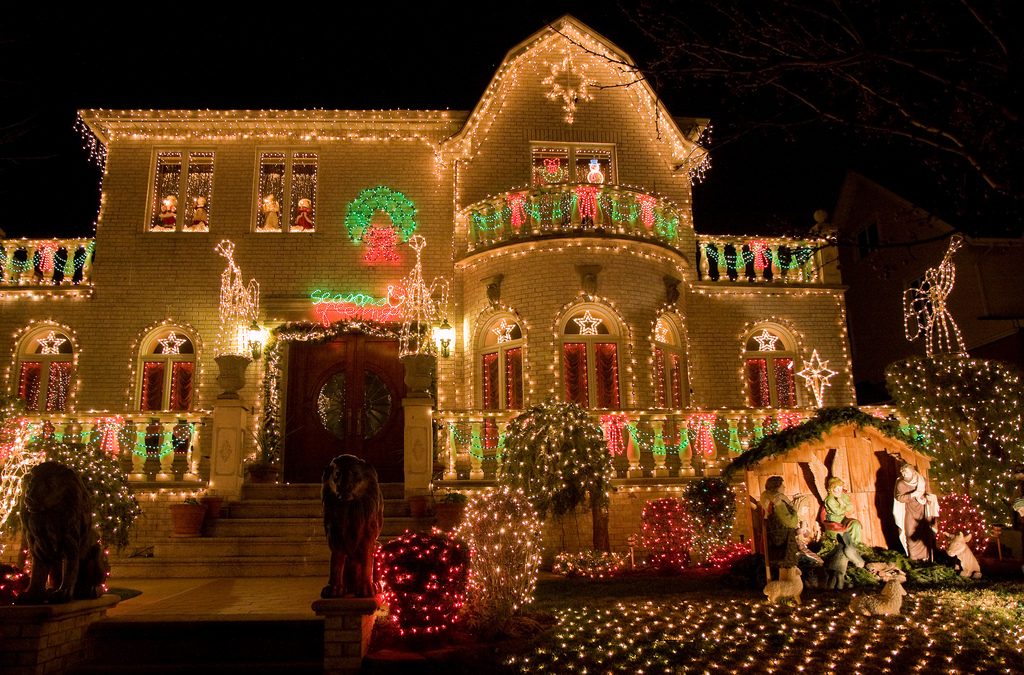 One of the most quintessential activities for the holidays in NYC can be found in Dyker Heights, a 2.5-mile rectangular Brooklyn neighborhood nestled between Bath Beach, Bay Ridge, Borough Park, and Bensonhurst, which becomes a real-life version of Whoville for the month of December. It all started in 1980, when two neighboring Dyker Heights residents decked out their homes in overzealous Christmas decorations. The decorations sparked a neighborhood-wide outpouring of holiday cheer that has since become an annual tradition. Rumor has it that residents spend upwards of $30,000 on decorations and professionals to help adorn their homes with lights and 20-foot tall Santas. Your price tag? For $55, you can take a 3.5-hour guided bus tour via A Slice of Brooklyn Bus Tours. Or, you can meander through the neighborhood at your own pace, for free.
Dyker Heights Homes Under $1M on StreetEasy Article continues below
Buy Live Carp for Christmas Eve in Greenpoint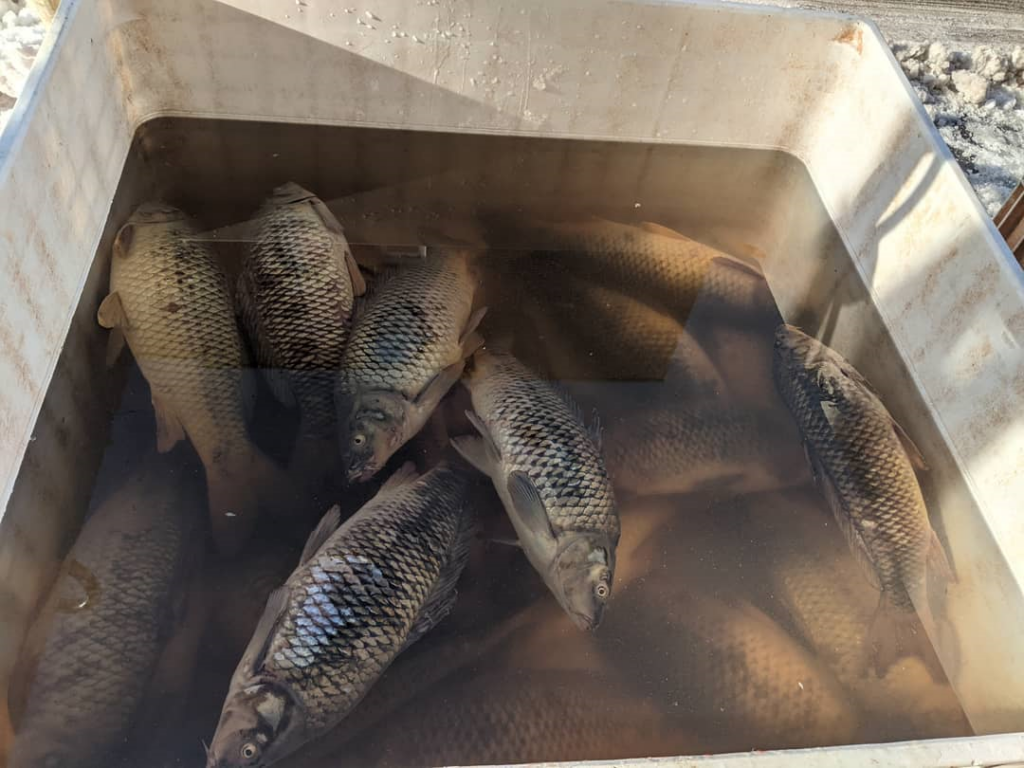 Given Greenpoint's deep-rooted Polish community, it's no surprise that the neighborhood has developed its own Wigilia tradition. Wigilia, Poland's traditional Christmas Eve dinner, begins once the first star appears in the eastern sky. The meal consists of either 7, 9, or 11 courses and is traditionally meatless; as such, fish dishes are an important part of the meal. And because Poland has a long tradition of carp farming, carp is the most popular Wigilia fish.
Rachel's Garden, a grocery store in Greenpoint, hosts a special stand for selling live carp in the days leading up to Christmas. The carp are sold live to preserve the Polish tradition of preparing the fish: by keeping it alive in the bathtub (often for a few days) until putting it in the oven. Selling carp for Wigilia has long been a tradition in Greenpoint and many of the Polish food purveyors in the area still participate, although the carp are not necessarily sold live.
Marvel at the World's Largest Hanukkah Menorah in Prospect Heights or Midtown East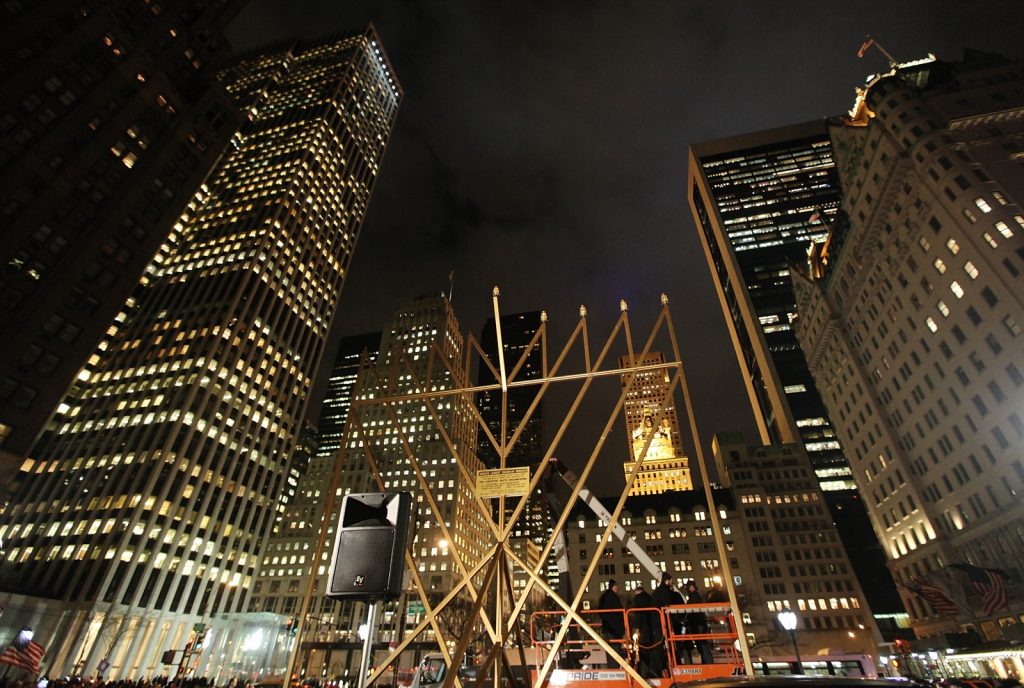 In a city has diverse as New York, Christmas is not the only focus when celebrating the holidays in NYC. While NYC has two Grand Army Plazas – one in Prospect Heights, Brooklyn and the other in Midtown East – both claim to host the "world's largest menorah" during Hanukkah. The menorahs have been erected every year since 1985, and which one is actually the largest one in the world depends on how you define it. The Manhattan one is 36 feet tall, while the Brooklyn one is 32 feet tall; however, Jewish law says a menorah can't be taller than 32 feet, making the Brooklyn one the tallest kosher menorah. Nevertheless, every night of Hanukkah, the menorahs are lit with the help of cherry-pickers and the celebration is accompanied by live music, hot latkes, and gifts for children. Celebrations at both locations are neighborhood traditions enjoyed by Jews and non-Jews alike.
Prospect Heights Homes Under $1M on StreetEasy Article continues below
Take the New Year's Day Polar Bear Plunge in Coney Island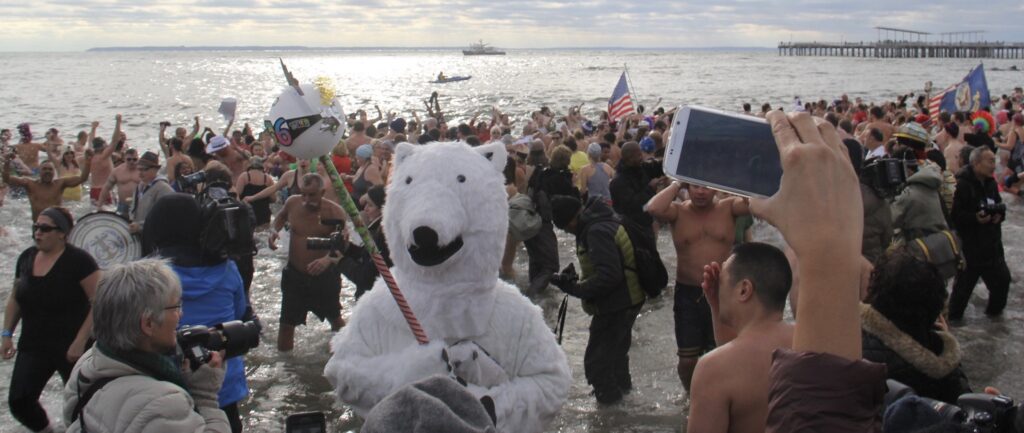 The New Year's Day polar bear plunge is hosted by the Coney Island Polar Bear Club, the oldest winter bathing organization in the United States, and is another iconic way to ring in the holidays in NYC. From November through April, members swim in the Atlantic every Sunday, but their New Year's Day swim is by far the most popular, attracting global attention and drawing more than 1,000 swimmers each year. The plunge is a high-energy event filled with a strong sense of community and camaraderie, and its popularity shows no signs of abating, attracting more and more fearless bathers each year. Follow the Coney Island Polar Bear Club on Instagram for more details about this year's event.
Coney Island Homes Under $500K on StreetEasy Article continues below
Enjoy a Snowy Walk Through Central Park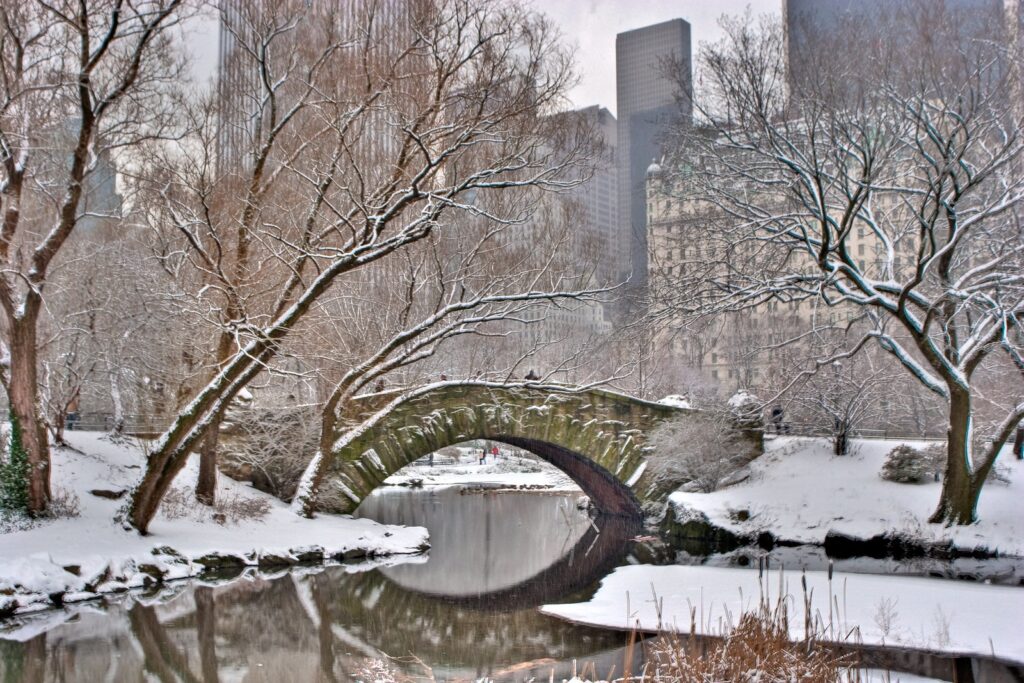 True New Yorkers know not to forget about Central Park in the winter, and that one of the best times to enjoy it is after a snowfall. The white fluffy snow, crisp air, and icy trees create a winter wonderland in the middle of Manhattan. Pretty much any spot in the park that's beautiful the rest of the year is also beautiful in the snow, but some winter favorites are Bow Bridge, Gapstow Bridge, Bethesda Terrace, The Mall, Belvedere Castle, and Wagner Cove. If you really want to embrace the season, lace up your skates and visit the Wollman Rink, located near Gapstow Bridge in the southeast portion of the park.
Visit the NYSE Christmas Tree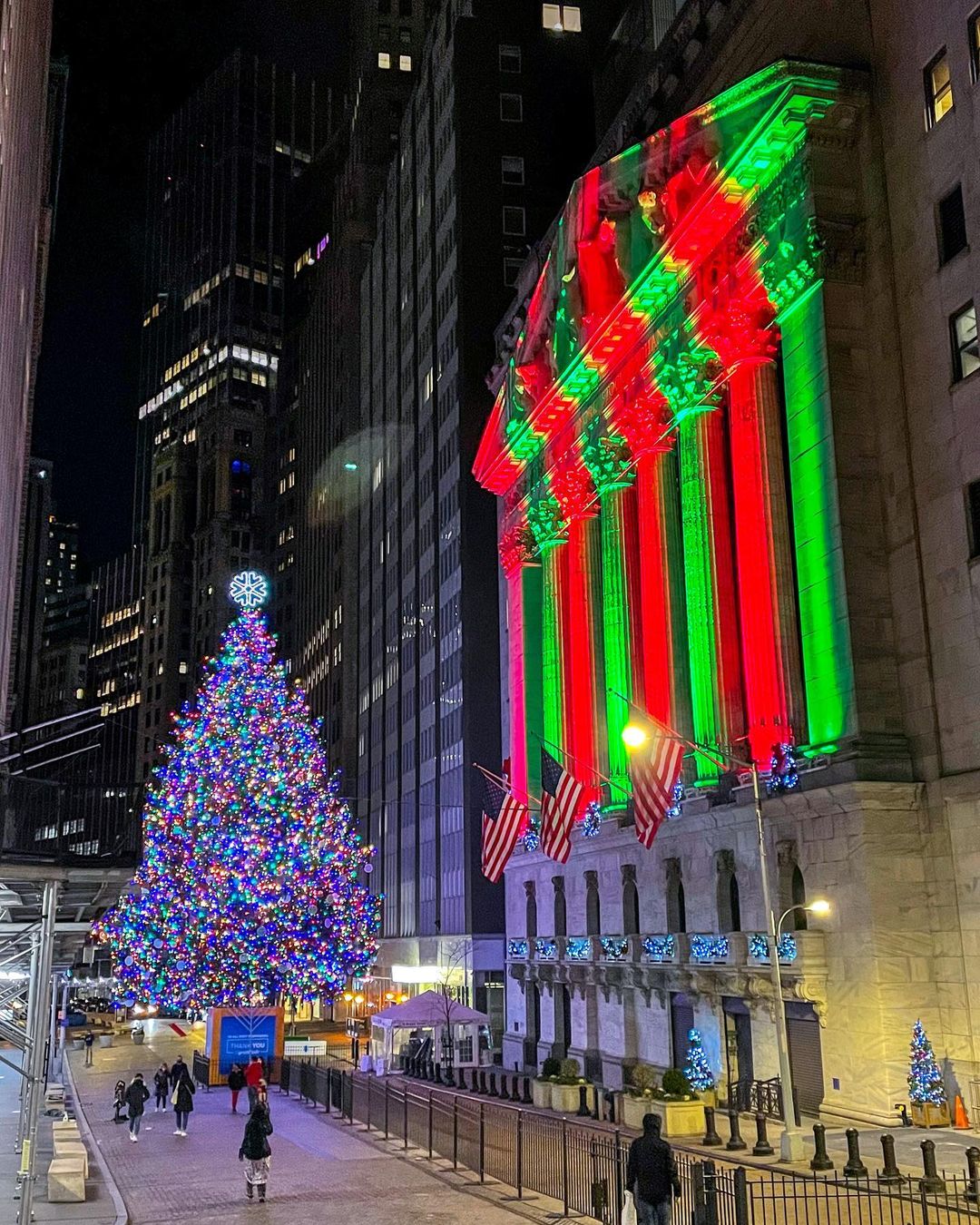 NYC tourists flock to the Rockefeller Center tree during the holidays, but there's another gorgeous Christmas tree on display every year on Wall Street at the New York Stock Exchange. Better yet, you don't have to shove your way through a crowd on a narrow sidewalk just to get a glimpse of it, as the streets surrounding it are open to pedestrians. A downtown tradition since 1923 (this year celebrating its 99th year!), the nearly 80-foot tree is adorned with red, silver, green, blue, and gold ornaments and situated by the NYSE, whose iconic columns are lit in red and green at nighttime. Day or night, it's a sight to see.
Financial District Rentals Under $3,000 on StreetEasy Article continues below
Eat Chinese Food to Celebrate "Jewish Christmas"
While eating Chinese food on Christmas is by no means a New York-specific tradition, "Jewish Christmas" reaches a whole other level in this city. In addition to the guarantee of a sizable group of Jewish friends to share an enormous dim sum dinner with, there is also an endless supply of incredible (and authentic!) restaurants to choose from. Check out Eater NY's roundup of great NYC restaurants (many of them Chinese) that are open on Christmas and ready to fill your stomach before heading to the movies.
More NYC Christmas Content