The StreetEasy Research team spent 2018 reporting on the biggest trends and developments affecting the NYC real estate market and housing landscape. Here's our take on the five biggest NYC real estate stories of 2018.
1. Amazon Comes to NYC
The HQ2 guessing game that so enraptured the nation ended with a big bang for New Yorkers: The news that the smiling Seattle behemoth planned to land 25,000 workers with an average salary of $150,000 per year on a swath of warehouses, auto repair shops, and parking lots just across the East River from Manhattan. (Plus 25,000 more in an office park just outside Washington, D.C.)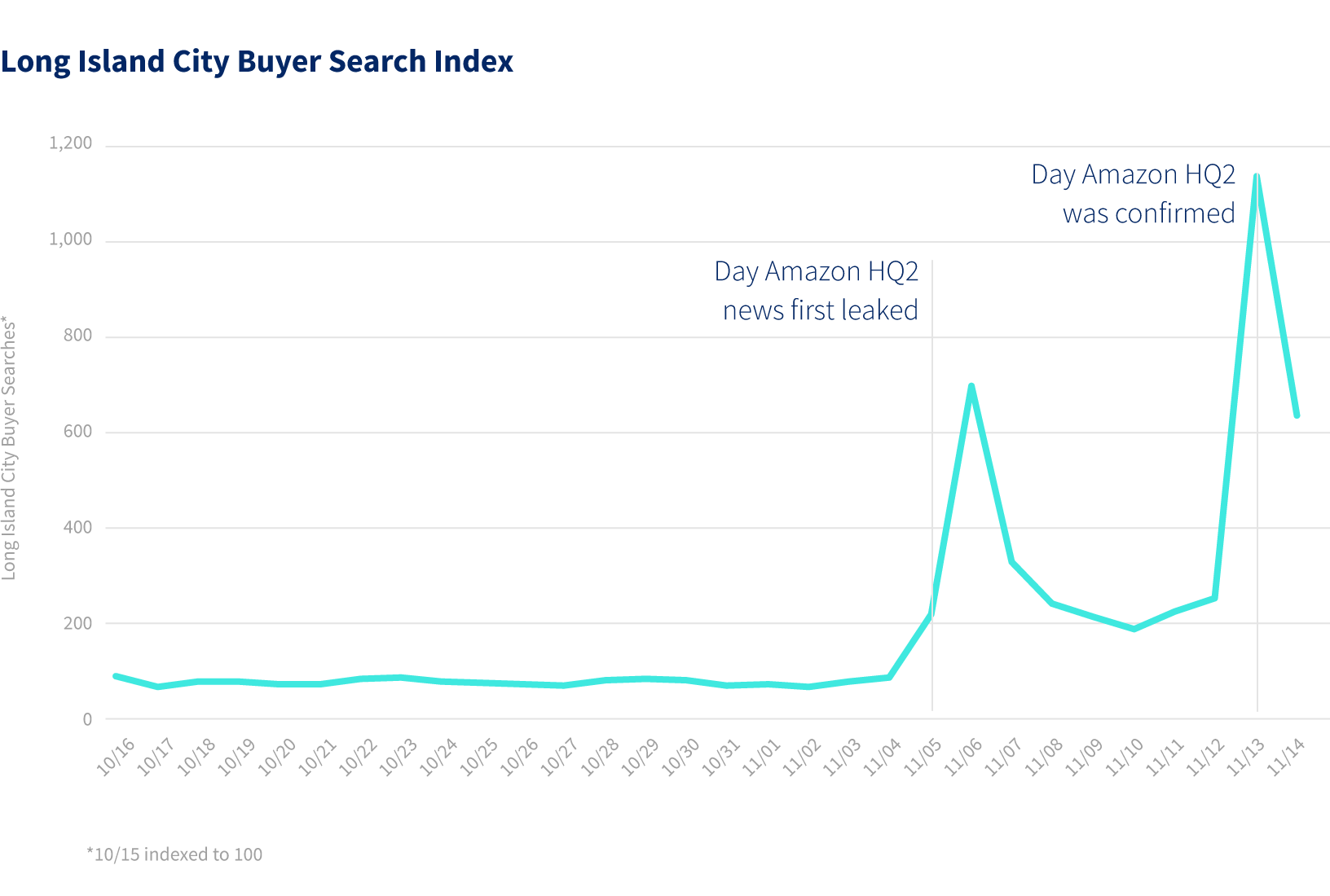 *Note: Not actual traffic numbers; Oct. 15 traffic indexed to 100.
Real estate speculators rushed into Long Island City, StreetEasy searches in the neighborhood spiked 519 percent, and New Yorkers at large were left to contemplate what will happen next. We expect to see major impacts in nearby neighborhoods, a Queens housing market that defies the drag of elsewhere, and the shifting of NYC's economic center eastward, with more major development to follow.
2. NYC Becomes a Buyer's Market
In 2018, for-sale inventory hit record levels, price cuts skyrocketed, and in many neighborhoods, prices fell. The NYC sales market had been red-hot for years, as buyers rode the post-financial crisis upswing. But this year, due to tax changes, rising mortgage rates, and declining affordability, that dynamic reversed itself — dramatically.
By November, Manhattan prices were 3.3 percent below what they had been the same month a year before. It's a sobering reminder that even in NYC, the price of real estate does not only go up.
3. The L Train Shutdown Refigures Brooklyn
What happens when the fastest-running subway line in the city, one that serves a rapidly growing and hugely popular outer-borough hotspot, ceases to connect Brooklyn to Manhattan? New Yorkers spent much of 2018 trying to figure that out.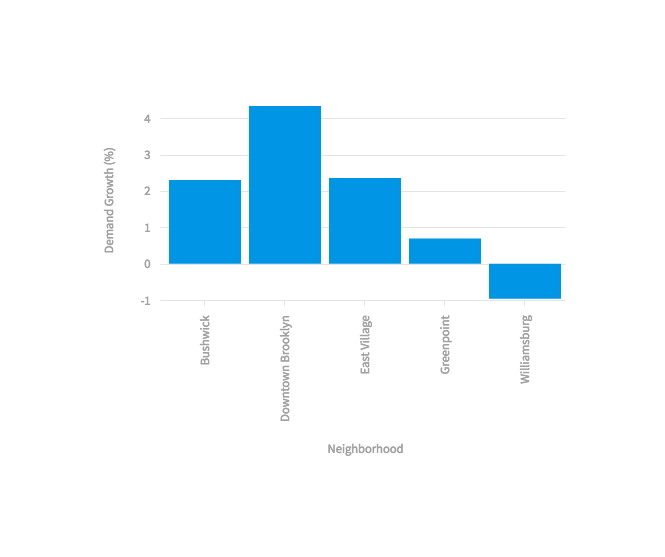 Landlords in Williamsburg conjured fabulous concessions to fill apartments, while demand for them notably fell. Landlords elsewhere schemed to lure renters, too, helping ensure that the impact of the shutdown will be felt not only in North Brooklyn, but across the entire borough, and even in Manhattan. Now if only the small-business owners who'll be affected by the Canarsie tunnel project could pick up and move, too.
4. Rents Loft Upward
New Yorkers who don't own a home must rent one, and so as the sales market cooled in 2018, the rental market heated up — staying warm long into the fall and setting new records in the process. (See the rentals tab in our Price Indices below.) Outer-borough neighborhoods like Dumbo and Long Island City (see above) acquired the same shocking sticker prices as Downtown Manhattan, while rents grew quickly in Upper Manhattan and Queens. It's a bit of a catch-22: Since fewer people could afford to buy a home, rents for everyone went up. Don't look for any relief in 2019.
5. NYC Luxury Market Stays Sluggish
Our research team uncovered two interesting facts this year about higher-end condos in NYC: First, a lot of them get purchased only to very quickly (within six months) appear for rent, which suggests that it's investors buying these units, not residents looking for a long-term home. Second, very few of even the sleekest ultraluxury condos retain their status over time, the way historic co-ops do. Most get replaced in the top tier (10 percent) of the market by yet newer, bigger, fancier condos.
Couple these discoveries with the fact that luxury condos are increasingly slow to sell, and you have a head-scratcher. Who is going to buy all of the multimillion-dollar glass boxes going up in Manhattan, Brooklyn, and Queens, and why are they going to buy them? Neither tech workers nor everyday New Yorkers can afford to live in them, and luxury condos are not a foolproof investment even for the wealthy. So as the country ponders a potential economic slowdown in 2019 or 2020, the fate of the city's oodles of luxury new development may acquire a fresh urgency.
—
Hey, why not like StreetEasy on Facebook and follow @streeteasy on Instagram?