Buying a home is more than just a transaction. It's a process — especially in New York City. There are many steps along the way to owning your dream home, and the more you can go through each step with confidence, the better. You know StreetEasy® as a top destination for finding a home in NYC, but we also offer tools and resources you can use throughout your entire buying journey. Utilize them to help you:
Acquire the necessary knowledge to make an informed purchase
Track the local housing market and understand key takeaways for buyers
Determine what you can afford and set your budget
Find the best home for your needs
Partner with a StreetEasy Expert — a real estate agent verified by StreetEasy who's helped buyers like you
Here's how to use StreetEasy's buyer tools and resources at every step, from gathering information to hiring an agent.
Table of Contents
Step 1: Becoming an Educated Buyer
Step 2: Following the Market
Step 3: Budgeting
Step 4: Finding the Best Home for You
Step 5: Partnering With an Agent
Step 1: Becoming an Educated Buyer
Learning about the buying process, the ins and outs of NYC real estate, and everything in between is the first step toward getting serious about purchasing a home. Here are some of the StreetEasy resources you can use to become a savvy, informed buyer:
StreetEasy Reads
Why are "pre-war" apartments so coveted? How are property taxes calculated in NYC? What is a co-op, anyway? Our regularly updated blog, StreetEasy Reads, covers the who, what, when, where, and why of buying a home in the Big Apple. Check the Buyer Tips and Advice and NYC Real Estate categories for some serious buyer 101.
Manhattan Homes Under $1M on StreetEasy Article continues below
Series and Guides
StreetEasy's series and guides organize valuable information on important topics. Don't miss our series on Buying Your First Home in NYC (even if you're not a first-time buyer!), or our neighborhood guides to help you choose the right neighborhood for you.
StreetEasy Home School
No, not that kind of home school – our YouTube video series, StreetEasy Home School, explains everything you need to know about buying (and selling) in NYC. Hosted by Carlo Romero, our Strategic Partnerships Manager and a former NYC real estate agent, the first video in the series provides valuable tips and advice for buyers and walks them through the buying process.
Step 2: Following the Market
The NYC housing market is its own beast. It may seem overwhelming, but StreetEasy makes it simple to follow the latest market trends, understand key takeaways, and harness data. Keep tabs on the local market with these tools and resources:
StreetEasy Data Dashboard
Powered by our expansive base of NYC real estate data, the StreetEasy Data Dashboard gives you a real-time look at the market, by the numbers. Choose from metrics such as median asking price, median days on market, or total sales inventory, and filter by borough, neighborhood, number of bedrooms, or property type. The dashboard is easy to use, and the data is presented in a clear way.
Manhattan Rents & Prices

Feb 2023, Compared to Feb 2022

Median Asking Price

$1,006,600

SE Price Index

Down

-12.76%

Median Asking Rent

$4,100
Market Reports
Is now a good time to buy? That's ultimately for you to decide, but StreetEasy's Market Reports can help you make sense of what's going on in the NYC market. These reports translate the latest market data and trends into actionable insights to inform your buying strategy.
Step 3: Budgeting
Before you begin to seriously search for a home, you need to determine how much house you can afford. The answer is very personal and depends on many factors, but StreetEasy has a couple of tools to help you get there.
Brooklyn Homes Under $1M on StreetEasy Article continues below
Mortgage Calculator
Our Fixed Rate Mortgage Calculator allows you to input the price of a property, your down payment, the annual interest rate, and the loan term in years, and estimate your total monthly payments. You can also see the total amount you'll end up paying over the lifetime of the loan, and how other costs such as property taxes and maintenance fees impact your monthly payments.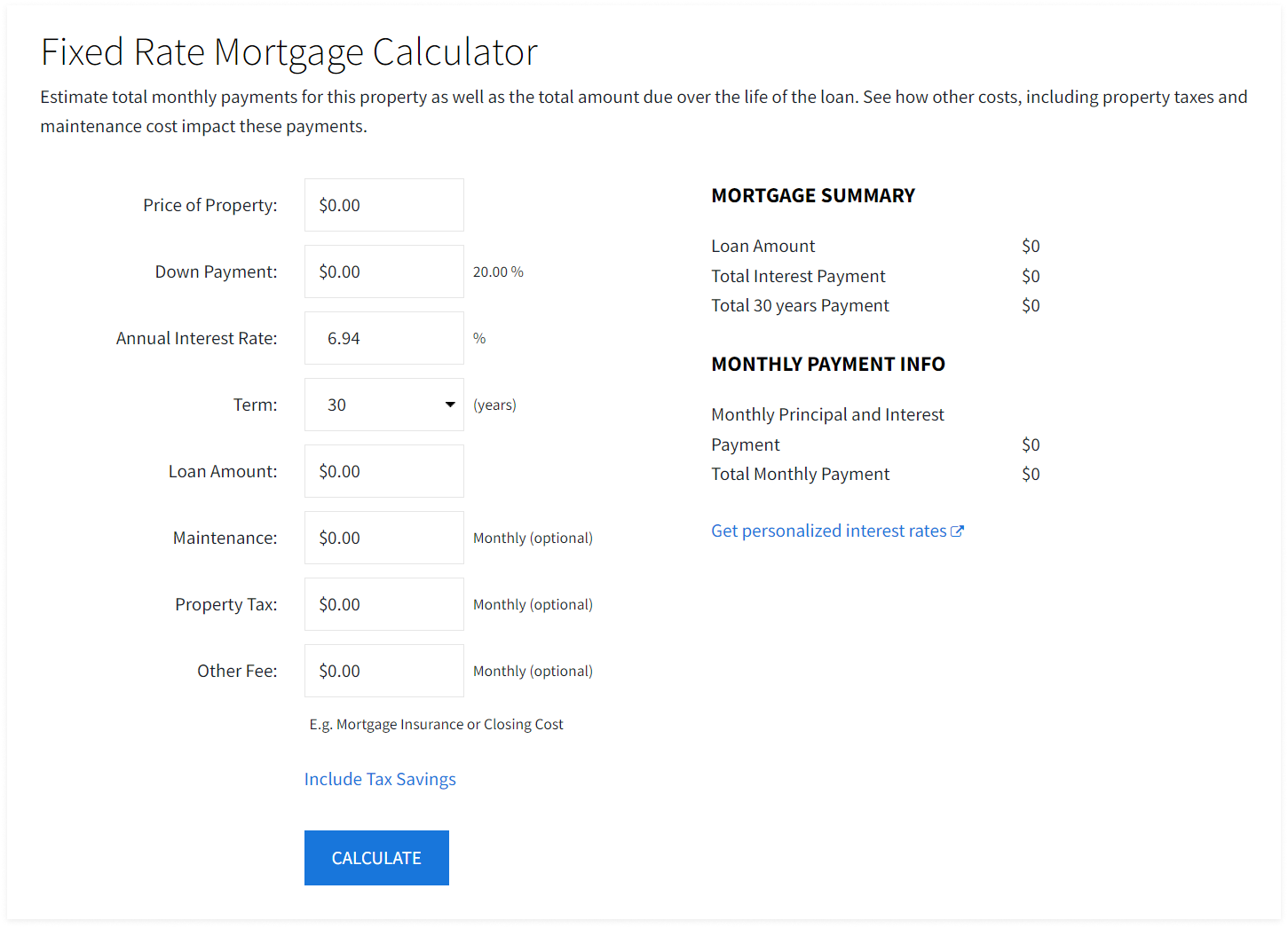 Mortgage Rates
See what the latest mortgage rates are by putting in your zip code, purchase price, down payment, credit score, and optional inputs like property type and desired loan program. You'll see a list of loan options just for you, which you can sort by rate, APR, monthly payment, fees, or customer reviews. Click through to any of the loans to receive your customized rate quote.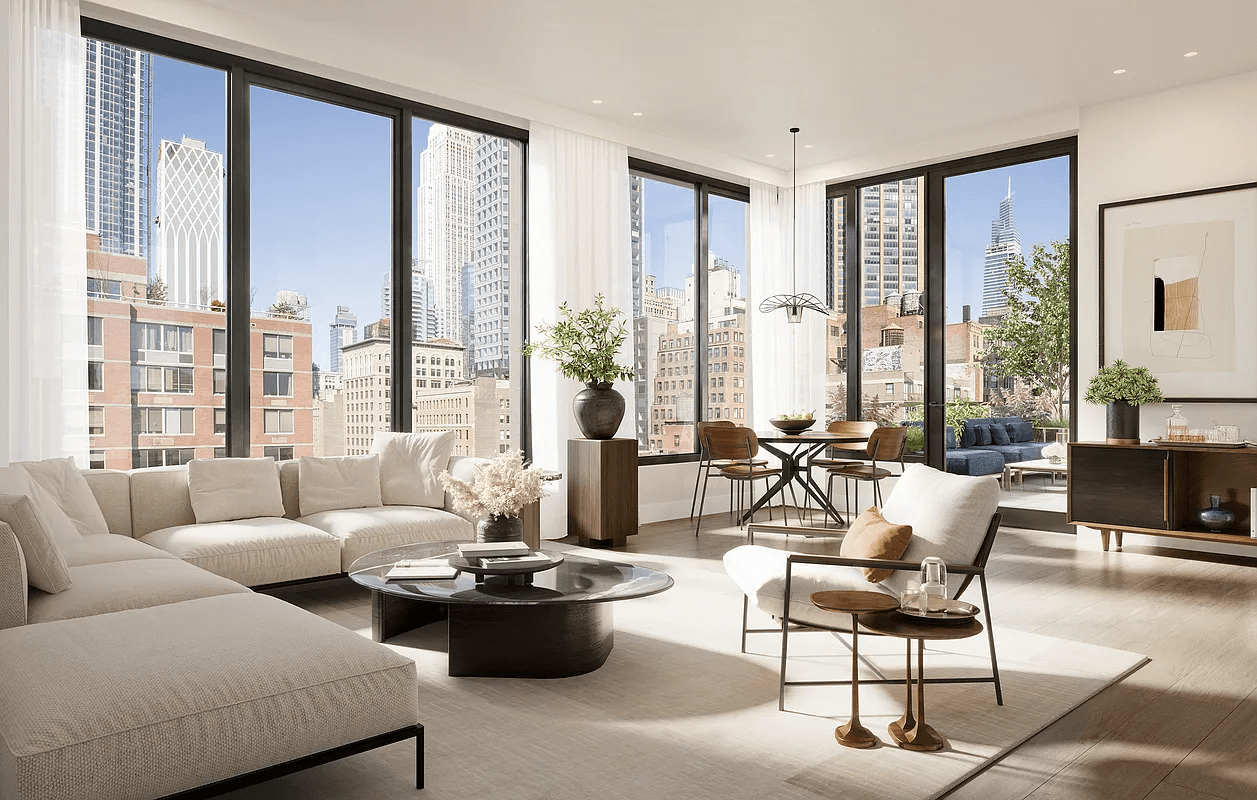 Step 4: Finding the Best Home for You
Now that you know your budget, it's time for the exciting part: searching for homes. You've already come to the right place – StreetEasy and Zillow Group's other consumer brands have close to 70% of the market share for the online real estate category in New York.1 As such, our search functionality is built with NYC and New Yorkers in mind. Customize it to your heart's content and find your dream home using these features.
Advanced Search Filters
In addition to basic filters for location, price, home type (condo, co-op, etc.), bedrooms, pets, and amenities, our advanced filters allow you to really narrow down your search: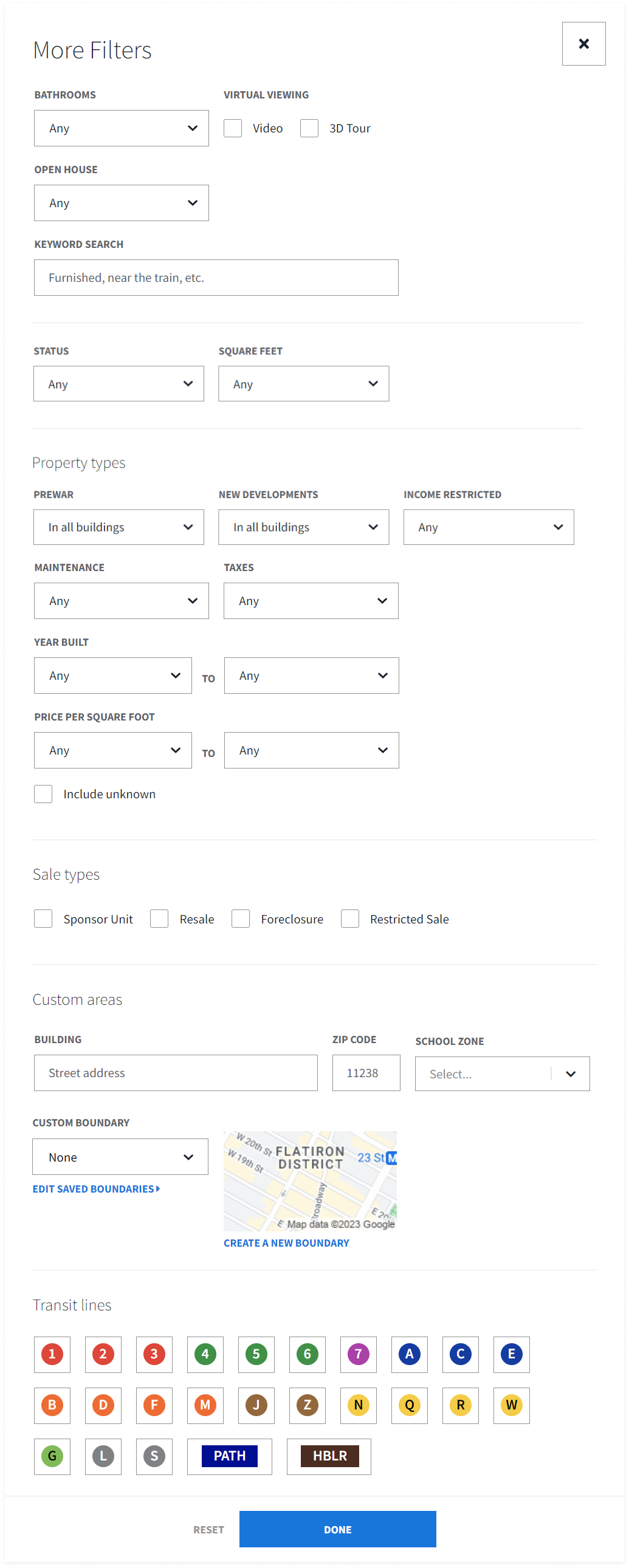 Don't be shy about using these filters – you're looking for a home to call yours for a while, and the more you can refine your options, the better.
Pro tip: Looking for a great deal? Check the Good Deals section of the blog, updated weekly with sales roundups, open houses, popular listings, and more.
Flexible Search
Certain amenities are a dime a dozen in New York City. Let's say you have to have an in-unit washer and dryer, while private outdoor space would be nice, but isn't a must-have. Use our Flexible Search to specify which amenities are a nice-to-have, and which are a need-to-have.
In your results, you'll see which homes have all of your specified amenities, and which are missing your nice-to-haves.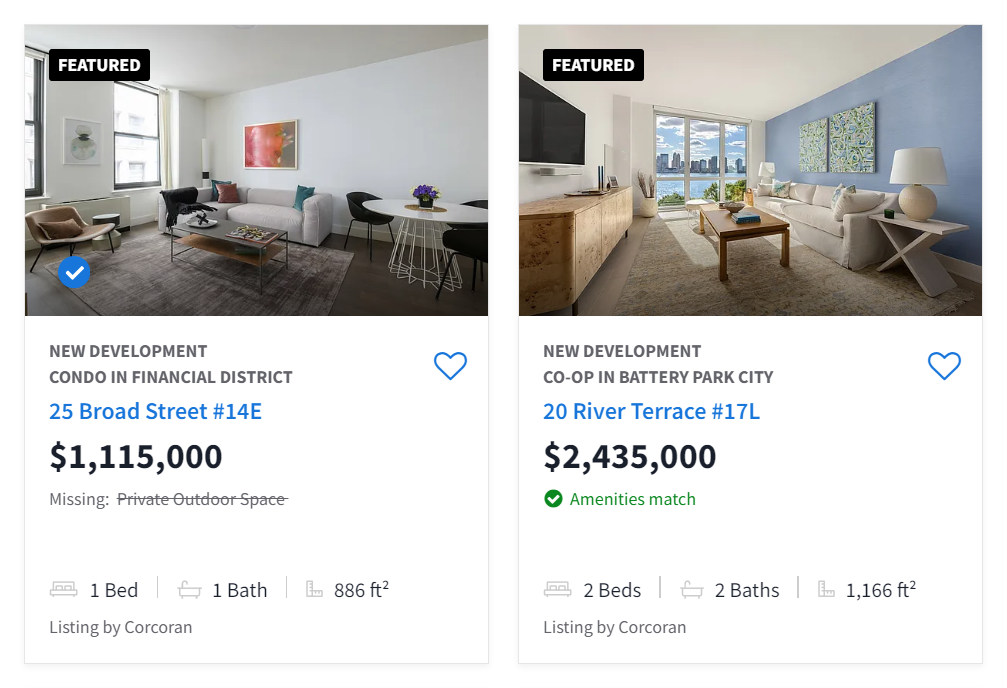 Saved Searches
Once you've narrowed down your search criteria, you don't have to re-enter them every time you visit the StreetEasy site. You don't have to worry about missing any listings, either! Instead, save your search and receive email updates whenever new or updated listings on StreetEasy meet your criteria.

You can choose to receive these emails instantly (up to 3x a day), daily, or weekly — to change the frequency, log into your StreetEasy account and go to your notification settings. Save as many searches as you'd like, and edit them at any time in your StreetEasy account under My Activity.
Queens Homes Under $1M on StreetEasy Article continues below
Step 5: Partnering With an Agent
If you've come this far, it may be time to take a crucial step toward buying a home: hiring a real estate agent. As a buyer, it's a good idea to have one, as they look out for your interests and can negotiate the best possible deal, among many other benefits. In 2022, 87% of buyers used an agent when purchasing their home, according to the National Association of REALTORS®.2 And our work doesn't stop here – StreetEasy can help you find the best agent for your needs, too. Here's how.
StreetEasy Experts
StreetEasy Experts are agents trusted by us, and they've helped buyers like you purchase similar homes to what you're seeking. We measure their performance to make sure you get top-notch service. They have verified experience in the neighborhood, home type, or even the building in which you've shown interest in buying. Look out for a prompt to contact an Expert when you're browsing homes on StreetEasy, on the listing page or in your search results. Here are 10 reasons to buy with a StreetEasy Expert.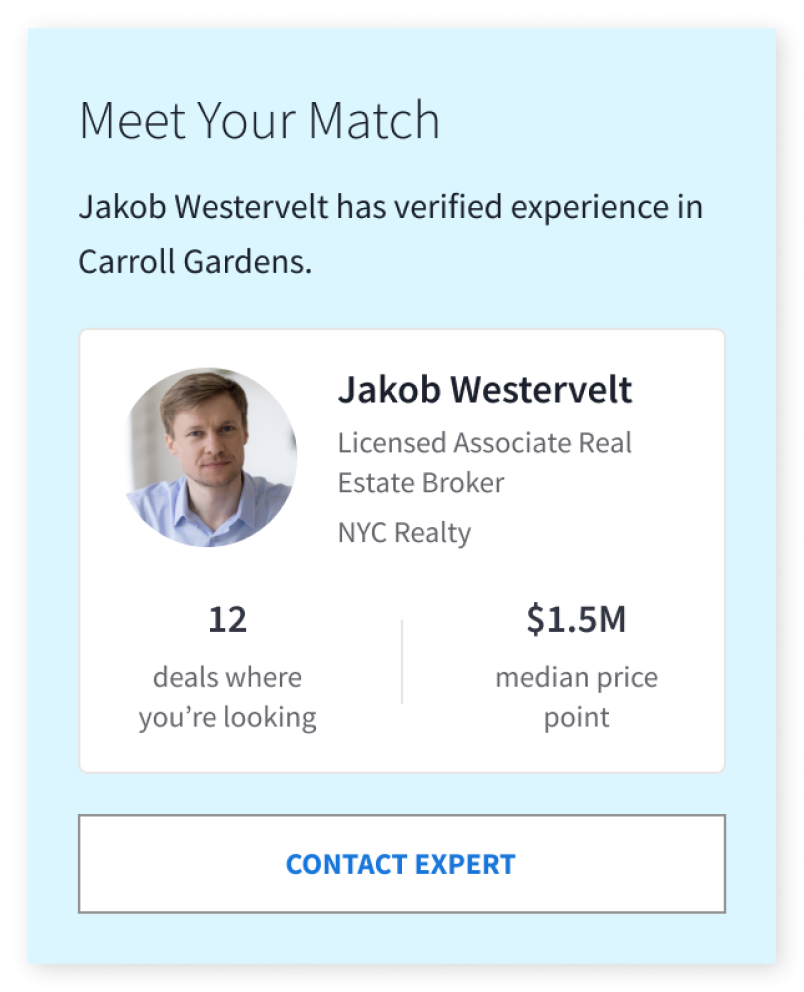 StreetEasy Concierge
Finding a real estate agent is personal, and it requires a personal touch. That's where the StreetEasy Concierge comes in. This free resource is available to answer your questions about buying in NYC and help you get started. The Concierge can also make data-backed recommendations of buyer's agents from our Experts Network for you to work with, according to your specific needs. Go ahead and contact the Concierge – there's no harm in starting the conversation.
---
1Comscore Media Metrix ®, Desktop Only, Key Measures (Comscore Market), Total Unique Visitors, 6-month average, July – December 2022, New York, NY, U.S.
22022 Home Buyers and Sellers Generational Trends Report by National Association of REALTORS® Research Group
Disclaimers: StreetEasy is an assumed name of Zillow, Inc. which has a real estate brokerage license in all 50 states and D.C. See real estate licenses. StreetEasy Concierge team members are real estate licensees, however they are not your agents or providing real estate brokerage services on your behalf. StreetEasy does not intend to interfere with any agency agreement you may have with a real estate professional or solicit your business if you are already under contract to purchase or sell property.
For FSBO postings, the StreetEasy Concierge is meant to provide insight to improve your posting performance on StreetEasy and may refer you to a real estate professional based on your specific needs.
Screen Images Simulated