The New York City home sales market has been cooling since 2017, but this year, as existing trends collided with the pandemic, home buyers gained even more negotiating power. Yes, there are Covid deals on NYC real estate — and sizable ones in some surprising neighborhoods.
Between March 16, 2020, when NYC instituted stay-at-home orders, and Sept. 30, buyers closed deals on 6,783 homes listed on StreetEasy. Of those, some 5,017 — a whopping 74% — went for less than the seller's original asking price. (During the same period in 2018, 64.5% of homes sold below asking price.)
While the pandemic did cause a major slowdown in sales activity during the typical spring shopping season, there were still plenty of closings — and buyers negotiated some unheard-of deals.
So where have buyers been finding the best Covid deals on NYC real estate? To show you, we looked at all NYC closings reported as of Oct. 30, and found the ten neighborhoods where homes sold for the biggest discounts off asking prices since the start of the pandemic.
Midtown Buyers Score Covid Deals as Commutes Become Less Important
From March to September, homes in Midtown Manhattan sold for bigger discounts off their asking price than those in any other NYC neighborhood. The median difference between asking price and closing price in Midtown was 12.4% — a median savings for buyers of $250,000.
Major discounts have become the norm as the pandemic has forced New Yorkers to reconsider their priorities when it comes to where they live. For many, preferences have shifted dramatically, as commute time has become less of a factor in home location.
Manhattan 1-2BRs Under $800K on StreetEasy Article continues below
If traveling to and from Manhattan offices five days a week is no longer a long-term reality, that opens up plenty of choices for home buyers. And it may be causing some to second-guess the value of living in Manhattan's most central neighborhoods.
In addition to Midtown, a number of other pricey and convenient Manhattan neighborhoods — including Tribeca, Flatiron, and SoHo — ranked among those where homes sold for the largest discounts.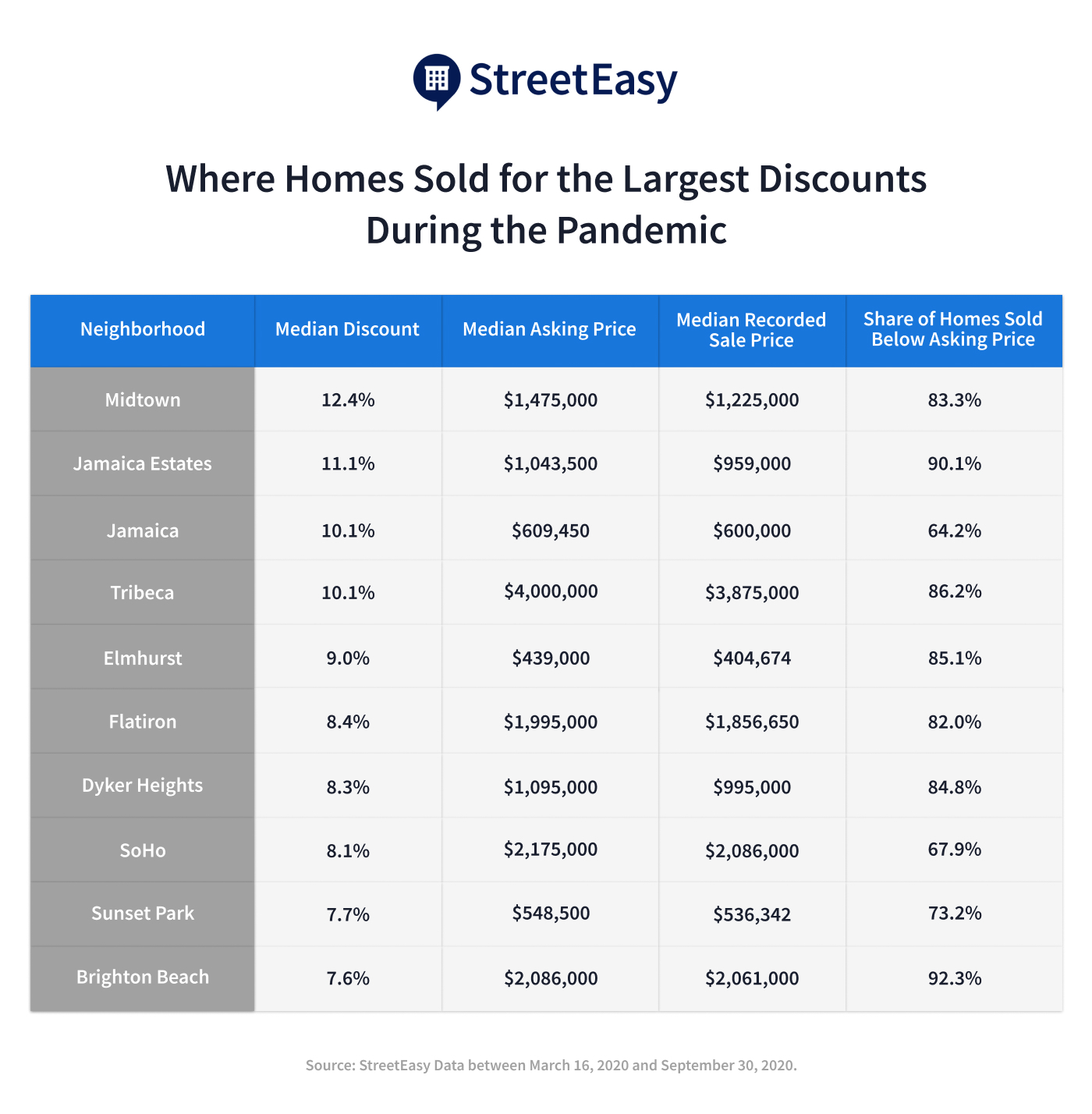 Steep Discounts Aren't Limited to Priciest Areas
Of homes that sold between March 16 and Sept. 30 in neighborhoods with at least 20 recorded sales, the median recorded sale price was just under $770,000. But some places on this list are considerably more affordable. In fact, three neighborhoods out of the most-discounted areas — Jamaica, Elmhurst, and Sunset Park — came in at or below the citywide median recorded sale price.
Queens 1-3BRs Under $800K on StreetEasy Article continues below
There are likely several reasons why sizable discounts are occurring in areas that are already relatively affordable. One may be that buyers are more reluctant to move to areas like Elmhurst, Queens, where COVID-19 hit hardest this spring.
Another may be that with commute time less of a factor, buyers are looking to neighborhoods and suburbs even farther from central business and office areas, and skipping over some outer-borough neighborhoods in between.
A Few Brooklyn and Queens Nabes Are Heating Up
While this analysis reveals the NYC neighborhoods with the deepest discounts, it's important to remember that buyers are finding deals all over the city. In fact, since mid-March, the median home in all but five NYC neighborhoods sold for below its initial asking price.
"There are very few areas experiencing bidding wars in New York City, and we don't expect that to change anytime soon," says StreetEasy Economist Nancy Wu. "The large gaps between asking and final closing prices show that prices are still elevated — especially in centrally located neighborhoods in Manhattan. The pandemic has changed what buyers across all price points are looking for in a home, and sellers must respond to this change in demand."
As for those five neighborhoods where the median home sold above asking price this year, all were in Brooklyn or Queens. They include Downtown Brooklyn, Flatbush, Gowanus and Greenwood in Brooklyn, and South Jamaica in Queens.
Brooklyn 1-3BRs Under $800K on StreetEasy Article continues below
Between March 13 and Sept. 30, pending sales began to surge in many of these neighborhoods — especially those in Brooklyn. All else equal, homes in these neighborhoods offer more space than Manhattan for a homebuyer's budget, and space has become more important than ever. In a recent StreetEasy survey, 42% of potential buyers noted that extra space for working or schooling from home has become a bigger priority in their home search than it was prior to the pandemic.
Despite the Pandemic, Many Are Planning to Buy
With softening prices and sky-high inventory, many buyers believe that now's the time to make a move on a new home. StreetEasy's latest consumer survey found that 70% of buyers were planning on moving within New York City in the next year. And 17% are planning to move to take advantage of lower prices and discounts on the market as a result of COVID-19. (Interestingly, our data hasn't yet shown big shifts in the size or features of NYC homes sold during the pandemic.)
Buying a home is always a personal decision, and one that takes a lot of research and careful planning. But no matter where or when you're looking to buy, negotiating is key. The latest data shows that right now, buyers are poised to find great deals across all NYC boroughs, neighborhoods, and price points. Buyers should consider working with a trusted agent to help navigate the current market dynamics.
How We Did It
We sourced the closings data in this analysis from the New York City Department of Finance, which publicly releases data on all closings in New York City. The findings in this report are based on closings data between March 16 and Sept. 30, 2020, that were publicly released as of Oct. 30, 2020. Closings data can often be delayed for a variety of reasons, so this data may change as more closings are officially reported.
Looking for a real estate agent to help you buy or sell a NYC home? StreetEasy can connect you to an Expert agent who has proven experience working in the buildings or areas you're interested in.
—
Whether you're looking to rent or to buy, find your next NYC apartment on StreetEasy.