In New York City, where space comes at a premium, the townhouse is the closest thing many neighborhoods have to a single-family home. What's the difference? Technically speaking, the traditional single-family home is a freestanding structure. Townhouses typically share a wall with an adjacent townhouse or building. There are also additional characteristics. As with other types of houses, many townhouses have outdoor spaces. Plus if you're the sole owner of a townhouse — meaning it wasn't divided up and sold as several units, you can live autonomously — no co-op boards or neighbors — the dream for many in NYC! Attributes like these make townhouses hot properties. In fact, "The townhouse market has become solid again since the start of COVID," Michael J. Franco, a broker for Compass, told StreetEasy. "After years of softness, buyers started seeking out townhouses particularly for social distancing concerns related to larger buildings and for private outdoor space." The following shares several types of townhouses to choose from.
Manhattan Homes Under $1M on StreetEasy Article continues below
1. Brownstone Townhouse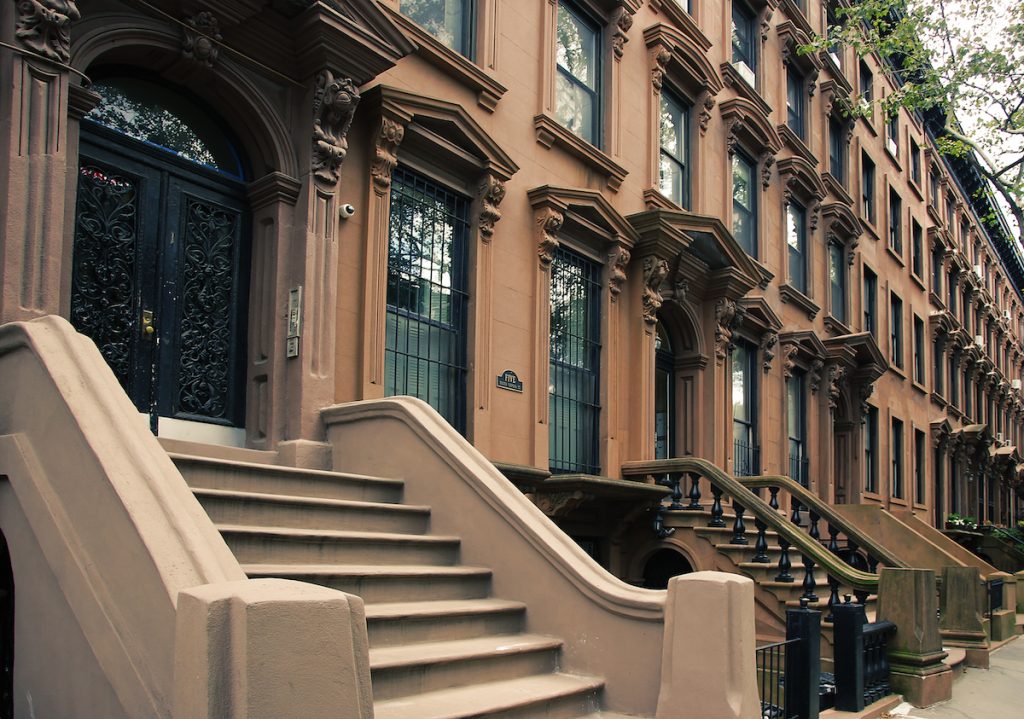 This townhouse type is a brick structure with a brownstone veneer. Brownstone is a reddish-brown sandstone dating back to the Triassic-Jurassic period. When first cut, the stone is pink but deepens into its classic brown hue over time.
Most of New York City's brownstone came from the same place: the Portland Brownstone Quarry, formerly located in Portland, Connecticut. In the 19th century, brownstone became a popular building material since it was considered an upgrade from brick.
While brownstone townhouses are all over NYC, they are plentiful in historic neighborhoods like the Upper West Side, Harlem, Fort Greene, and Bedford-Stuyvesant. While these exteriors are beautiful, brownstone facades often need restoring after years of exposure. That's why some brownstones are in a less-than-stellar condition requiring renovations. That extra work is making prospective buyers shy away from brownstones lately.
"Move-in ready townhouses are in top demand," said Lindsay Barton Barrett, a top Douglas Elliman broker in Brooklyn. "Fewer people seem to have the appetite for months or years-long renovation projects."
Staten Island Homes Under $1M on StreetEasy Article continues below
2. Clapboard Townhouse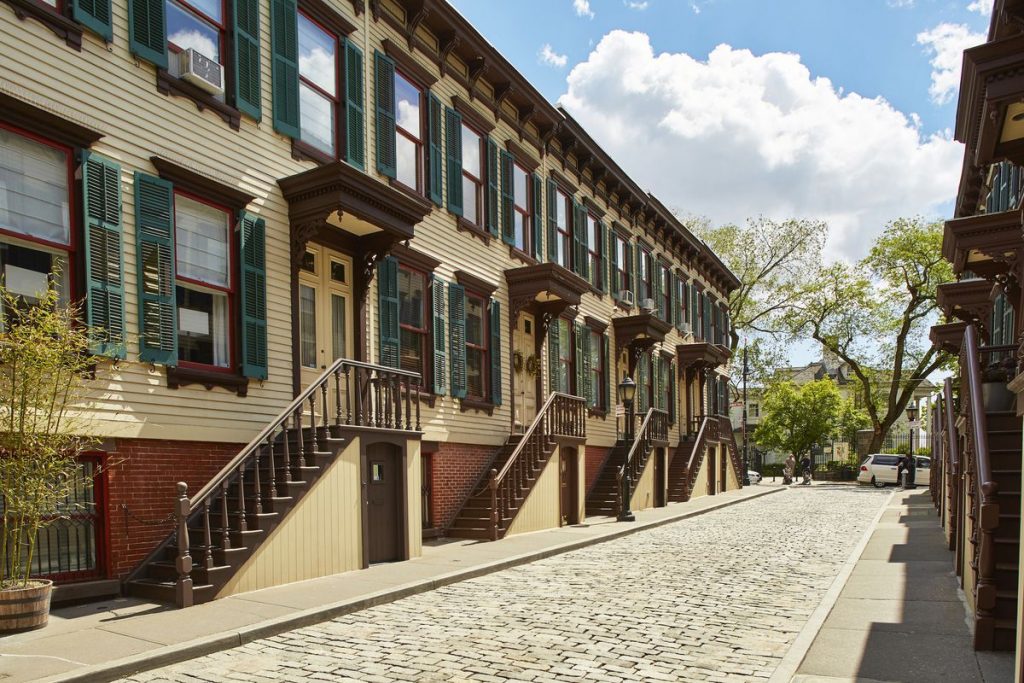 Clapboard homes are known for their siding, made of horizontal wooden planks, also known as clapboard. They are not as prevalent now as they were during the 1700s and 1800s, but some preserved homes have stood the test of time in NYC, most notably the lovely homes on Sylvan Terrace in Washington Heights. Out of all of the types of townhouses, clapboard homes require the most maintenance to protect their wood planks from bugs and weather damage. FYI, wood-framed houses, in general, were widely banned in the 1850s when deemed a fire risk after the Great Fire of 1835. Due to their scarcity, clapboard homes now command top dollar when they go on the market. One Sylvan Terrace home hit the market for $1.5 million, and this West Village clapboard townhouse went for $8.25 million. Sales for both are pending as of this writing.
Bronx Homes Under $1M on StreetEasy Article continues below
3. Limestone Townhouse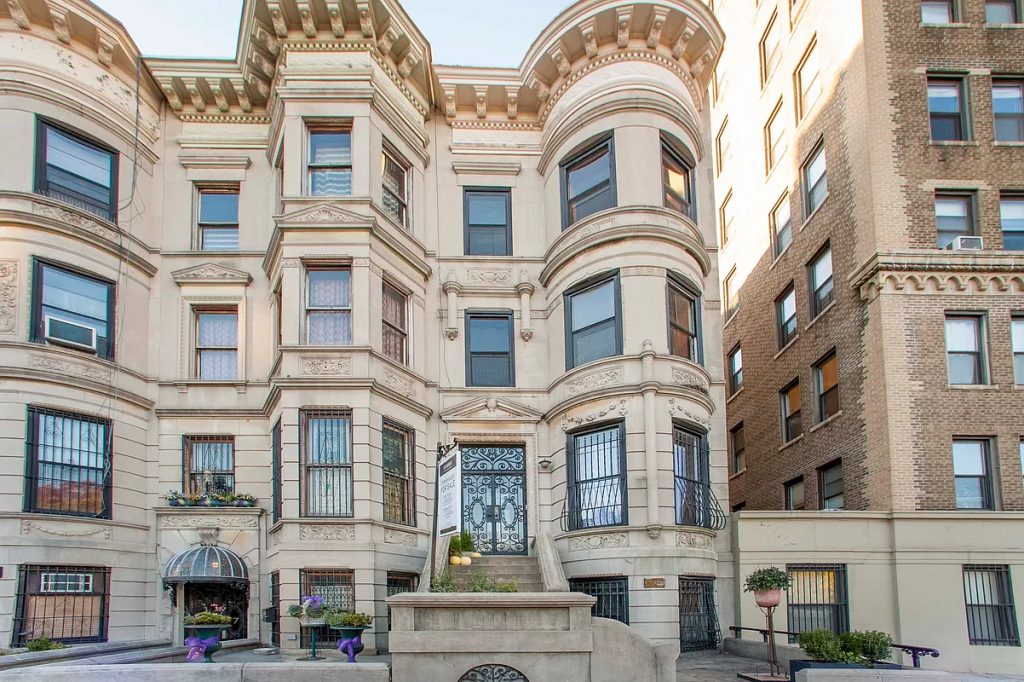 Around the turn of the 20th century, limestone became a popular exterior building material when it came to types of townhouses. It was so popular that roughly 18,000 New Yorkers listed their occupation as stonemasons or stonecutters in the 1900 Census Bureau.
Much of it was mined in Indiana, so it was known as Indiana limestone. The durable material was considered high-end and was used for monuments as well as homes. Many New York City landmarks are built from Indiana limestone, including the Empire State Building, the Flatiron Building, and 30 Rockefeller Center. Synonymous with wealth and opulence, limestone became a favorite choice for the exteriors of mansion-like townhouses in desirable neighborhoods such as the Upper East Side and Upper West Side of Manhattan. Famed architects like William Bosworth — who designed the Rockefeller family estate in Westchester and was commissioned to restore the Palace of Versailles —were fans of limestone for its grandeur.
A Bosworth-designed six-bedroom on Upper East Side sold for $79 million in 2021. But of course, you can find an equally stunning limestone townhouse for far less, like this one Bed-Stuy home that sold for $2.5 million.
"You'll find townhomes for sale at a reasonable price in parts of Brooklyn other than Park Slope, Brooklyn Heights, and Carroll Gardens," said Franco. "Buyers can find deals in areas like Crown Heights and Bedford-Stuyvesant."
Though beautiful, limestone can require a lot of maintenance. It's prone to trapping moisture and pollutions, which reacts with the chemical structure leaving cracks and unsightly spots. That's why prospective buyers should consult an architect, engineer, and contractor beforehand to see if work is required.
Queens Homes Under $1M on StreetEasy Article continues below
4. Vinyl-Sided Townhouse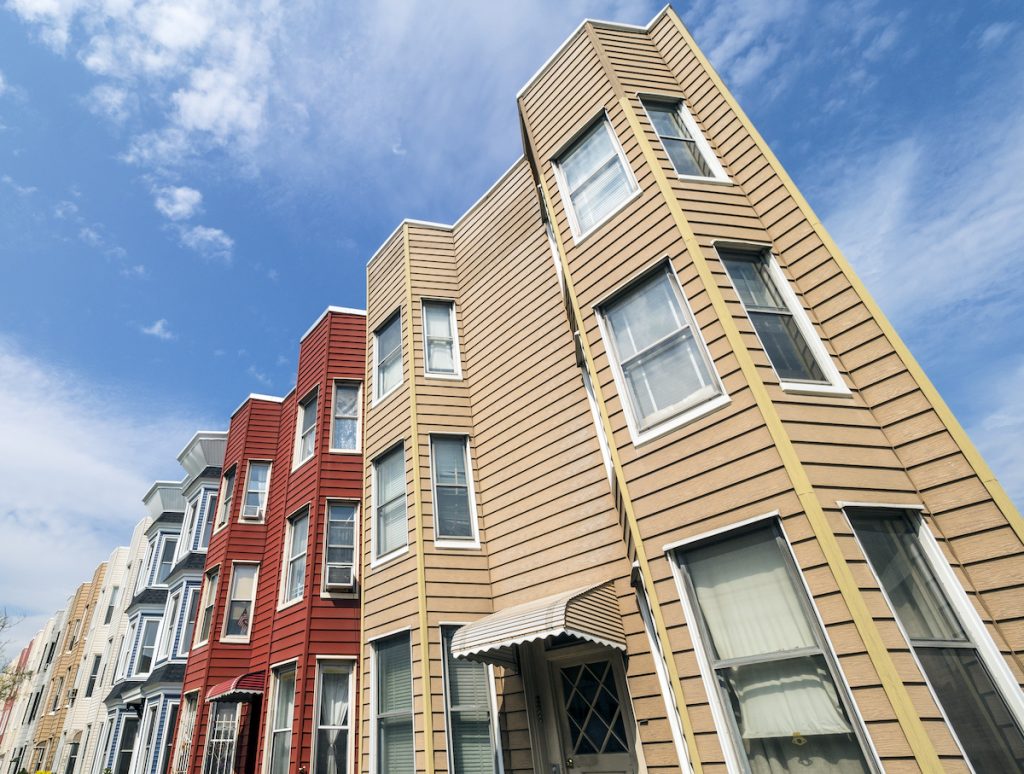 Out of all of the types of townhouses, the vinyl-sided variety has its fair share of fans and detractors. But you can't ignore the material's advantages. It won't warp, rot, or crack with the weather like its snazzier competition. The material was introduced in the 1950s as a substitute for aluminum siding, which was prone to denting. Vinyl-sided townhouses are most common in Brooklyn neighborhoods like Williamsburg and Greenpoint, as well as in parts of Queens. Out of all of the types of townhouses, are these abode cheaper? Like any home in NYC, it depends on the area. A four-bedroom, vinyl-sided townhouse in East Williamsburg townhouse sold for $1.2 million in 2020.
Brooklyn Homes Under $1M on StreetEasy Article continues below
5. Brick Townhouse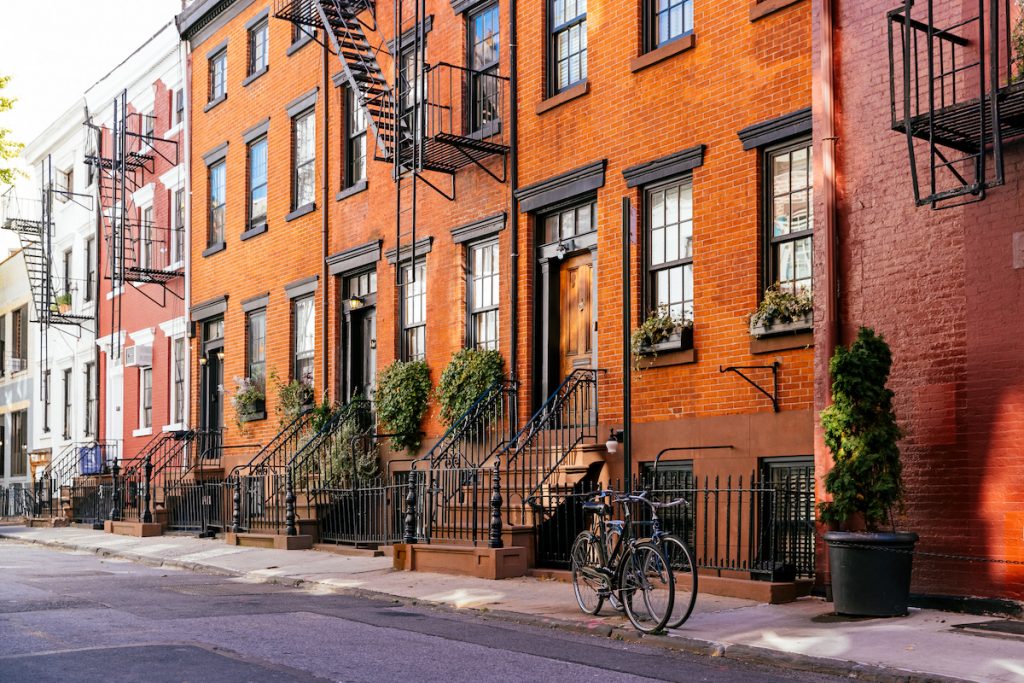 Exposed brick interior walls are a huge selling point in NYC apartments, but brick-facade townhouses are just as grand. Brick adds charm and warmth to a home, both inside and out. It's why out of all types of townhouses, these brick homes might be the most loved. But there are more reasons to heart brick besides its look. These little Legos of masonry are durable, fire-resistant, and provide great insulation.
Brick became a very popular building material in NYC after the Industrial Revolution since bricks could be made locally. Many classic NYC Federal-style townhouses are made entirely of brick. The Edward Mooney House, the oldest brick townhouse in the city, is more than 200 years old.
Ultimately, if you're in the market for a townhouse in NYC, expect to pay a premium for renovated ones. Otherwise, buyers interested in a townhouse that needs a lot of work should keep several factors in mind.
"Location is very important even within a neighborhood," said Franco. "Therefore, focusing on blocks that are more or less all brownstones makes a difference if someone is concerned about resale value. Park blocks are also highly coveted. And the price per square foot is important since most renovations are now measured by a price per square foot in and off themselves."
If you can't make your townhouse dreams come true, there are plenty of great units out there. Here are the common types of apartments in NYC.