The number of newly in-contract listings jumped 32% in February compared to January, following a strong resurgence of buyers. That said, home sales in NYC remain more modest compared to the red-hot sales market last year, with the number of newly in-contract listings down 21% year-over-year in February after falling more than 35% on average in the previous three months. The luxury market was no exception, with newly pending sales above $3.5M (the top 5% of all sales in 2022) falling sharply by 38% from a year ago.
In contrast to mixed sales this year, StreetEasy data shows NYC buyers are still actively shopping. The average number of inquiries received by for-sale listings on StreetEasy was 9% above its pre-pandemic level in February. Strong buyer interest, in addition to low inventory, means well-positioned sellers can expect strong offers.
However, with affordability as a top concern, NYC buyers have shown patience in finding a home within their budget. As a result, homes for sale are staying on the market for longer, StreetEasy's latest data shows. A typical home in NYC entered contract in 111 days, up 24 days from a year ago when the market heated up with buyers locking in low mortgage rates. That's also an increase of 12 days from February 2019, prior to the pandemic. Under the current market conditions, a competitive pricing strategy is even more important now than last year.
Manhattan Homes Under $1.5M on StreetEasy Article continues below
Aggressive Pricing Now Means More Time on Market
Buyers are slowly regaining negotiating power after a hyper-competitive market last year. Nearly three in five agents say buyers are taking more time to consider a home and making offers below the list price more often, according to a recent national survey from StreetEasy's parent company, Zillow.
As a result, pricey homes in NYC relative to comparable listings in the area are having a harder time finding buyers. Among listings that haven't found a buyer yet, those priced within 5% of the median asking price of comparable listings in the neighborhood spent 117 days on the market on average in February. However, homes priced between 5% and 30% higher than comparable listings spent 156 days on the market – about six more weeks than homes priced within 5%. Homes priced more than 30% above comparable listings spent 183 days – an additional nine weeks – on the market.
This additional time on market signals that sellers this year should not expect the same heightened competition among buyers as last year. With mortgage rates still elevated, affordability is a foremost concern for many buyers. Current buyers have shown patience in finding their dream home within budget rather than compromising, making it harder for sellers to ask for prices that are considerably above comparable listings. However, many sellers have been slow to adjust. Sales price growth is moderating in NYC, but median asking prices have been more stable, rising more than 5% year-over-year for the past eight months. The StreetEasy Price Index, which tracks prices of repeat sales, rose just 1.2% year-over-year in February to $619,568, after rising about 3% on average over the past three months. The median ratio of sale price to initial asking price for all listings sold in February fell to 95.2%, meaning a typical listing sold at 4.8% below ask. In February of last year, this ratio was 97.1%, which means a typical listing sold at just 2.9% below ask.
Brooklyn Homes Under $1.5M on StreetEasy Article continues below
Inventory Mismatches Are Also Behind the Sales Slowdown
Another reason for slowing sales is an ongoing inventory shortage. For-sale inventory rose 4.2% year-over-year to 16,169 homes in February this year, but current inventory levels are still 6% below their pre-pandemic levels. In addition, the number of new listings entering the market fell 19.6% year-over-year in February, keeping downward pressure on for-sale inventory. However, an average for-sale listing on StreetEasy is receiving 9% more inquiries from buyers than before the pandemic, indicating buyers are competing for limited inventory and well-positioned sellers can expect strong offers.
Despite the competition for limited inventory, soaring monthly mortgage payments left buyers with little room to stretch their budgets. As a result, sellers are less likely to receive an offer above asking than they were last year. Nearly one in five listings on StreetEasy sold above initial asking during the hyper-competitive shopping season last year, but in February 2023, one in 10 listings sold above asking.
Luxury Buyers Are Hesitating to Seal the Deal
Luxury listings on StreetEasy continued to receive strong interest from home shoppers, with the average number of inquiries up 3.3% in February from pre-pandemic levels. We define the luxury segment as the top 5% of the citywide housing market, priced at $3.5M and above as of 2022.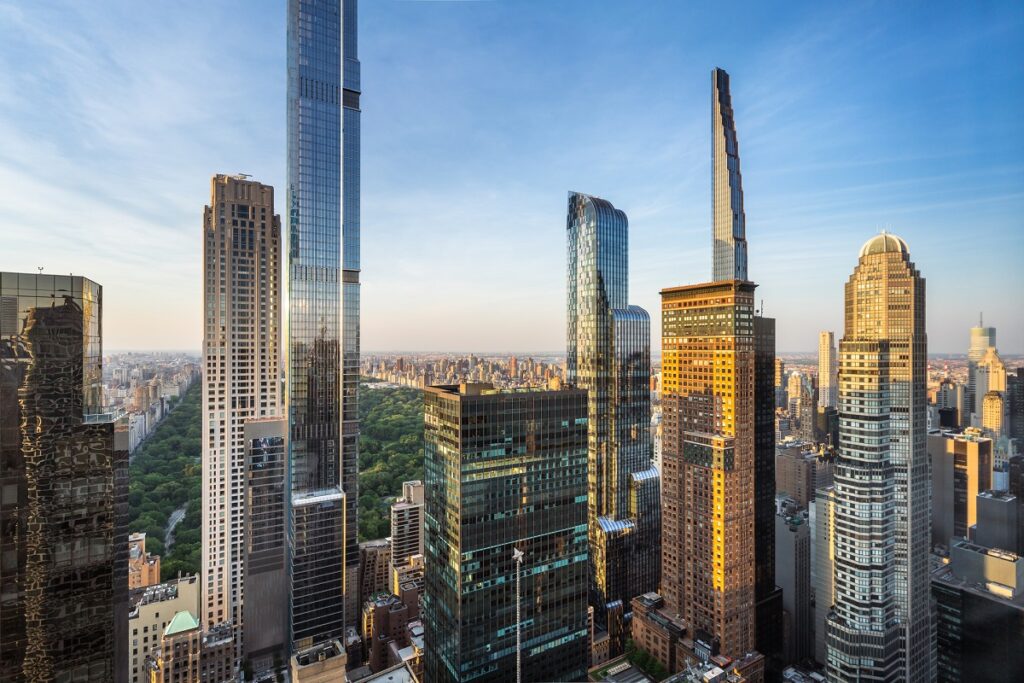 Despite the strong buyer interest, luxury home sales have become more modest since breaking records in late 2021. StreetEasy data indicates 134 contracts in this segment were signed in February 2023 – 38% lower than a year ago, and 54% below the peak in November 2021 when 293 contracts were signed in a single month. Manhattan still takes the lion's share of the luxury market: 9 in 10 citywide luxury contracts in February this year were in the borough, while the rest were in Brooklyn. The median time luxury homes spent on the market in February was 143 days, nearly four more weeks (29 days) than last February.
Similar to the overall market, buyers looking for a luxury home are also taking more time before signing a contract amid heightened financial market volatility. Strong sales in late 2021 and early 2022 were likely supported by exuberant asset prices in financial markets and historically low financing costs. As listings stay on the market for longer, close to one in three (31%) luxury listings reduced asking prices in February. One year ago, only about one in five (21%) listings cut asking prices.
That said, well-positioned luxury listings continued to find buyers expeditiously amid strong buyer interest. In February, one in five luxury listings entered contract within 90 days of appearing on the market. The most expensive contract in February, a full-floor apartment at 150 Central Park South with approximately 6,500 square feet of interior space priced at $30M, entered contract in just 24 days.
Queens Homes Under $1.5M on StreetEasy Article continues below
Takeaways for Buyers and Sellers
With aspiring buyers increasingly concerned about affordability, a competitive pricing strategy is even more important now than last year. With limited inventory, well-priced homes can still expect strong demand from buyers. In a shifting market, the StreetEasy Concierge for sellers can be a valuable resource for giving a home a competitive edge. In addition, working with a real estate agent with deep, hyper-local expertise and knowledge of relevant housing types (co-op, condo, townhouse, etc.) – like the agents in StreetEasy's Experts Network – is a great way to understand the local NYC market and come up with a winning pricing strategy.
While some buyers may think it's best to wait out the market, a sharp drop in home prices is unlikely this year. Inventory of homes for sale in NYC will gradually increase in spring and early summer, but not enough to significantly slow the growth in home prices. In addition, fewer new listings are entering the market than last year as current homeowners, who locked in low interest rates prior to 2022, remain reluctant to put their homes on the market. As a result, any declines in home prices should be modest. Mortgage rates will remain volatile over the coming months, but any sustained decline in rates related to a less tight labor market this year will lead to an increase in competition among buyers.
Disclaimer: StreetEasy is an assumed name of Zillow, Inc. which has a real estate brokerage license in all 50 states and D.C. See real estate licenses. StreetEasy Concierge team members are real estate licensees, however they are not your agents or providing real estate brokerage services on your behalf. StreetEasy does not intend to interfere with any agency agreement you may have with a real estate professional or solicit your business if you are already under contract to purchase or sell property.
For FSBO postings, the StreetEasy Concierge is meant to provide insight to improve your posting performance on StreetEasy and may refer you to a real estate professional based on your specific needs.