Buyers returned to the market in droves in January, but with relatively low inventory on the market, competition is expected to be high this spring shopping season. Amid these conditions, there are still some neighborhoods where buyers can gain the upper hand – throughout the city and at every price point.
Using StreetEasy data, we identified the top 10 NYC neighborhoods where buyers are most likely to have room to negotiate in 2023. Typical listings in these areas took longer to sell and had more price cuts in Q4 2022 compared to Q4 2021. Buyers can expect to have more negotiating power in these 10 neighborhoods than in other parts of the city.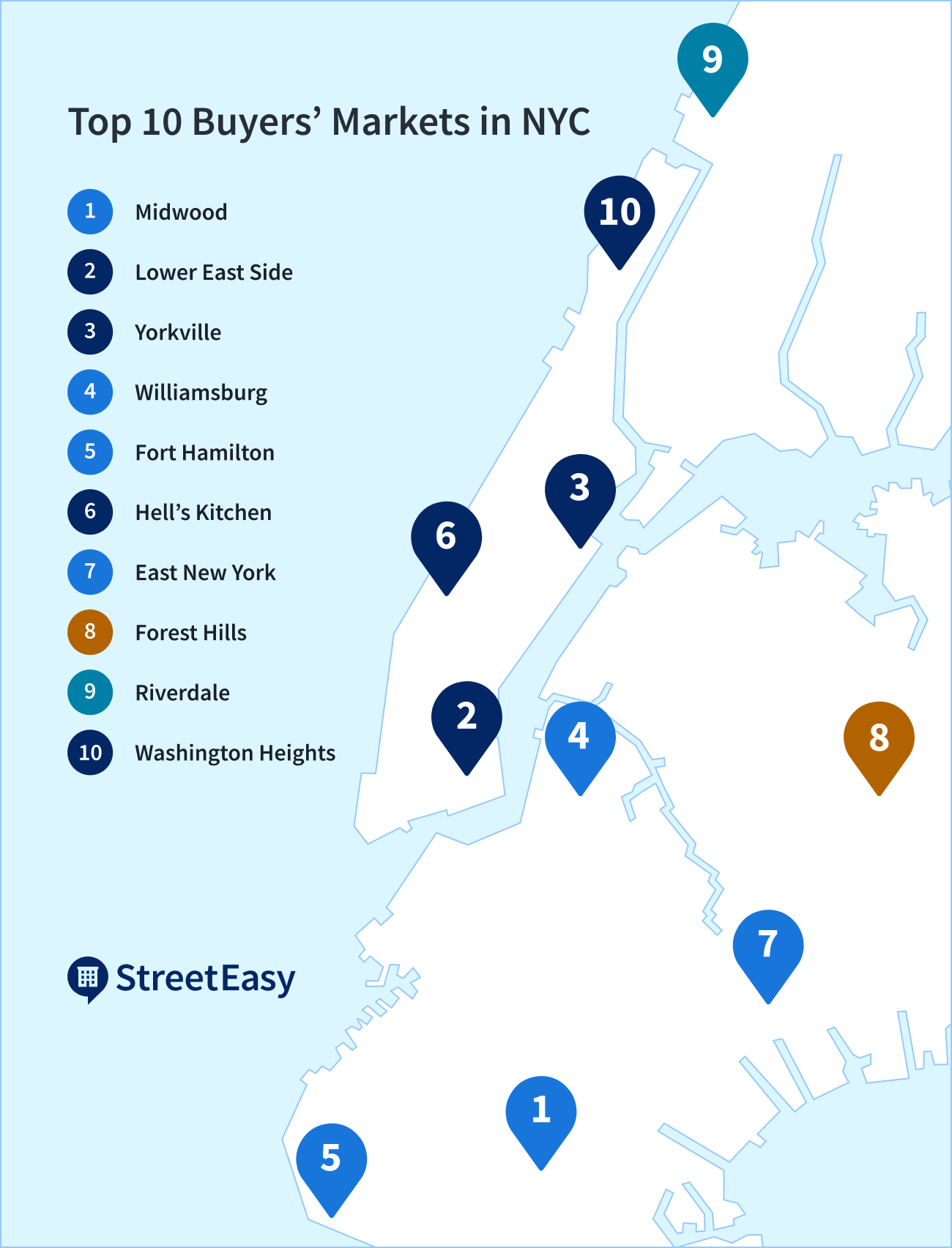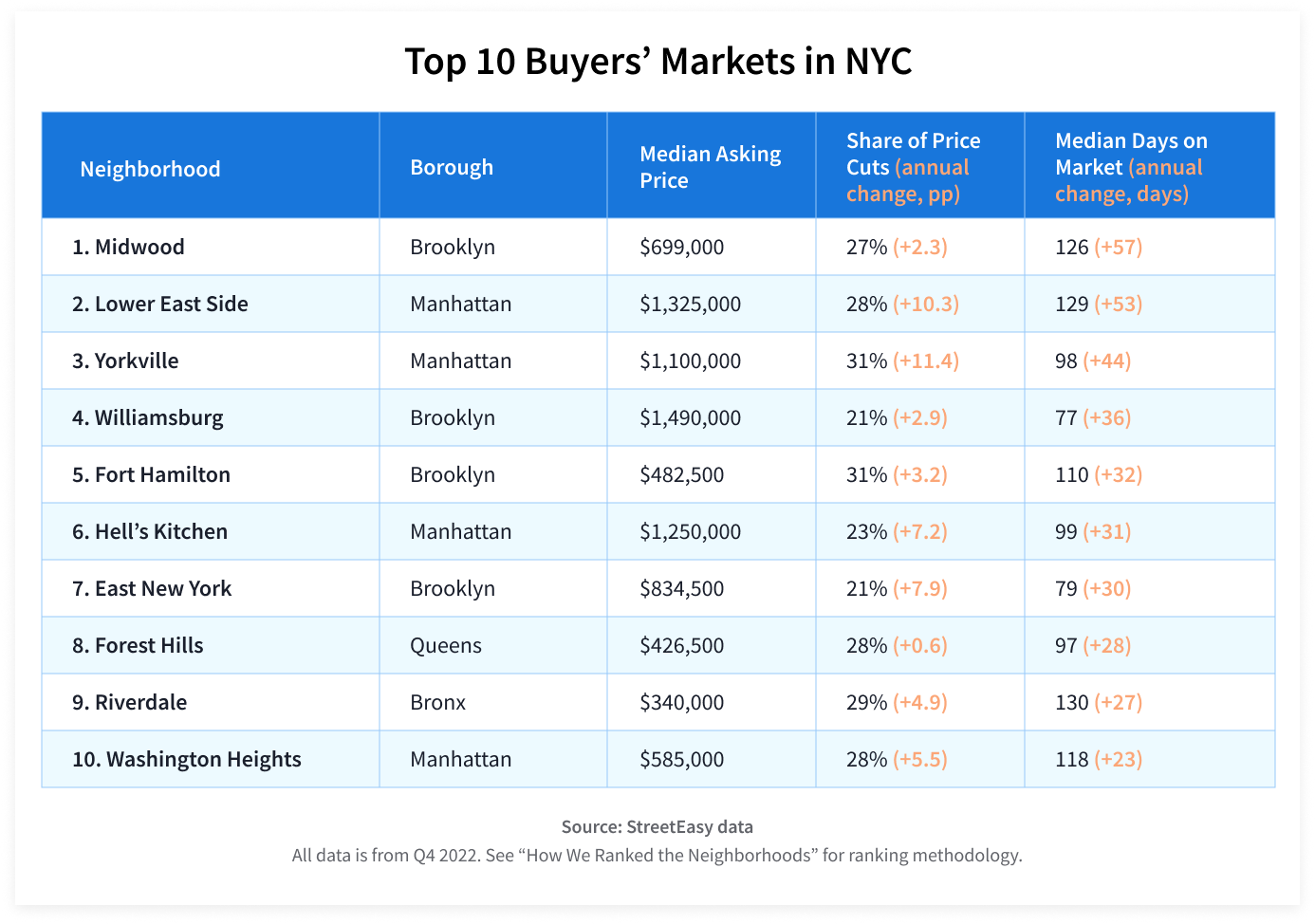 Buyers Seeking Homes Above $1M Can Still Have an Advantage
While the Lower East Side, Yorkville, Hell's Kitchen, and Williamsburg are four neighborhoods that have historically been in-demand among buyers – all with median asking prices above $1M – buyers in 2023 can now take the upper hand in these areas. After an unusually competitive buying season in spring 2022, buyer interest at this price point has shifted to outer borough neighborhoods that offer more space at a lower cost per square foot.
Tempered competition in the three Manhattan neighborhoods is likely related to affordability challenges after the sharp jump in mortgage rates last year. In the Lower East Side, more than a quarter (28%) of listings reduced asking prices in Q4 2022, 10 percentage points higher than a year ago, and the median asking price dropped to $1.3M. Next up on our list is Yorkville, where nearly a third (31%) of active listings cut asking prices in Q4 2022, up 11 percentage points from a year ago. The median asking price in Yorkville was $1.1M. In Hell's Kitchen, sixth on our list, the median asking price was $1.3M. Almost one in four (23%) listings in Hell's Kitchen lowered prices in Q4 2022, up 7 percentage points from a year ago.
Many buyers with larger budgets have turned their focus from Manhattan to "brownstone Brooklyn" neighborhoods like Carroll Gardens, Park Slope, and Boerum Hill, which can provide more space in historic townhouses and newly developed condos, and a wider range of amenities. However, this shift opens up a major opportunity for would-be buyers to secure a deal in traditionally sought-after Manhattan neighborhoods.
While sellers now hold the upper hand in many Brooklyn neighborhoods, Williamsburg is one area where buyers hold greater power to negotiate. Demand for Williamsburg soared as remote work took hold during the pandemic, and the neighborhood ranked seventh on our list of neighborhoods to watch in 2021. However, it appears as though the aggressive pricing during this period went too far. The median asking price was $1.5M in Q4 2022, and a typical listing stayed on the market for 77 days – about five weeks (36 days) longer than a year ago. Moreover, a spike in new development listings hitting the market for the first time in DUMBO, Downtown Brooklyn, Greenpoint, and Crown Heights has drawn some would-be buyers away from Williamsburg.
Buyers Can Get More Space for Less Cost in South and East Brooklyn
Brooklyn has become a hot market for buyers as New Yorkers increasingly prioritize a balance between additional space and a convenient commute, but competition is cooling in neighborhoods in South and East Brooklyn. While these neighborhoods are farther from Manhattan, they offer more space at a lower cost, and still provide subway options and access to highways.
Midwood topped the list as the neighborhood where buyers can most expect to have an upper hand. While interest has increased in neighborhoods offering a suburban-like feel while still being accessible to Manhattan, Midwood remains a more affordable option that is favorable to buyers. Its median asking price was $699,000 in Q4 2022 – 27% below the borough median of $953,000. Homes for sale in Midwood spent a median of 126 days on the market in Q4 2022, nearly two months (57 days) more than one year ago.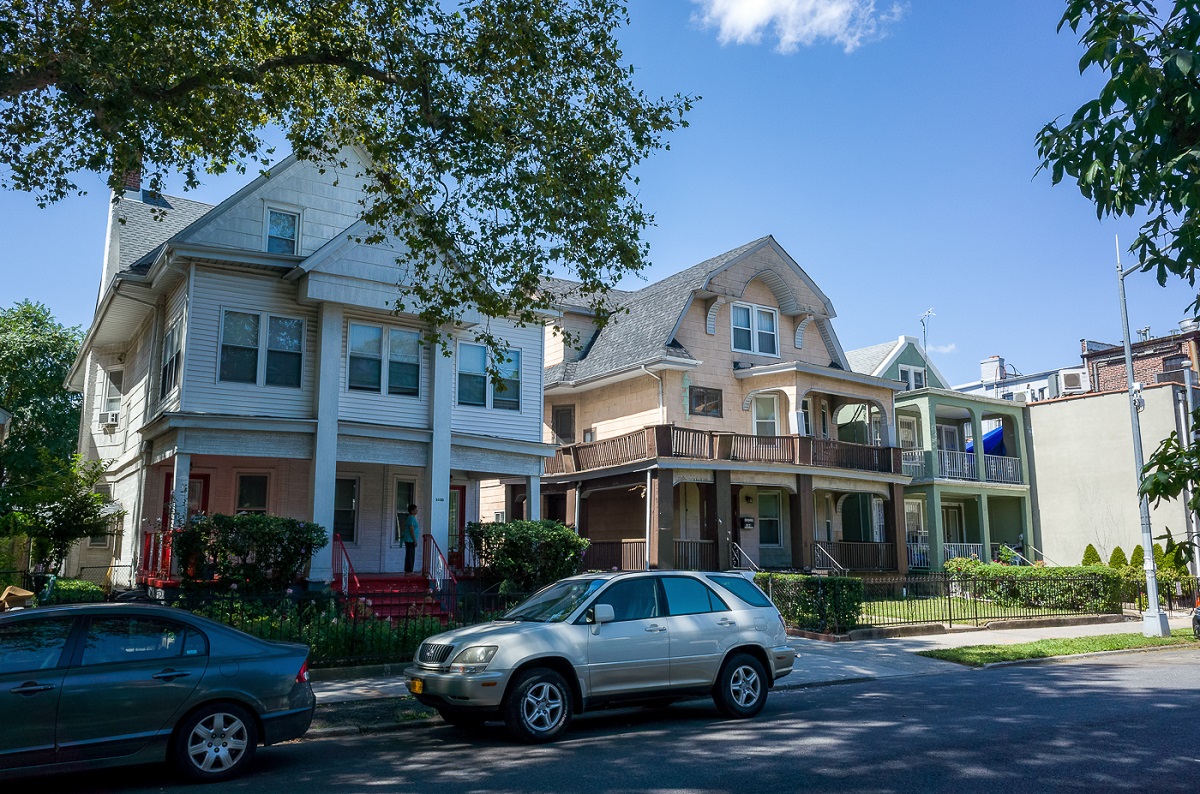 Like Midwood, Fort Hamilton offers a greater share of large floorplan co-ops and single-family homes at a lower cost per square foot. With the pandemic in the rear-view mirror and many New Yorkers prioritizing easy commutes to Manhattan, competition has slowed in Fort Hamilton, which is located at the southern tip of Bay Ridge. Close to a third of the neighborhood's available listings reduced asking prices in Q4 2022, 3.2 percentage points higher than a year ago. The median asking price in Fort Hamilton was just $482,500 in Q4 2022, 49% below the borough median.
East New York came in seventh on our list, after ranking third among our previous top neighborhoods for buyers based on Q3 2022 data. A typical listing spent 79 days on the market – about four more weeks (30 days) compared to a year ago – with a median asking price of $834,500, 12% below the borough median. With the abundance of single- and multi-family homes, the median price per square foot was $415 – significantly less than nearby areas such as Crown Heights ($742) and Bedford-Stuyvesant ($759).
Buyers Can Score Great Access to Green Space
Buyer interest in more space has not been limited to square footage, as many New Yorkers increasingly prioritize access to the outdoors among their most-desired amenities. Buyers in 2023 have good opportunities to negotiate in neighborhoods that provide access to some of the city's lesser-known green spaces.
Forest Hills in Queens – eighth on our list – offers easy access to Forest Park to the south and Flushing Meadows Corona Park to the east. Home shoppers in Forest Hills can find diverse housing options at a lower price compared to the rest of Queens. The median asking price was $426,500 – 27% below the borough median of $645,000 in Q4 2022. With slowing competition, a typical home in Forest Hills spent 97 days on the market, four weeks longer than a year ago.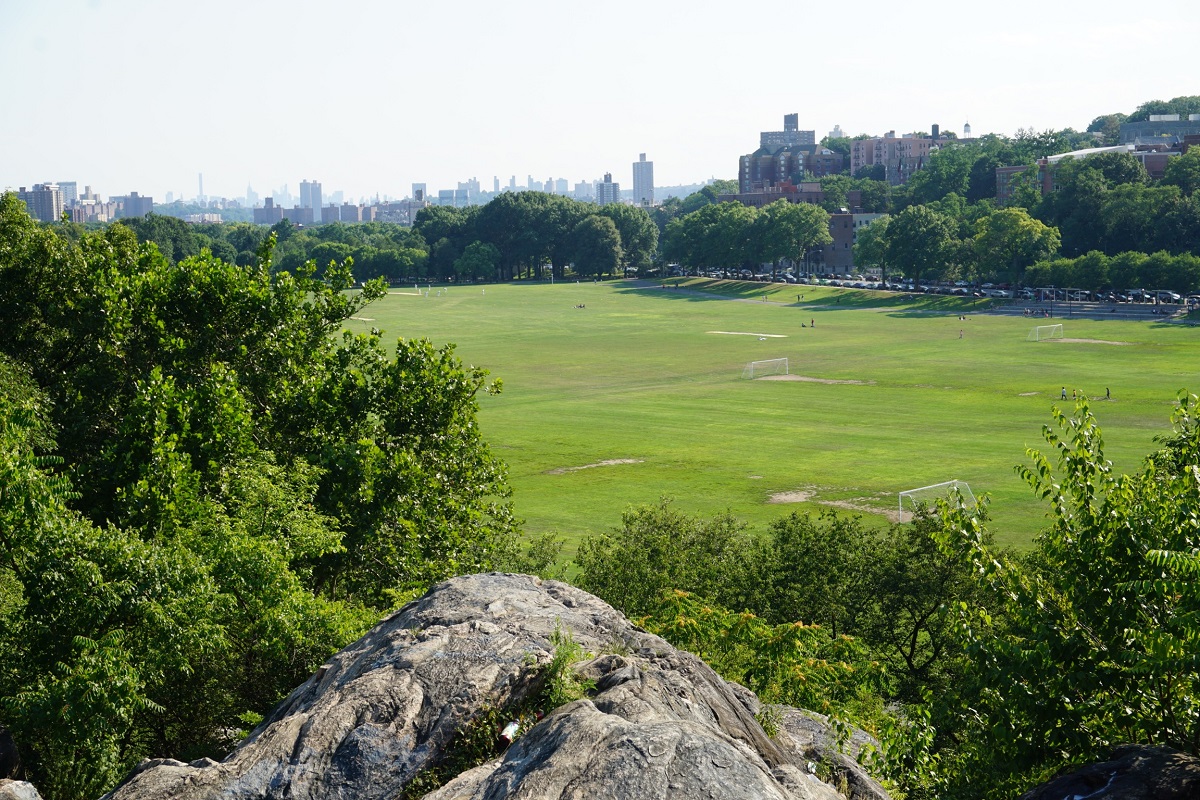 In the Bronx, buyers have an edge in Riverdale, ninth on our overall list. Riverdale residents can easily enjoy the hills of Van Cortlandt Park, shaped by ancient glaciers. At 1,146 acres, Van Cortlandt Park is the third largest park in the city and 36% larger than Central Park. The median asking price in Riverdale was $340,000, 9% lower than the borough median of $375,000. A typical listing spent 130 days on the market, about four more weeks (27 days) compared to a year ago.
Washington Heights in Upper Manhattan claimed the tenth spot on our list, but is second to none regarding access to some of the city's most prized green space. Residents can take an uphill trek to the Met Cloisters in Fort Tryon Park and explore the art and architecture of medieval Europe. The median asking price in Washington Heights was $585,000 in Q4 2022 – less than half the borough median of $1.495M. A typical listing spent 118 days on the market, about three more weeks (23 days) compared to a year ago.
Takeaways for Buyers
Our list of the top 10 buyers' markets in NYC reveals that hopeful buyers still have opportunities throughout the city at every price point. Mortgage rates will remain volatile this year, but as rates stabilize below last year's record highs, more inventory will be unlocked for buyers in 2023. Working with agents in StreetEasy's Experts Network, who provide hyper-local market expertise, is a winning strategy to find your perfect home in a rapidly changing market. Start by contacting the StreetEasy Concierge for buyers, who will connect you to the best Experts for your needs.
How We Ranked the Neighborhoods
We ranked the NYC neighborhoods in this report by the growth in the share of listings that cut asking prices and the growth in median days on market, from Q4 2021 to Q4 2022. To score the neighborhoods in our analysis by these two measures, we calculated the L2 norms of the two metrics. The higher this measure is, the more likely it is for a buyer to have the upper hand.
We considered neighborhoods that had at least 90 listings in at least 30 unique buildings in Q4 2022. As a result, only 10% of more than 300 neighborhoods in NYC were selected for this analysis. During this period, many neighborhoods in the Bronx and all in Staten Island did not have enough listings across unique buildings to meet these criteria. While this restriction may appear stringent, it ensures the analysis we present is timely, robust, and representative of the market dynamics in each area.
---
Disclaimers: StreetEasy is an assumed name of Zillow, Inc. which has a real estate brokerage license in all 50 states and D.C. See real estate licenses. StreetEasy Concierge team members are real estate licensees, however they are not your agents or providing real estate brokerage services on your behalf. StreetEasy does not intend to interfere with any agency agreement you may have with a real estate professional or solicit your business if you are already under contract to purchase or sell property.
For FSBO postings, the StreetEasy Concierge is meant to provide insight to improve your posting performance on StreetEasy and may refer you to a real estate professional based on your specific needs.
StreetEasy earns a referral fee from successful Experts' transactions, at no cost to the buyer or seller. Experts must meet StreetEasy's standards of service and market expertise. Agents in our Experts Network have closed deals on homes similar to the seller's or similar to homes the buyer is searching for. We measure their performance to make sure buyers and sellers get top-notch service.