The NYC housing market experienced some turbulence in 2022. The sharp jump in mortgage rates forced buyers to slash their budgets or stay on the sidelines, while expiring pandemic deals pushed renters into the toughest rental market in nearly a decade.
The transformation of the NYC housing market will continue next year as buyers and sellers adapt to persistently high mortgage rates. Prices and asking rents will decline more meaningfully, but relief in rents will be slower to materialize. If a recession occurs, NYC homeowners will be better prepared to avoid widespread short sales and a precipitous drop in prices.
A rental construction boom has the potential to alleviate rental inventory shortages. With more New Yorkers working from home, under-utilized office space in Manhattan presents a unique opportunity to ramp up the housing supply in the city and 2023 will be a pivotal year in deciding whether those conversions can become a reality. Despite the shifting market this year, the city will continue to attract would-be residents.
Here are StreetEasy's 2023 NYC housing market predictions.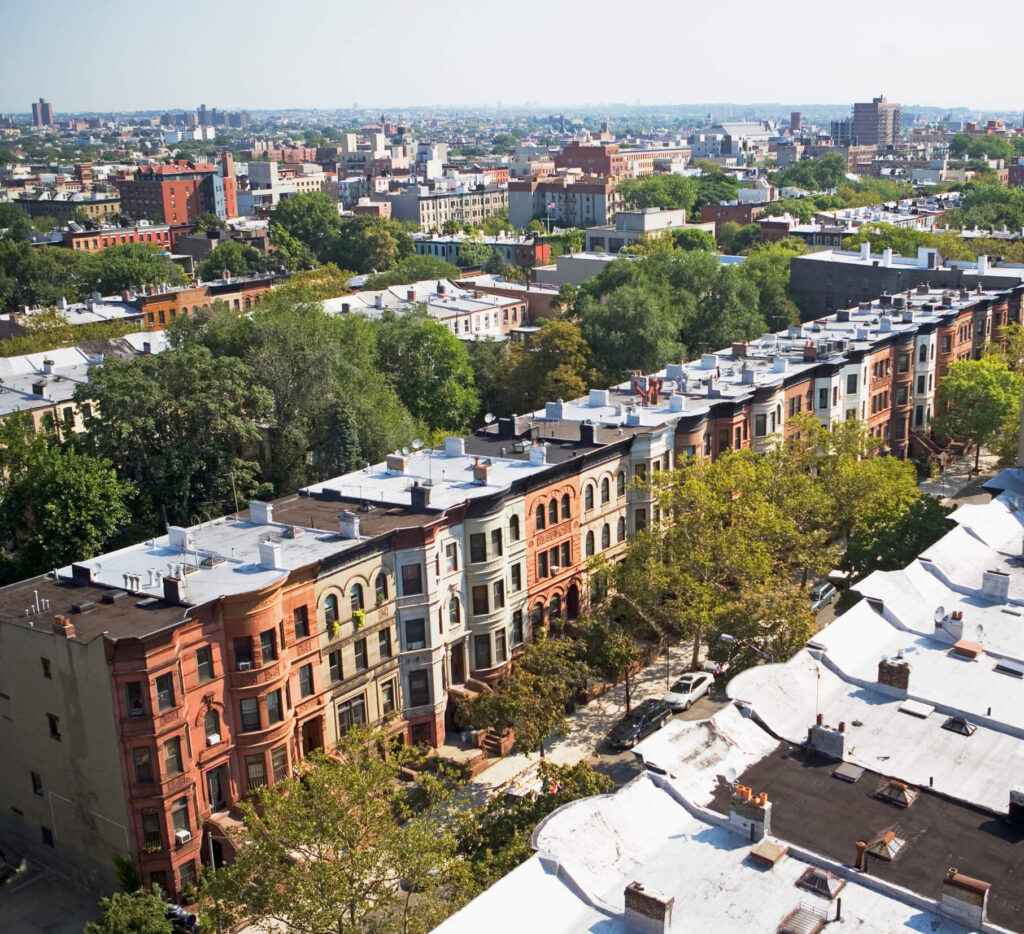 1. NYC home prices will fall, but don't expect a collapse
Inflation appears to be slowing but will likely remain above the Federal Reserve's target of 2% throughout 2023. Meanwhile, current labor market conditions are favorable for job seekers, but labor shortages make it more difficult for the Fed to slow inflation. In September 2022, there were two unfilled jobs per each unemployed person – the tightest labor market in more than 20 years. All in all, the Fed will likely keep interest rates elevated through much of next year.
This means 30-year mortgage rates will remain elevated in 2023. Competition among NYC buyers has slowed due to higher mortgage rates, causing listings to stay on the market longer and sellers to cut asking prices.
However, despite falling buyer demand, the decline in home prices in NYC will likely be limited, as sellers are also withdrawing from the market. The number of new listings for sale fell 17% year-over-year in November, keeping pressure on the still-limited inventory. Would-be sellers will likely remain unwilling to trade in their low mortgage rates locked in before or during the pandemic for today's much higher rates.
With elevated rents, many priced-out buyers are waiting to rejoin the market if there comes any relief in mortgage rates. Buyers are regaining negotiating power, but seller hesitation will prevent the balance of power from tilting squarely in favor of buyers next year.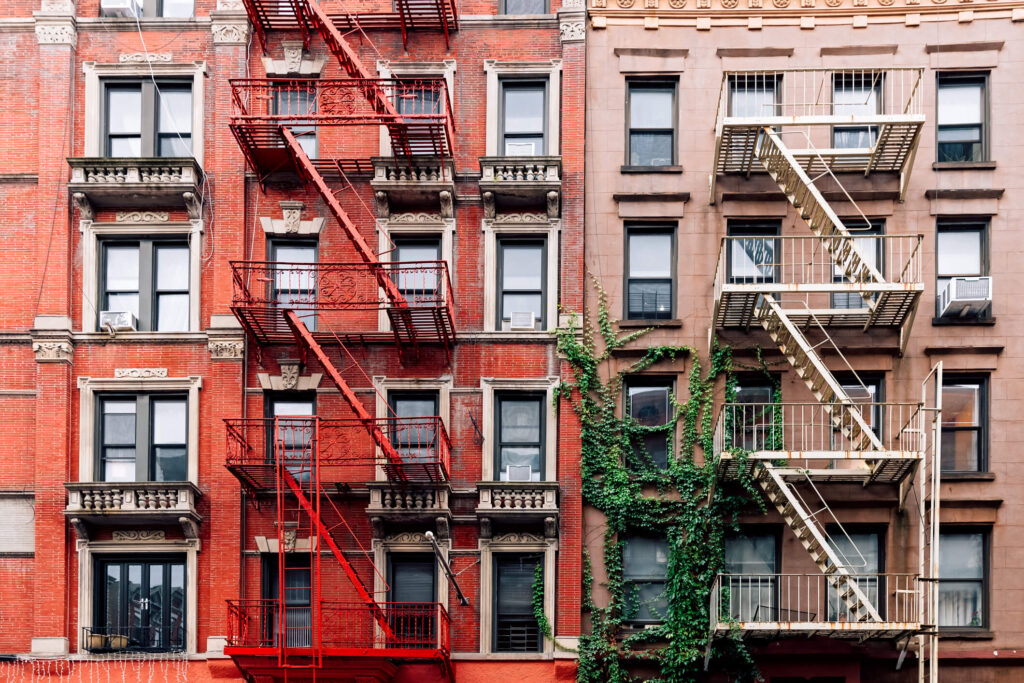 2. Renter demand will cool, but a dip in rents will be slow to materialize
Asking rents rose to an unsustainable level relative to New Yorkers' earned wages over the summer. Adjusting for inflation, just under half (48.2%) of NYC's workforce could afford just 10% of the rental inventory available this summer, unless they spent more than half of their income on rent. Due to the higher cost of renting and elevated inflation, renter demand will continue to cool in 2023, pushing down asking rents. This relief in rent prices, however, will be slow to come by due to limited inventory of rental units.
Additionally, priced-out buyers will likely remain in the rental market at least until the 2023 spring buying season, which may keep rents high. Moreover, our research shows that NYC renters are willing to pay up to avoid having roommates, despite record-high rents and potential annual savings of at least $14,500 from living with roommates. All of this means the rental market may take longer to cool down, despite less overall affordability.
3. NYC homeowners will be better prepared for a possible recession
Should there be a recession in 2023 involving widespread unemployment, NYC homeowners will be better prepared than they were when faced with the last recession in 2008. We predict that a limited number of them would be forced into foreclosure due to negative equity. This is partly because NYC home prices fell nearly every month from the start of the pandemic until July 2021. In 2019, prior to the pandemic, the NYC housing market was already on a course correction. This was in contrast to other parts of the country, where typical home values began soaring in mid-2020 with more people working from home. Although the growth in typical home values in NYC was more modest than the national market, the bulk of homeowners who purchased a home prior to and during the pandemic are sitting on positive equity. This bodes well for NYC homeowners even if home values decline more meaningfully next year.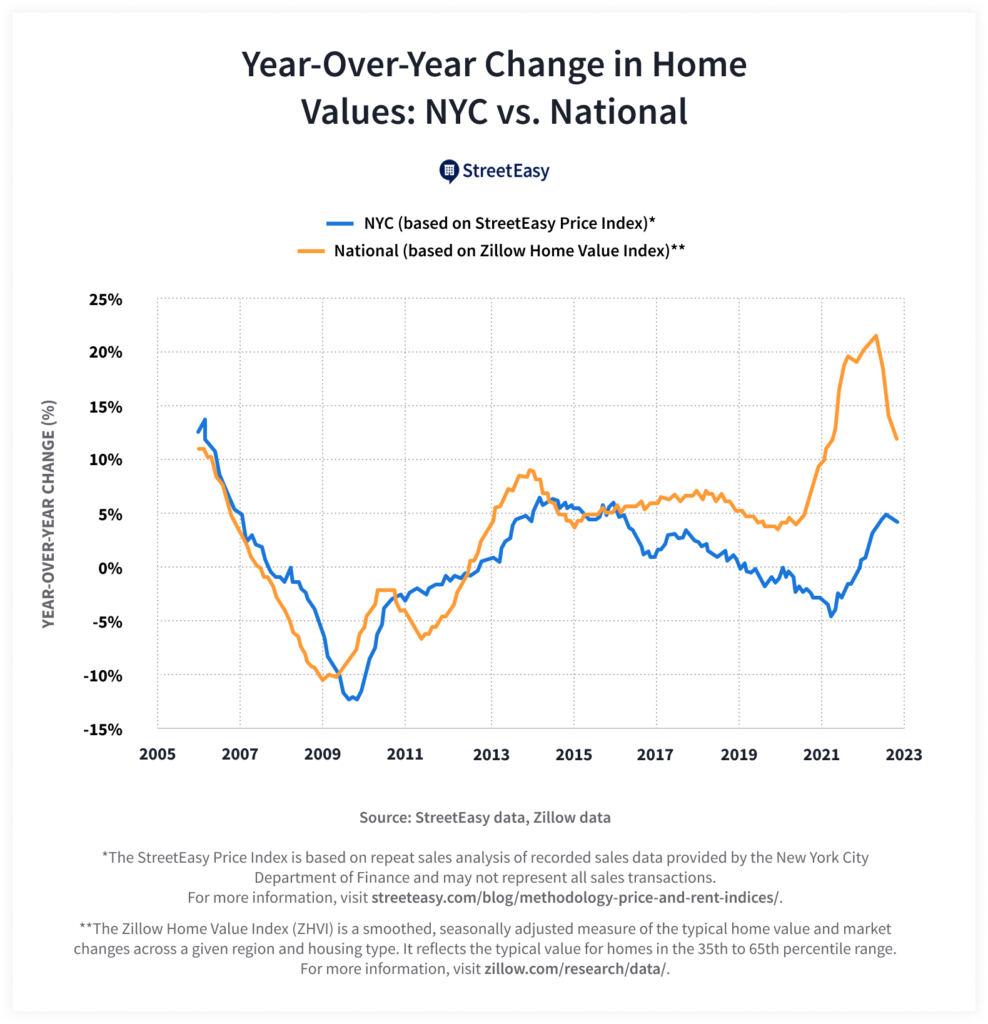 Moreover, NYC homeowners are on stronger financial footing compared to the 2008 financial crisis. The mortgage delinquency rate in New York state was 2.7% in September of this year, in line with the historically low national rate of 2.8%, according to the latest Black Knight Mortgage Report. Only 0.4% of borrowers in the greater NYC area are in negative equity positions, meaning NYC homeowners are well prepared to withstand a possible economic downturn ahead.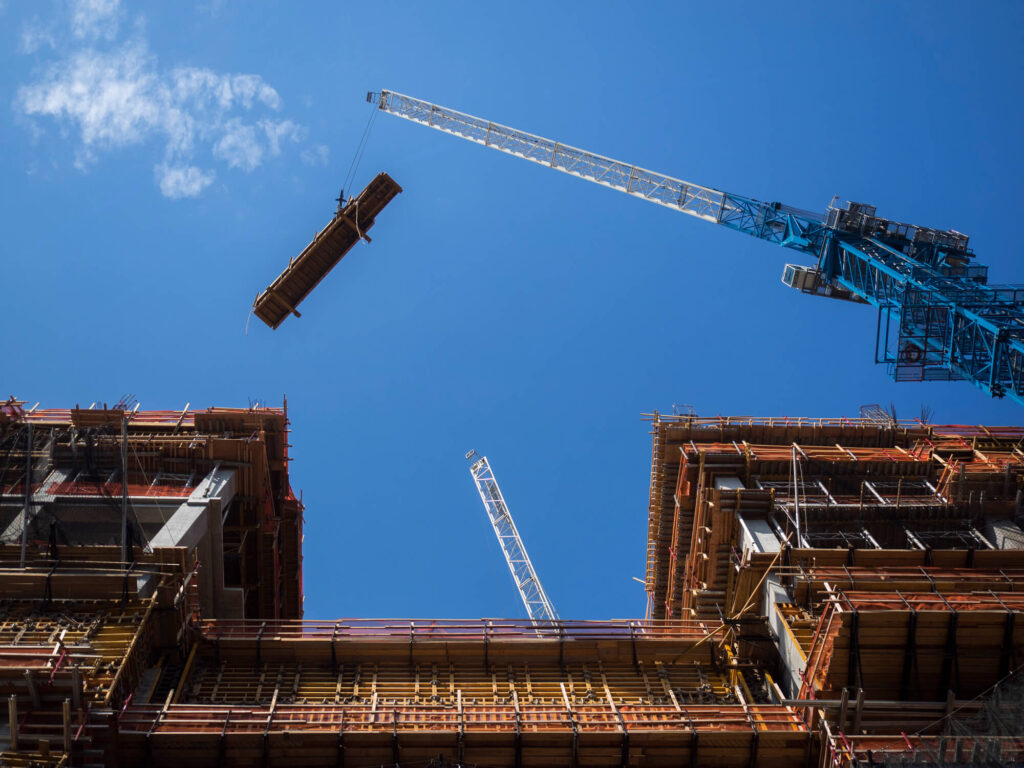 4. The rental construction boom will restart
Many developers are waiting to take action on new construction projects, which have the potential to alleviate the rental inventory shortage. There was a surge in the number of permits received by developers in the first half of 2022, likely led by developers rushing to qualify their projects for the Affordable New York partial tax exemption (commonly known as 421-a) before it expired on June 15. Based on NYC Department of City Planning data, developers were issued 58,623 permits for new homes during the first half of this year. That's nearly as much as the total issued in 2015 – the last time 421-a expired – and two and a half times the total permits issued in 2021, when construction activity had mostly normalized after the lockdowns in 2020. Authorized projects must be finished within four years to qualify for the 421-a tax benefit, and offer 25% to 30% of their units as affordable housing at specified household income levels relative to area median income. This means the city could experience a meaningful increase in the supply of market-rate rentals over the next few years. However, it remains to be seen how many of the permitted developments will materialize, considering elevated inflation and borrowing costs.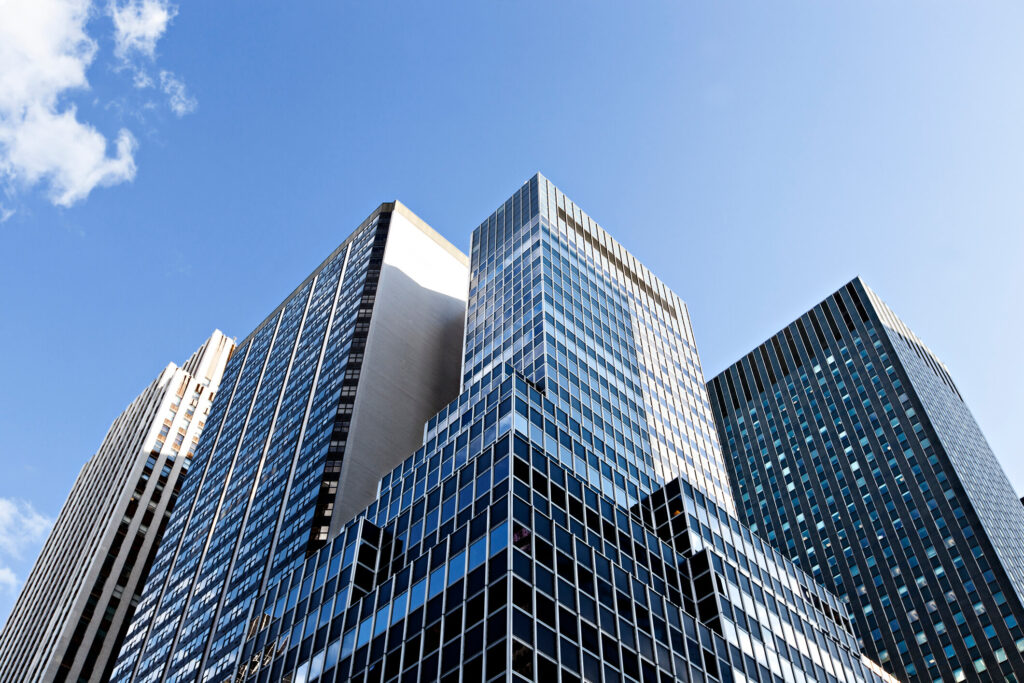 5. 2023 will be a pivotal year for the office-to-residential conversion debate
With more New Yorkers continuing to work from home, the market for Manhattan office space is struggling. An analysis by the NYC Office of the Comptroller shows New York City-area office occupancy remains at about 46% of pre-pandemic levels in October. Converting under-utilized commercial buildings in Manhattan to apartments can help alleviate perennial housing shortages in NYC. The recovery of the Financial District following the 9/11 attacks set a strong precedent. One Wall Street, once an Art Deco office tower built in the area in 1930, entered the residential market this year with 566 new apartment units.
It's important to note that converting commercial buildings into residential developments requires significant investments of time, money, and effort. Large office buildings built in the latter half of the 20th century, mostly in Midtown, can be cumbersome to convert due to challenges with bringing natural light into core units. Conversion of other commercial buildings calls for changes to local zoning laws or even state law – a difficult task requiring coordination between New York state and the city. That said, with today's sky-high asking rents and the city's glut of new condos accumulated since 2013 now mostly sold, cooperation at the state and city levels is more needed than ever to alleviate the city's housing shortage. 2023 will be a pivotal year in deciding whether NYC can deliver regulatory changes to diversify Manhattan commercial districts and improve the supply of affordable and supportive housing.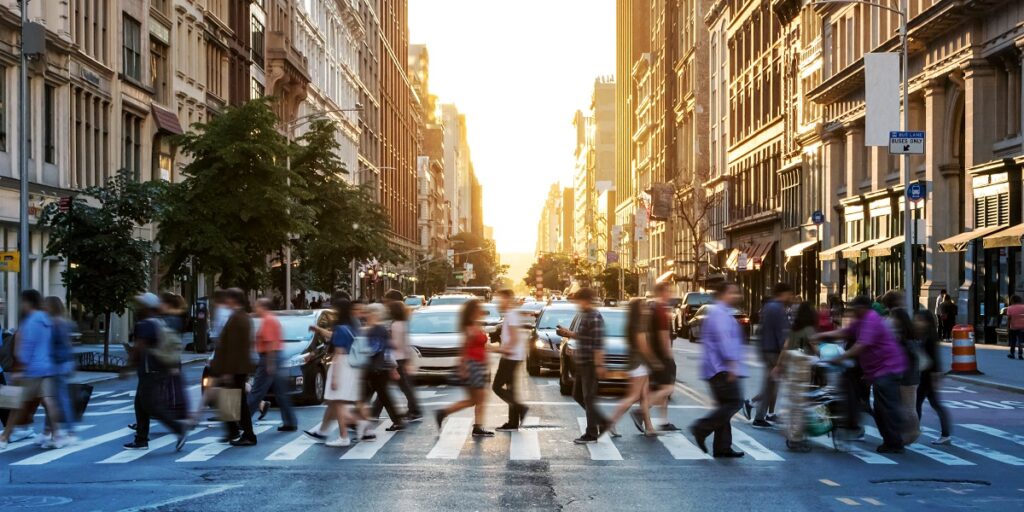 6. NYC will continue to see an influx of new residents
Despite high rents, StreetEasy search data suggests the city continues to draw interest from potential new residents wishing to move from other areas. In November this year, rental search volume on StreetEasy originating from areas outside New York City was almost double the level prior to the pandemic, with the Washington D.C., Boston, and Atlanta areas showing the strongest renter interest. Robust interest in NYC rentals from outside the city despite less affordability coincides with the solid recovery of the NYC economy, which by September of this year had regained 97% of the jobs lost during the pandemic, according to analysis by the NYC Office of the Comptroller. In addition to the job opportunities, many NYC neighborhoods continue to find ways to charm locals as well as would-be residents.